Hold it right there, 2016: you may be a largely hated year, but I'm not letting you leave just yet.
No year is complete without a year in review list. And while many people prefer to detail the most buzz-worthy news stories, the "earwormiest" chart-toppers, or the funniest videos featuring frisky and/or fiendish felines, I'm just going to tell you what I believe were the 5 best new cereals this year. So if you have time between your New Year's cheers to read about pink Cheerios, this list is for you.
While taste is definitely a defining factor in my rankings, keep in mind that innovation, packaging, and nostalgic whimsy will all be taken into account, too. 2015's winner, JIF PB&J Cereal, swept the vote based on elementary school lunchtime memories alone—even though it did taste pretty darn good, too.
So without further ado, let's count down as the ball—or should I say bowl—drops.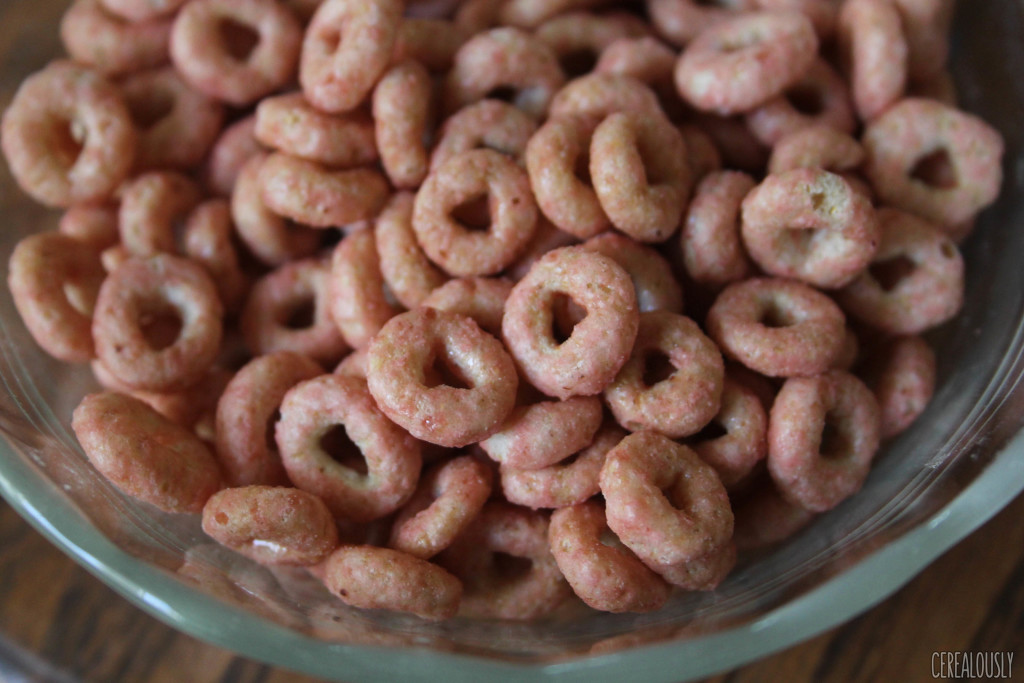 #5: Strawberry Cheerios
"…right when you bite into a spoonful, it bites back; this cereal is bursting with authentic strawberry flavor, complete with the ripe tang of a freshly plucked berry."
You know that one friend, neighbor, or grandma who's just so wholesome, innocent, and nice that it's hard to hold anything against them? In the cereal world, that's Strawberry Cheerios.
With cozy box art, natural ingredients, and the most genuine strawberry flavor to grace my palate since I ate my actual grandma's homemade lattice top strawberry pie, Strawberry Cheerios were like a warm hug that came straight from your pantry. They weren't revolutionary, but I think we can agree that their "Limited Edition" was far too limited.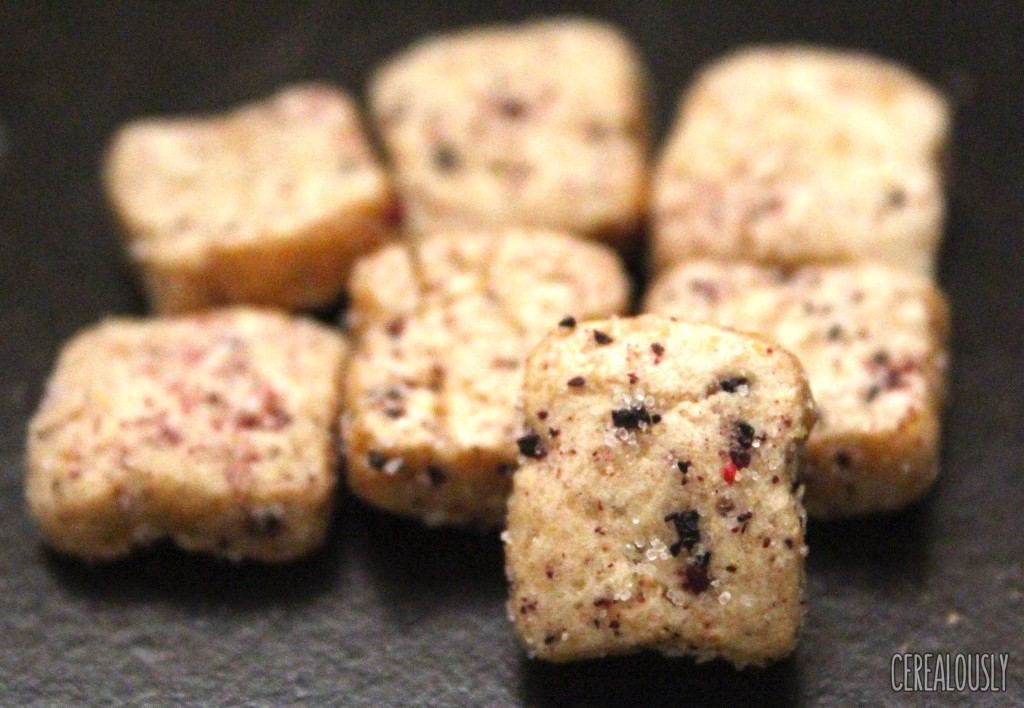 #4: Blueberry Tiny Toast
"It has a happy balance of berry sweetness and tangy tartness, and coupled with the bread flavor, it's like crunchy Blueberry Nutri-Grain Bar bites."
I love bread. I love it in all forms: from sandwiches and bottomless breadsticks to french toast, French Toast Crunch, and my grandma's famous French Toast Casserole.
Side note: I think my grandma's referenced more than anyone else on this site. Love you Grams—even more than bread.
So with this carbohydrate passion, imagine my happiness when General Mills announced its first new cereal brand in years: Tiny Toast, a bread-shaped cereal that comes in both strawberry and blueberry flavors.
Strawberry Tiny Toast is tasty, but it's entirely outclassed by a certain #5 cereal on this list. Blueberry Tiny Toast, on the other hand, is so powerfully, potently, and taste bud puckeringly flavorful that it does its namesake fruit the justice it never got from Boo Berry or Blueberry Frosted Mini-Wheats.
I maintain what I said in my review: Tiny Toast has a lot of potential for new flavors, so I hope it sticks around. If nothing else, I just want to see a Zucchini Bread Tiny Toast—just like the kind Grandma makes.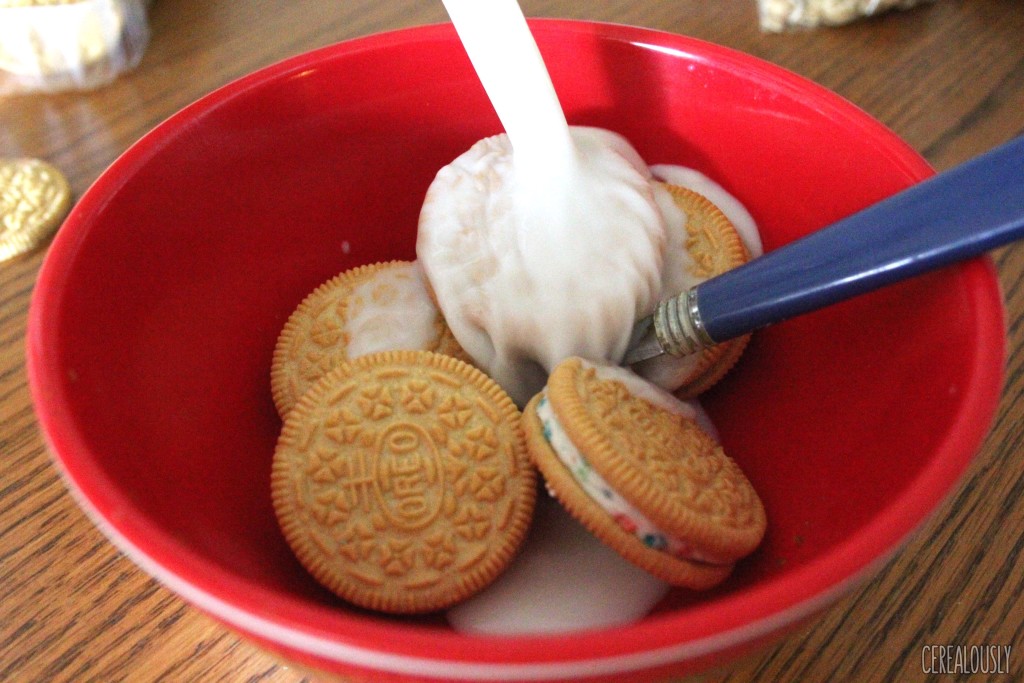 #3: Fruity Crisp Oreo Cookies
"Eating a crumbly bowl of these cookies soaked in milk is excessive, yet supremely satisfying. It's like topping a bowl of cereal with a Chipwich that you already dipped in a strawberry milkshake."
Yeah, yeah, it might be a stretch to call this one a cereal, but Fruity Crisp Oreos are stuffed with rice crisps, just like a certain geologic breakfast product we all know and love.
And Fruity Crisp Oreo Cookies taste just like milky Fruity Pebbles, too. Even better, I'd say, because that compelling cereal creaminess is sandwiched between two delightfully golden cookies. It's like soaking up the endmilk of a Fruity Pebbles bowl with two Nilla Wafers, instead of shamefully slurping it down while everyone at the hotel's continental breakfast looks away uncomfortably.
Not that I would know how that feels. Right, Best Western?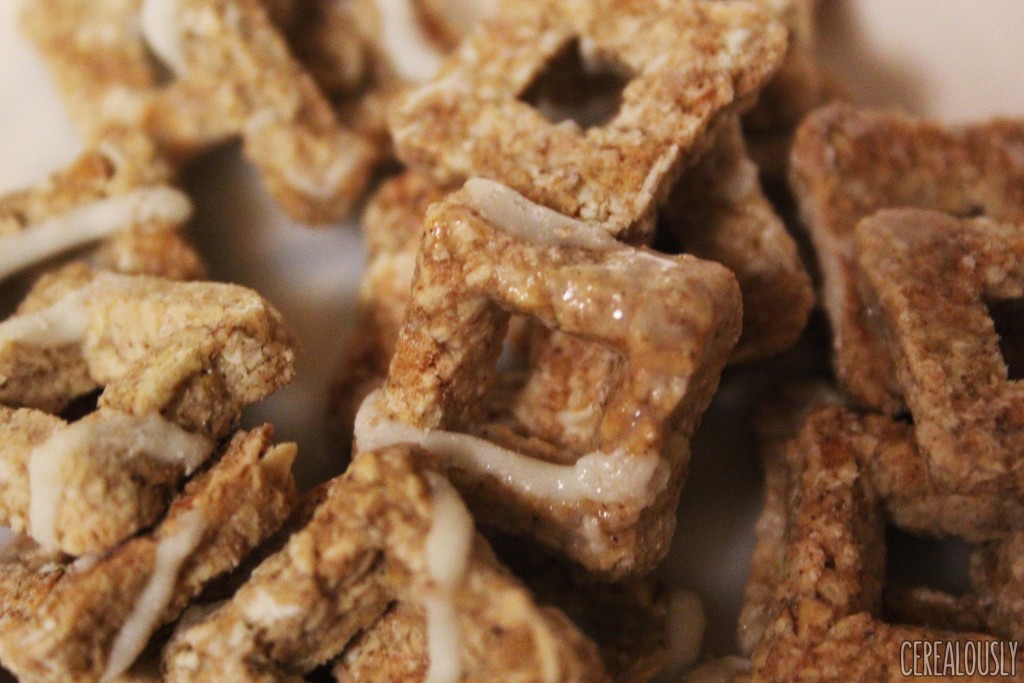 #2: Nature Valley Baked Oat Bites
"You can tell how much I like a cereal based on how many other obscure snack foods I compare it to, and clearly Baked Oat Bites rank highly in this regard."
I'm glad Nature Valley chose such a boring-sounding name for their best cereal: it turns away hopeful kitchen grazers and leaves more Baked Oat Bites for me.
Nature Valley introduced five new cereals this year, and they were all pretty good. But just like in the Jackson Five, one was destined to be a standout star. The much tastier, far less creepy cereal equivalent of a clown car, Baked Oat Bites somehow crams the goodness of oatmeal cookies, glazed doughnuts, and cinnamon buns into crumbly square after crumbly, applause-worthy square.
I've considered buying a "Congratulations!" card from Hallmark, just to commend Baked Oat Bites for this accomplishment.
The only thing bad about this cereal is that it renders cult favorite Cracklin' Oat Bran entirely obsolete. Baked Oat Bites is better in every way, but that's okay: whether it's an old flip phone or a VCR, we all have to upgrade eventually.
Though you'll have to pry my beloved Seinfeld VHS tapes from my cold, dead hands.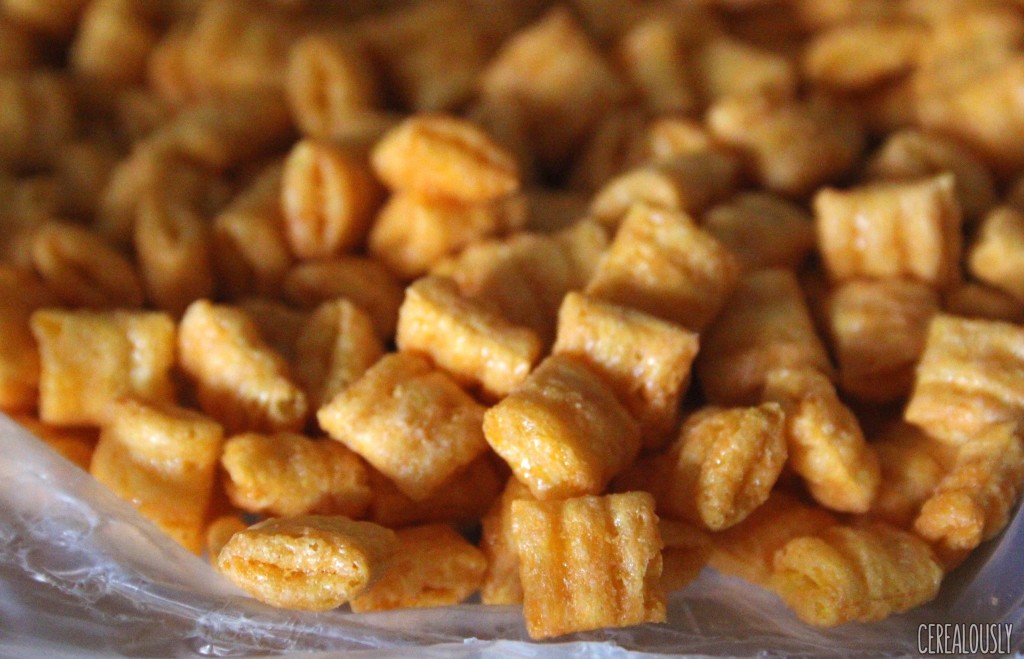 #1: Cap'n Crunch's Orange Creampop Crunch
"Just imagine someone took an orange Creamsicle and served it to you on an edible, sweetly deep fried stick."
Anyone who had to listen to me annoyingly gush about Orange Creampop Crunch all year should've known this was coming.
Orange Creampop Crunch is my undisputed top choice for 2016, because it hits on all the criteria that make for a great cereal. Its packaging is so cheery that it should be illegal to be sad in Orange Creampop Crunch's vicinity. The back of the box is dangerously fun to stare at. It's innovative for being the first "orange ice cream" flavored cereal since 1965's Kream Krunch. It's nostalgic, since it reminds me of every Push Pop or orange Creme Saver I ever ate.
And most of all, it tastes absolutely heavenly, combining the buttery taste of Cap'n Crunch with ribbons of syrupy vanilla and dreamy tangerine.
Unfortunately, Orange Creampop Crunch will also be remembered as the strangest cereal of 2016. Despite its wide acclaim, the cereal only saw a very limited release. I consider it a modern tragedy that more people didn't get to try Orange Creampop Crunch, so I hope that, if Cap'n Crunch decides to release a Fudgsicle Crunch in 2017, it will hit every grocery store, gas station, and museum gift shop in the world.
Heck, maybe we can even make it mandatory for school lunches.
---
Congratulations to all this year's tasty winners. Honorable mentions go to Cinnamon Frosted Flakes, Nature Valley Chocolate Oat Bites, and Chocolate Honey Bunches of Oats (for not actually being new but still being a revived, personal favorite).
Whether you're reading this in 2016, 2017, or beyond (I hope everything's chrome in the future), I want to wish you a happy new year! Feel free to list your favorite cereal of the year in the comments below, and I hope you'll join me as we see what the coming year holds for cereal.
I have a lot of questions already: will Cinnamon Pebbles upstage Cinnamon Frosted Flakes? Will Thin Mints Cereal and Caramel Crunch Cereal be able to peacefully coexist, or will a third Girl Scouts cereal tag along to the party? What beverage will be turned into a Pop-Tart next?
And most importantly: will we finally get a gingerbread, cookie butter, neapolitan, jelly doughnut, or frosted animal cracker cereal?