I've long had a theory that every cereal a person could ever need can be formed through a triangulation of three "primary flavors." The three corners of this Cerealluminati Pyramid (working title) are formed by chocolate, peanut butter, and strawberry. Think about it, sheeple people: while those three flavors are near-universally delightful by themselves, by pairing them you can make a choco-pb cereal, a PB&J cereal, or a chocolate fondued strawberry cereal.
And if you happen to find some hipster niche of cereal lovers that isn't pleased by any of those, you can just combine all three and tear a rift in space-time through sheer flavor alchemy.
New Chocolate Peanut Butter Cheerios are proof that my philosophy of breakfast geometry isn't so obtuse after all—in fact, it's pretty acute. See, even though General Mills has a near-monopoly on chocolate peanut butter breakfast cereals with Reese's Puffs, they still decided to release another cocoa-nutty product. That's because, as a key bastion of my Cerealluminati Pyramid, the mouth-watering power of chocolate and peanut butter together really is that persuasively strong.
Unless, of course, my deeper conspiracy is true, in which case the prophecy of threes has yet to be fulfilled:
Conspiracy theory:
Those Chocolate Peanut Butter Cheerios are holed-out Reese's Puffs, so the holes can be used for a Reese's Pieces Cereal.

— Cerealously (@cerealouslynet) October 8, 2017
But allow me to trade in my tinfoil hat for an equally shiny spoonand dig in—if I'm gonna be a nutcase, I'd rather be a peanutcase.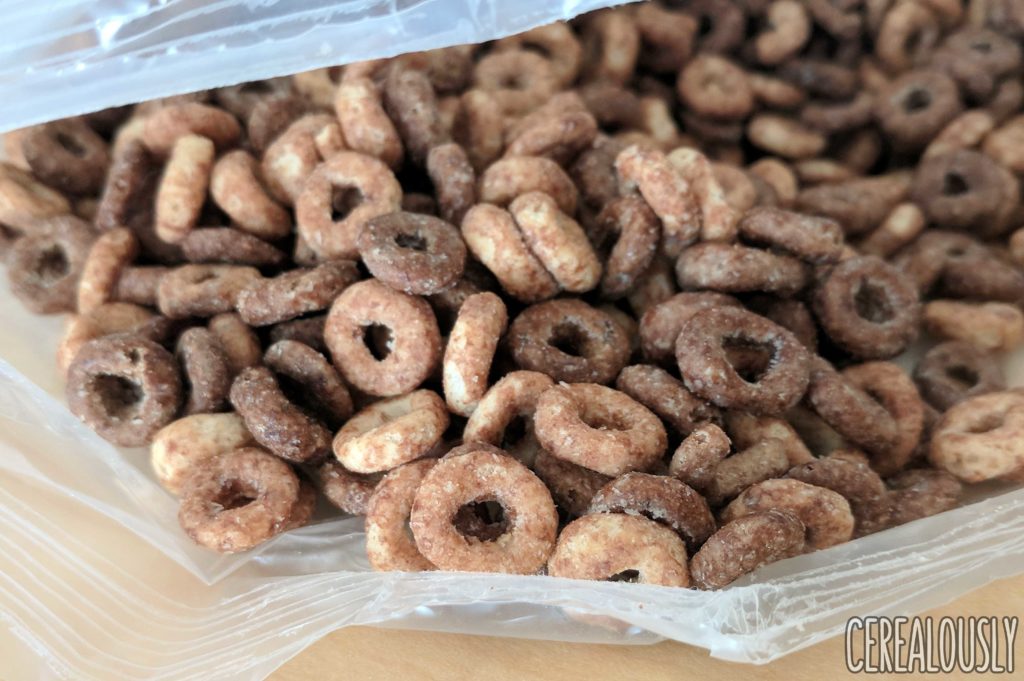 For those (myself included) who thought Chocolate Peanut Butter Cheerios would taste exactly like Reese's Puffs in a torus shape, I'm pleasantly surprised to announce that these crunchy mahogany and clay-colored doughnuts have unique taste nuances all their own.
The primary difference is in the base. Every bite of Reese's Puffs is haunted by an out-of-place corniness, which really ruins the Reese's candy immersion at times—though it reminds me of a certain childhood trick-or-treating disaster involving a king-sized Reese's, a popcorn ball, and the congealing warmth of a car's heated seat. Meanwhile, Chocolate Peanut Butter Cheerios' toasted oat base feels like a more apt analogue for the chocolate and peanut butter. Sure, the intensely earthy flavor sometimes overpowers the sweeter tastes, but it also goes a long way to emphasizing the peanut butter's roasted legume flavor.
And speaking of nuts, Chocolate Peanut Butter Cheerios tragically aren't glazed with flavor, like a certain nutty fan-favorite Cheerio, but is instead dusted with thick flavor powder, like Reese's Puffs or a number of recent General Mills confections. My mouth doesn't mind, but my black jeans, who only recently recovered from the Great Powdered Doughnut Incident of 2016, are feeling preemptively traumatized.
With toasted oats and roasted nut butter working in tandem, Chocolate Peanut Butter Cheerios end up tasting way more PB-y than chocolatey. It's a good thing, though, as the rich peanut butter flavor is both lightly oiled, salted, and buttery, while the subtler notes of smoked, slightly candied milky chocolate match the real, nut-heavy peanut-butter-to-chocolate ratio of a Reese's Cup better than the 50:50 split of Reese's Puffs.
In fact, with this much peanuttiness, Chocolate Peanut Butter Cheerios slide up the metaphorical "Reese's Peanut Butter Density Scale" to somewhere between "Reese's Easter Egg" and "Reese's Pieces."
You'd think that adding milk would up the milk chocolate's, well, milkiness, but like the failed attack on the villain at the end of every superhero movie's second act, milk only makes the peanut butter flavor stronger. It also makes each hardy Cheerio doughier and more biscuit-esque, making the entire bowl of Chocolate Peanut Butter Cheerios taste like a milk-dunked Nutter Butter.
Overall, I loved Chocolate Peanut Butter Cheerios—yes, even more than I do Reese's Puffs—because of the more thematically appropriate oat base and the fact that I love peanut butter more than the runner-up at a George Washington Carver lookalike contest.
Not the contest's winner, though. I hear that guy's a nut.
So if you're looking for robust chocolate–peanut butter balance, open up a different cereal box in a JIFfy. Otherwise, I'd highly recommend Chocolate Peanut Butter Cheerios for a more wholesome, socially acceptable "candy for breakfast" mix-up that won't end with Circus Peanuts in your scrambled eggs.
I blame the heated seat for that one, too.
---
The Bowl: General Mills Limited Edition Chocolate Peanut Butter Cheerios Cereal
The Breakdown: A better Reese's cereal than Reese's Puffs, Chocolate Peanut Butter Cheerios are hyper-nutty, and authentically so, but the robust oat flour and candied, M&M's filling-esque chocolate accents likely won't satiate every Mr. and Ms. Goodbar out there.
The Bottom Line: 10 snack food trigonometry lessons out of 10