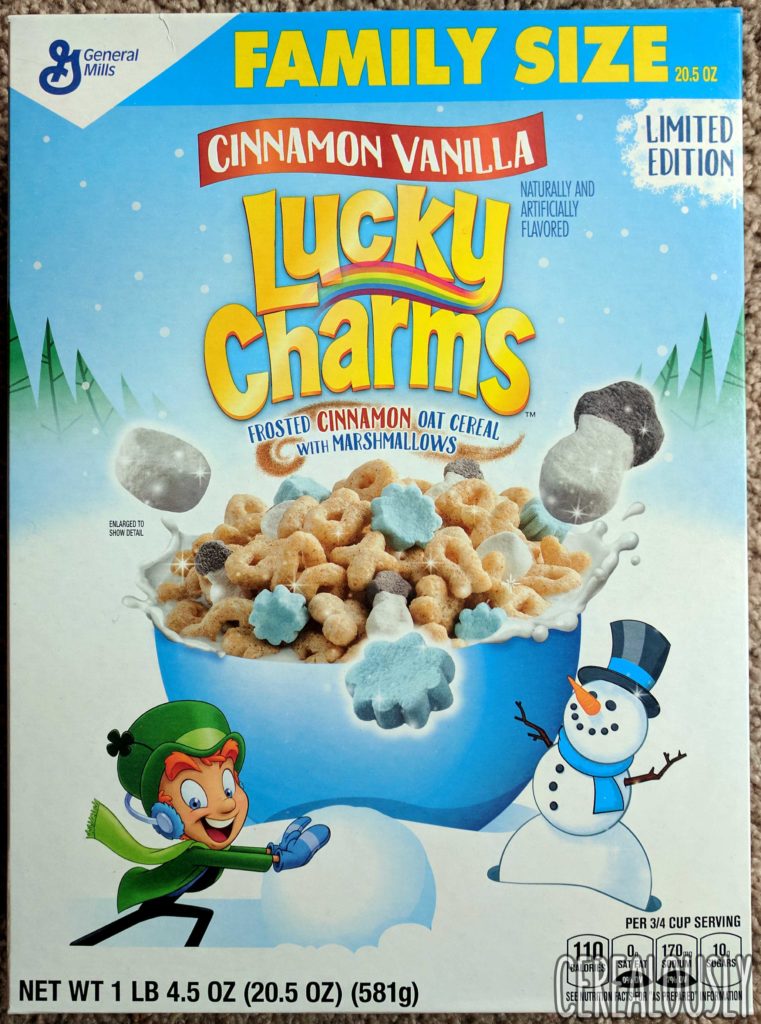 Halloween: over.
Jack-O-Lanterns: Decomp-O-sed.
Skeletons: stuffed back inside their human shells, where they belong.
Yes, now that October's climactic 'ween has waned, I'm slowly waxing into full Christmas mode (it's easy to wax when you have so much 50% off candy corn left over). I know what you all you turkeys are thinking: but what about Thanksgiving? And I say to you two things. One, since Thanksgiving is objectively the chillest holiday, I don't think it would give a rat's mashed potato if we used it as a one-day, turkey-steeped nap in the middle of two months' worth of Christmas mania.
And two: you show me a Thanksgiving cereal I can write about instead, and I'll gladly dive headfirst into that bowl of Green Bean Casserole Toast Crunch.
So yes, I'm starting the holidays early with my review of Cinnamon Vanilla Lucky Charms, one of two new wintery treats from General Mills. As for Thanksgiving, I'll just leave out some stuffing and a glass of cranberry sauce for Tryptophanta Claus.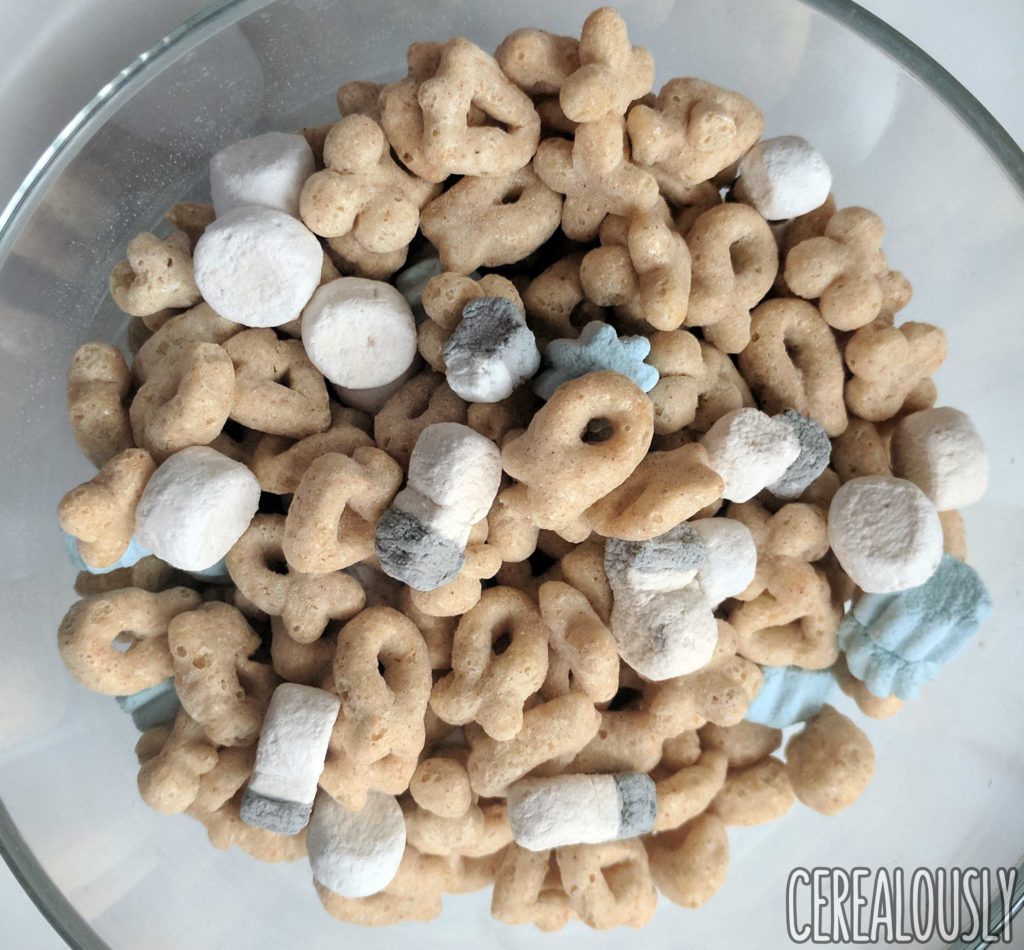 Bad news first: Cinnamon Vanilla Lucky Charms don't taste much like cinnamon. Or vanilla, for that matter. Yep: on the 1st day of pre-Christmas, my true Lucky gave to me: a partridge playing the sad horn from The Price is Right.
I won't say it's not there: while this cereal tastes primarily of regular Lucky Charms golden toasted oatiness (in no way a bad thing, as the cereal's snappy, graham-tinged oat bits have perfected the formula), there is a hint of cozy and warm cinnamon sugar sweetness that builds to a warm, vaguely snickerdoodlian buzz as you keep shoveling handfuls in your mouth—like a certain beagle with a stack of bones.
It's as if a bowl of Lucky Charms kissed a bowl of Cinnamon Toast Crunch under the mistletoe and kept getting warm tingles when thinking about it for the rest of the party. How romantic. But this cinnamon sensation is in no way potent or spicy, so you may need to resurrect some dumb, potentially lethal viral video challenge if you want to get your cinnamon fix with this one.
"Vanilla" is also just code for "we crammed a lot more cute marshmallows into this one." The marshmallow creaminess of Cinnamon Vanilla Lucky Charms certainly feels stronger than previous iterations, but the taste is more milky and saccharine than anything true-blue (or is it true-bean?) vanilla.
The good news is that these are still the same, perfectly crispy and sugar-poppin' Lucky Charms marshmallows that have made the cereal a classic, but now they're in exciting new shapes. Sure, the "snowball" is an obvious, low-flinging fruit choice, but the corrugated blue snowflakes (stars? yeti heads? festive sea urchins?) and dubiously shaped snowmen (who would feel right at home as Gyroids in Animal Crossing) are fresh and fun marbits that fall into my much-beloved list of "little things that make the holidays magical."
It's right there between "socially acceptable eggnog binging" and "dunking Holiday Oreos into eggnog."
…Most of the list involves eggnog.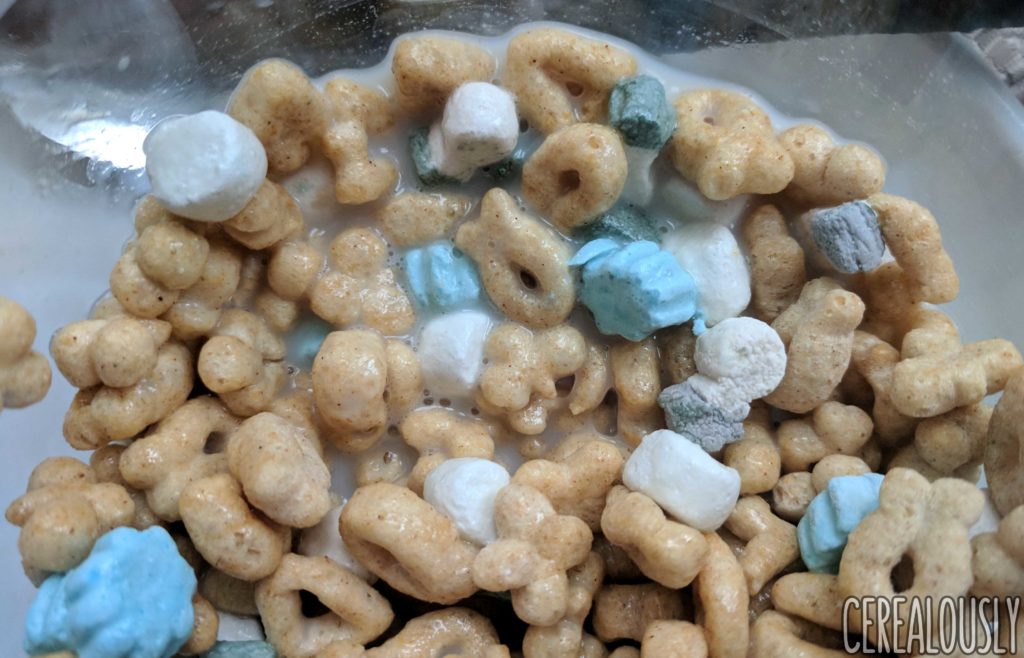 A milk-dipped sugar cookie these are not, Cinnamon Vanilla Lucky Charms in milk have all their cinnamon nuances melted away faster than a mini marshmallow in hot cocoa. They just end up tasting like Lucky Charms with (anecdotally) more marshmallows than usual, which, while it isn't a bad thing for sweet teeth everywhere, I'll be sticking to dry CV LCs for that sweet cinnamon buildup.
All in all, Cinnamon Vanilla Lucky Charms really is just one big, family-sized box of holiday little things. Its subtle taste notes won't blow you away with revolutionary flavor, but its aesthetic commitment to holiday cheer nevertheless makes it a perfect popcorn pairing for your annual A Christmas Story binge watch, or a perfect fireside munchie—at least until the chestnuts are done. It's hard not to feel merry when mowing down a box of mushroom snowman marshmallows, and I'll thank my lucky (charm) stars for these small miracles.
Now who's up for crumbling these into some snickerdoodle dough?
---
The Bowl: Cinnamon Vanilla Lucky Charms Cereal
The Breakdown: Diet Cinnamon Toast Crunch with lots of marshmallows and yuletide flair, Cinnamon Vanilla Lucky Charms aren't too innovative, but they make great snowy window dressing. Hopefully General Mills can tweak the recipe and make it a normal, permanent release.
The Bottom Line: 6.5 cravings for inedible dog bones out of 10
(Quick Nutrition Facts: 110 calories, 1 gram of fiber, 10 grams of sugar, and 2 grams of protein per 3/4 cup serving)