Neapolitan ice cream is criminally underrated. I mean, it combines the three most popular ice cream flavors (though I still can't fathom how plain ol' vanilla is more popular than Chocozuma's Revenge, Chocolardiac Arrest, or any of those other "X-Treme Ice Creamz") into one—sometimes even in snowman form—and we still hardly see it appear in things other than ice cream. Heck, even Naples itself has a flag that looks more like Superman ice cream than neapolitan's iconic pink, brown, and creme.
And before these new neapolitan Cocoa Puffs Ice Cream Scoops, there has been only one other neapolitan cereal—and it was only released in New Zealand. I guess America will have to make the first kiwi cereal as revenge.
But enough melty melancholia. Let's see if these strawberry, vanilla, and chocolate Cocoa Puffs are good enough to turn my local Baskin-Robbins' 31 flavors into 401k.
But before I crack open into the box, I want to briefly admire its beauty. As a fan of pastel hues, this art leaves me in mellowly washed-out heaven. Plus, I want to believe that Sonny's strawberry swirl cap is a nod to his early days as a candy striper.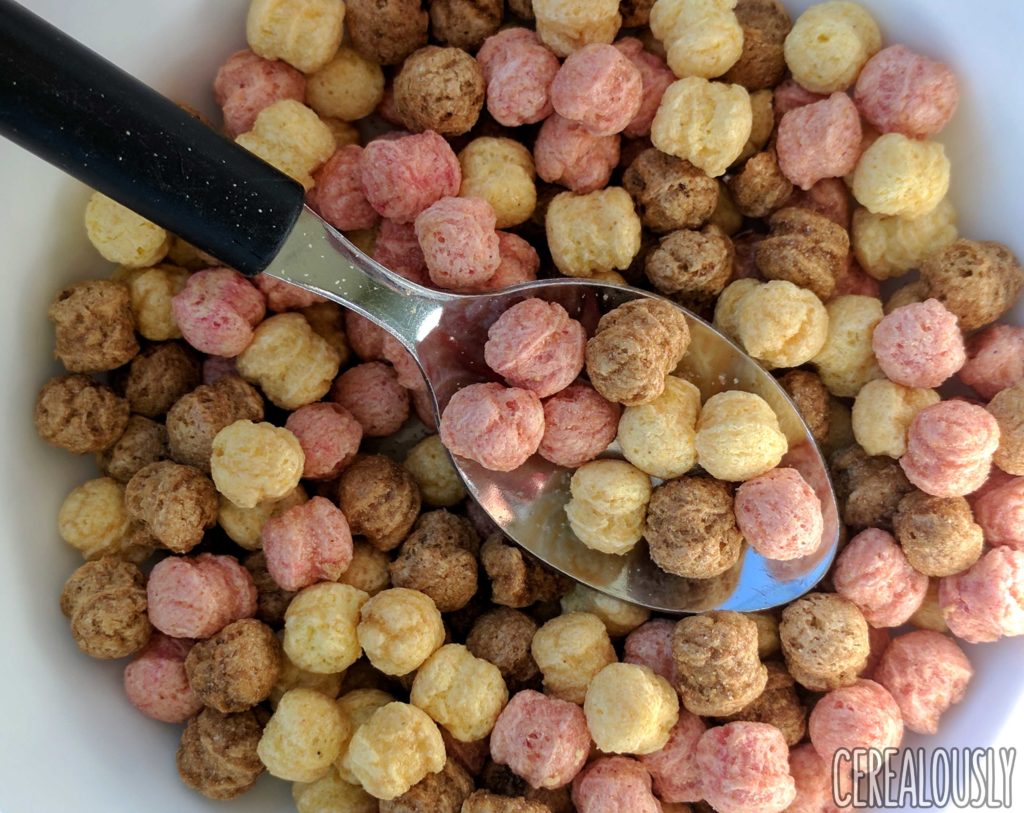 These rosy, creamy, and vaguely mahogany colored Puffs look pretty nice, too. If I had nails small enough, I'd affix one of each to my wall. I will say, though, that they're far smaller than normal Cocoa Puffs and more weakly crunchy, too. It seems that someone at the General Mills factory accidentally set the Ice Cream Scooper to "Ice Cream Rabbit Pooper."
All zoological childishness aside, above is a (10-hour long) visual representation of what biting into Ice Cream Scoops Cocoa Puffs feels like.
Alright, I may be exaggerating a little, but there really is no chocolate flavor in Cocoa Puffs Ice Cream Scoops' initial pop of flavor. Just strong, Laffy Taffy-esque candied strawberry with traces of vanilla flavor that's more "yellow cake batter" than "you know, actual vanilla." Regardless, this opening hit of berries & creme is pleasant, if extremely unbalanced.
And the balance doesn't improve as I eat more of it—it just shifts on strawberry's persistent fulcrum. As I chew, Ice Cream Scoops Cocoa Puffs' vanilla flavor quickly disappears, while a sweet, milky cocoa emerges in the background like the suave, sunglass-wearing uncle who watches you blow out your birthday candles without singing a word. This chocolate flavor is less darkly cocoa powdered than real Cocoa Puffs and even less potent, instead it provides a buttery chocolate flavor that reminds me of Batman Cereal's chocolate liquor-dusted crunchy Batarangs.
In fact, Cocoa Puffs Ice Cream Scoops tastes a lot like Batman Cereal, which is disappointing, because the Puffs' dry texture is no match for Batman and his potently powdered chocolate berry bites. I guess that's why Clayface couldn't beat him, either.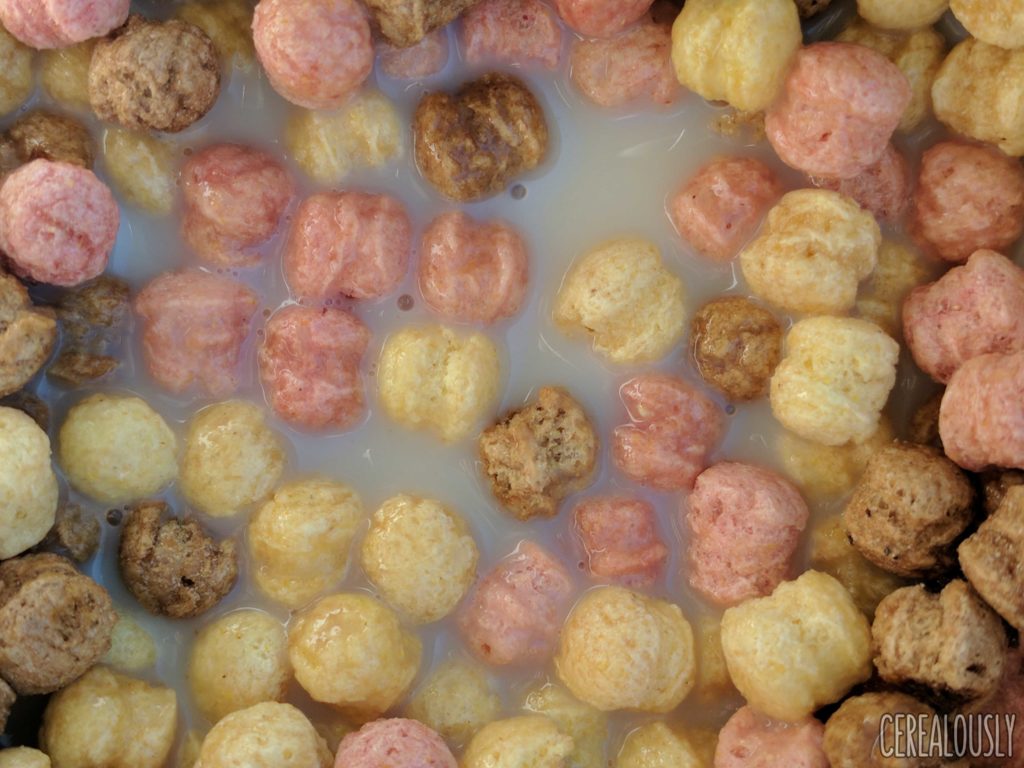 Eating Cocoa Puffs Ice Cream Scoops with milk—frozen or otherwise—yields a different cereal comparison. See, adding milk isolates the strawberry and chocolate flavors (while vanilla is totally absorbed into the endmilk). Everything gets cornier, and I start to realize just how strangely tropical the strong strawberry flavor is. Altogether, it starts to taste more like Chocolate Fondue Trix than anything involving Cocoa Puffs, which is, again, pleasantly lopsided in its flavor profile.
Maybe that "rabbit" setting affected more than just shape.
Altogether, Cocoa Puffs Ice Cream Scoops is a little less than the sum of its parts, as all three flavors never get to shine at the same time. It's definitely a fun summer novelty cereal, and it tastes enough like Franken Berry mixed with Count Chocula to fill the void until October, but these neapolitan Cocoa Puffs are more likely to be overshadowed by the legacy of long-discontinued Cocoa Puffs Combos, and the current deliciousness of Mocha Crunch, which it debuted alongside.
Sorry Sonny, you know how it goes: if you bring ice cream to a coffee fight, you're gonna melt.
---
The Bowl: Limited Edition Cocoa Puffs Ice Cream Scoops Cereal
The Breakdown: Between strong-arming strawberry, vanishing vanilla, and quiet cocoa, Ice Cream Scoops Cocoa Puffs will be a tasty treat for berry fans, but too fruity for the Homer Simpson that lives within us all.
The Bottom Line: 6.5 framable boxes out of 10