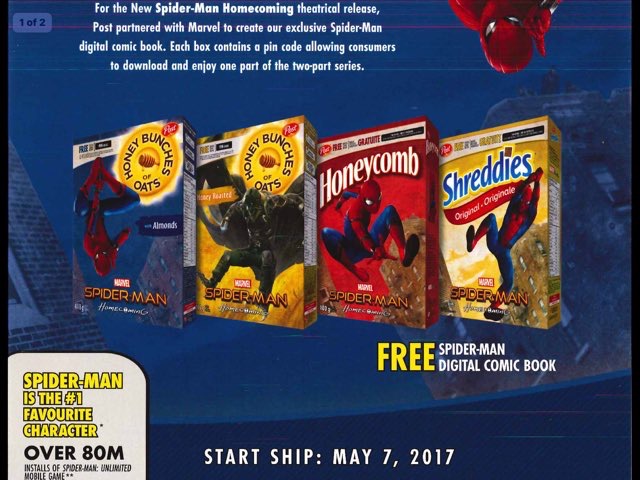 Spider-Man. Spider-Man.
His cereal's next to the Raisin Bran.
Beware, Canadian evil-doers: you can't run from justice, even at breakfast, because Spider-Man is taking over Post cereal boxes to celebrate the launch of his upcoming Spider-Man Homecoming movie.
(Well, I guess criminals could just eat Honey Bunches of Oats exclusively, as the villainous Vulture has made that box his nest).
The boxes are hitting Canadian stores at the beginning of May, but thanks to the heroic help of Junk Food Dog, we've got an early scoop—getting exclusive photos of Spider-Man makes me feel like J. Jonah Jameson, so I'd better start growing my mustache now.
NEW Spider-Man cereal. Swinging in to a Coles near you this week! #yum #new #marvel pic.twitter.com/TxqEDFdOjy

— Kellogg's Australia (@Kelloggs_AU) February 16, 2016
This isn't the first time the U.S. has missed out on an exclusive Spider-Man cereal. Just last year, Australia was blessed with the above Ultimate Spider-Man cereal—although I don't remember there being an issue where Spider-Man shoots sweetened chocolate rings out of his wrists.
Oh well, I won't complain about other countries getting all the coolest superhero snacks. After all, America did get Kraft Spider-Man Macaroni & Cheese: arguably the greatest thing to happen to mac & cheese since the birth of breadcrumbs.