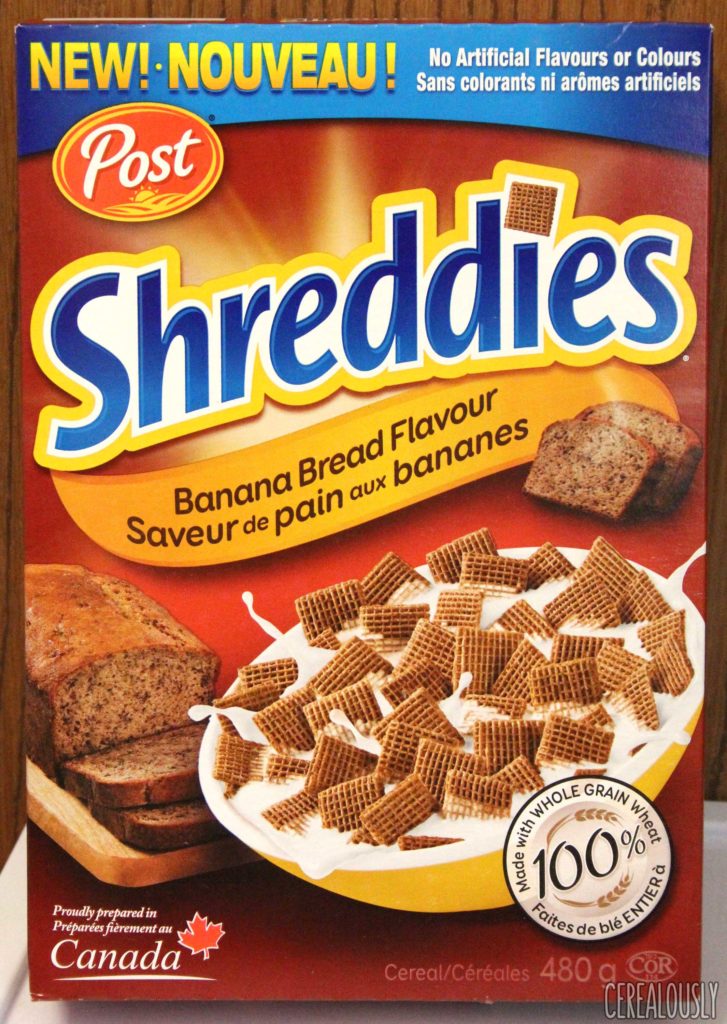 Canada's immigration website is about to crash again.
No, that wasn't a politically motivated prediction—this blog is non-partisan, except for when it comes to the S'Mores Jungle Party. I just think that America's northern neighbors are about to see a whole lot more hungry tourists once word gets out about Post's new Canada-exclusive Banana Bread Shreddies Cereal.
See, the U.S. has a tragic drought of banana-flavored cereals. Sure, we have plenty of Banana Republic stores and enough bad ukulele covers of Jack Johnson's "Banana Pancakes" to fill an audiobook, but if we want banana in our cereal, it's oatmeal, Great Grains Banana Nut Crunch, or nothing. All the great banana breakfasts of our time, from 1981's Banana Frosted Flakes to last year's Minions Banana Berry Cereal, have left us for the great jungle in the sky where all bananas go when they grow brown and mushy.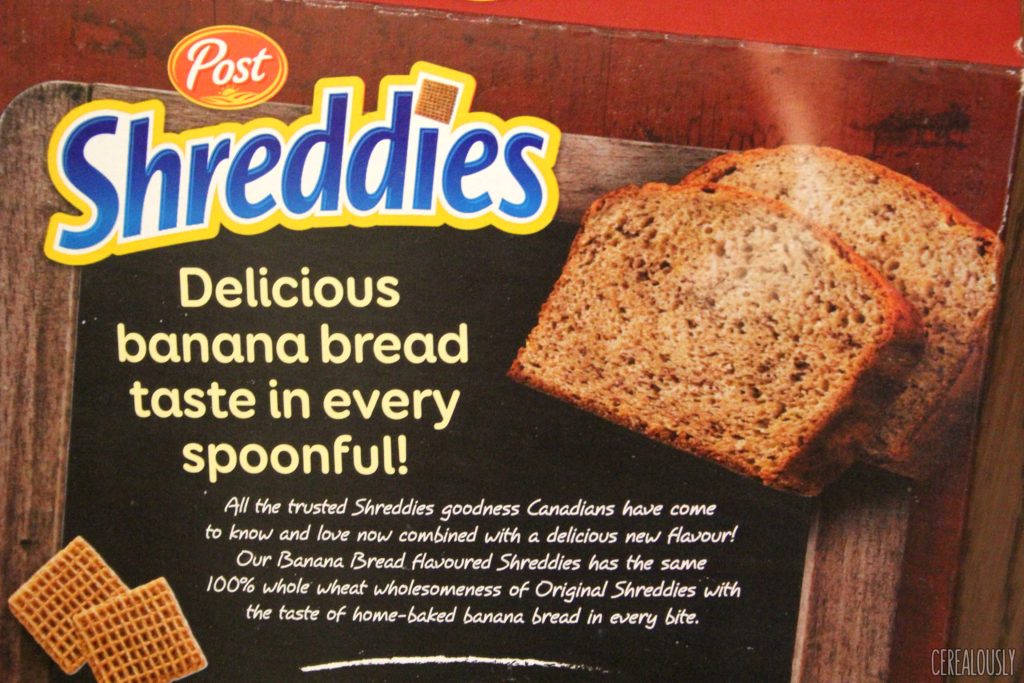 And speaking of brown bananas, we've never had a strictly banana bread-flavored cereal. The cozy flavor of Grandma's kitchen seems perfect for a bite-sized breakfast, which is why these Banana Bread Shreddies are sure to pique the curiosity of humans, monkeys, and Raffis everywhere.
So let's renew our passports and peel open a box of it.
As a seasoned breakfast feaster, it takes a lot for a new cereal to make me audibly gasp. But when I took my first bite of Banana Bread Shreddies, I sucked in more air than a turbo-charged Hoover. This stuff is dripping with enough real banana flavor to necessitate a "Caution: Floor is Slippery" sign, and it's a super ripe 'nanner taste, too. Smacking with ribbons of well-browned, fermented sugar, the coating on every Shreddie is much more "mushy banana" than "tropically floral banana."
Sorry, Tarzan.
As for the base Shreddie flavor—well, let me do a quick interlude first. Not only does America not get Banana Bread Shreddies, but we don't get Shreddies at all. The closest we ever came was 2015's short-lived Shredded Wheat Crunch (fun fact: the blurred-out cereal used in this site's background image is, in fact, Shredded Wheat Crunch). If my photo doesn't make it obvious enough, Shreddies are latticed wheat quadrilaterals with enough crosshatched squares to make a chess Grandmaster sweat.
They're like the beefy "after" picture in a Wheat Chex piece's Bowflex testimonial.
Because they're made with 100% whole grain wheat, these Shreddies have a rich and dense toasted grain aftertaste. Combined with the banana coating, this pleasantly mimics the golden-baked crust of a real banana bread loaf. This cereal lacks the eggy, brown sugary, or vanilla-y notes I was hoping for, but Banana Bread Shreddies makes up for it with syrupy barley malt that gives it a happy browned butter finish.
Speaking of finishes, though, this cereal has a strange one. An accurate banana bread facsimile 95% of the time, Banana Bread Shreddies develops a strangely artificial aftertaste that reminds me of Banana Laffy Taffy. It's not unpleasant, but this aftertaste might throw off those expecting pure, genuine banana taste from this naturally flavored cereal. It'll probably drive Slugworth crazy with jealousy, too.
Banana Bread Shreddies go through another banana dessert transformation in milk. Like the world's most obscure superhero, these mild-mannered dry banana bread pieces become squishy banana cream pie squares when doused in dairy. They become super creamy and pudding-esque, with the saturated wheat taking on the lighter sweetness of a graham cracker crust.
So whether you prefer dark and brooding bananas or light and whipped cream-soaked bananas, Banana Bread Shreddies will make you happier than Donkey Kong in a Dole factory. This cereal may lack some of its namesake dessert's intricacies, but it's a snug cereal worth putting on your pajamas and Bananas in Pyjamas re-runs for.
Now I just have to head to Mos Eisley Cantina and find someone willing to smuggle it into the states by the semi truckload.
---
The Bowl: Post Banana Bread Shreddies Cereal
The Breakdown: A dearth of brown sugar and vanilla can't stop Banana Bread Shreddies from becoming the most comfy and grandmotherly cereal to ever not hit American shelves. Breaded and dry or like a milky pie, this cereal will make banana lovers go…you know what.
The Bottom Line: 9 ripped Chex bodybuilders out of 10
(Quick Nutrition Facts: 210 calories, 6 grams of fiber, 13 grams of sugar, and 5 grams of protein per 1 cup serving)
***Massive thanks go to our friend Junk Food Dog for shipping Banana Bread Shreddies over the border. I encourage you to follow him and/or bake a loaf of banana bread in his honor.***