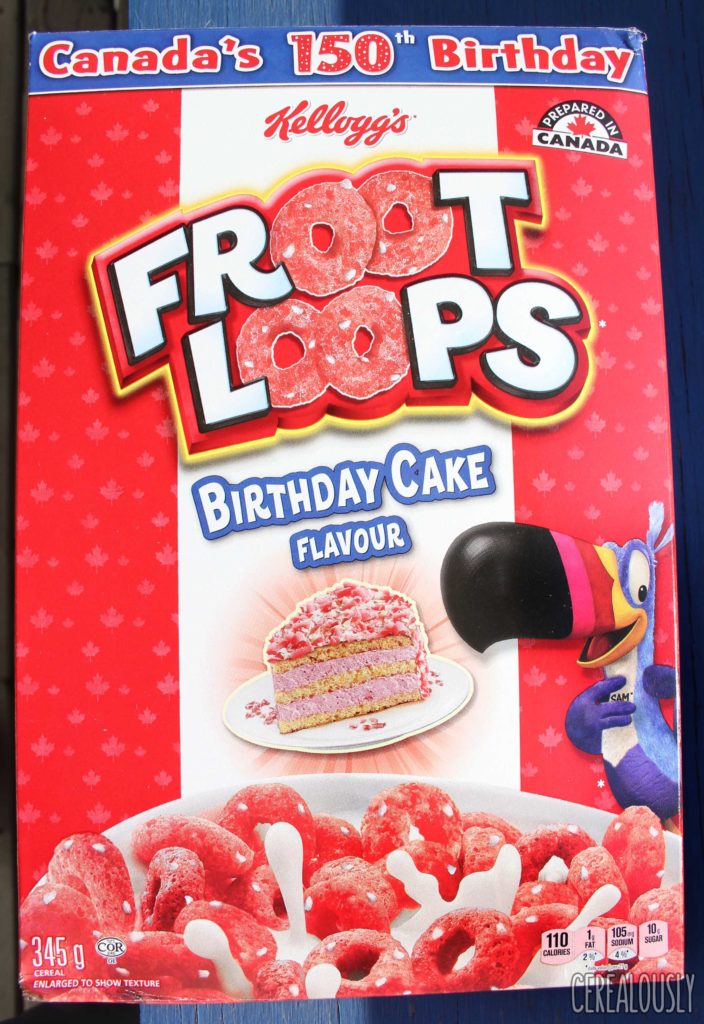 Oh, hey there Canada. No, no, I totally didn't forget your 150th birthday. See, I made you this cake!
What's that? There's a price tag on the container? Okay, you got me, I just bought a plain grocery store cake and frosted the words "HAPPY BIRTHDAY CANADA" on it myself.
Hmm? You say the cake says "HAVE A BROADWAY CAN OF DUFF"? Dang it, I can't trust those old ladies at the bakery to hear anything right.
Well at least I didn't do what Kellogg's did. They just cobbled together a hodge-podge of Canada-colored flavors into a new Limited Edition Froot Loops flavor and called it "Birthday Cake." What do I mean by that? Well allow me to tell you more, Canada—all 35.85 million of you.
What I mean is that, maybe it's an ancient Saskatchewanian ritual I'm not aware of, but I've never seen a birthday cake that looks quite like the one on this Birthday Cake Froot Loops box. And I certainly don't consider what looks like strawberries and coconut to be an iconic birthday cake taste. Here in the States, our most famous b-day flavors are vanilla, funfetti, some sort of yellow custardy stuff, and the occasional Fudgie the Whale (or whole pod's worth of them).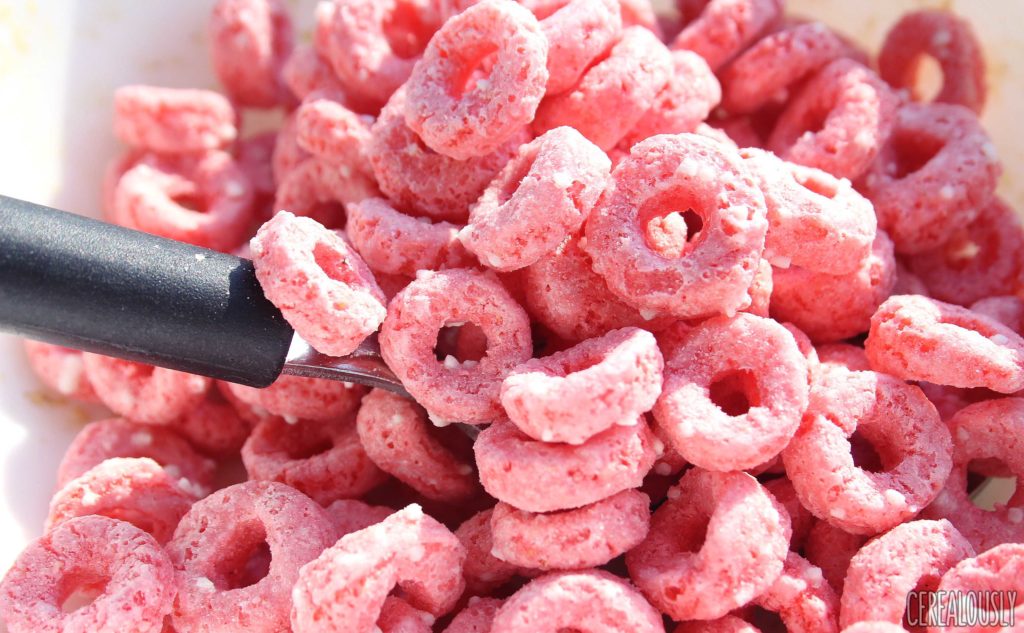 So my only conclusion is that Kellogg's picked the fruitiest cake flavors on hand that resembled Canada's national colors (can you imagine a box of sprinkled albino Funfetti Loops?) and called it a day. They're certainly pretty though—and pretty small. I don't know if all Canadian Froot Loops are this slim compared to America's bloated bits, but I do know that, aside from making a statement about my country's collective waist size, this also makes Birthday Cake Froot Loops more tightly crispy than the softly crunchy O's I'm used to. Not bad: just a refreshing taste of the north.
And speaking of refreshing, the actual flavor of Birthday Cake Froot Loops are like nothing I've tasted in a cereal before. Despite the depicted cake's distinctly strawberrian (if we all pretend that's a real word, Merriam-Webster has to add it) appearance, these loops lead with the sweet-tart flavor of whipped cream and Cherry Starburst. It's not until you eat handful after handful that the promised flavor begins to potently develop. Notes of golden toasted coconut pair up with floury strawberry cupcake sensations, before finishing with a dangerously addictive aftertaste of tangy red velvet buttercream and, dare I say, sugar cookie.
By the time you shamefully realize you've eaten way too much of this stuff while standing alone in a kitchen with only the refrigerator light as your kind—just how real leftover birthday cake usually perishes in my house—all three "acts" of Birthday Cake Froot Loops come full circle. The crunchy circles end up tasting like what a strawberry shortcake and one of those infamous Lofthouse Frosted Cookies would serve at their kid's 1st birthday party.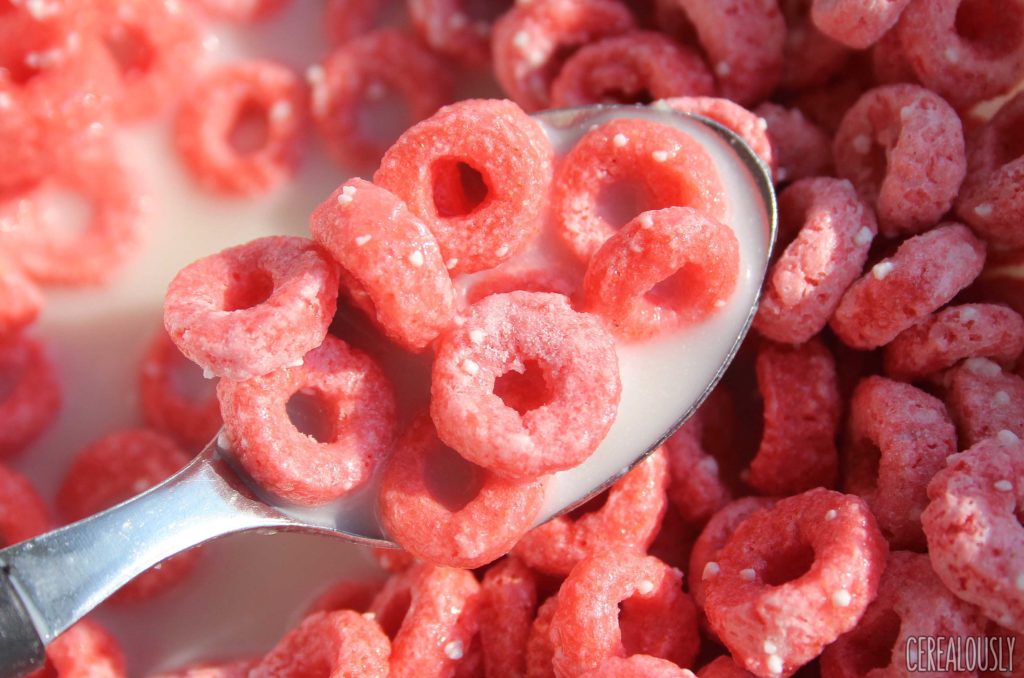 Just like how I wouldn't use a glass of skim to put out a kid's birthday candles, I probably won't be eating my Birthday Cake Froot Loops with milk again, either. Sure, milk amplifies the cereal's buttercreaminess at first, but it also washes away all those straight-from-the-grocery-store bakery subtleties that make Birhtday Cake Froot Loops special.
And the sog factor here is realer than my fear of party clowns. After a short milk bath, Birthday Cake Froot Loops turn soggier than a party clown after a seltzer incident and sadder than my kid self after witnessing it.
But enough clownin' around. Overall, I enjoyed this Birthday Cake Froot Loops, as they let me indulge in a little fruitcakery (take note again, Merriam-Webster) without melting my sweet tooth. Yes, they could stand to be just a little sweeter, doughier, less dry, and fruitier, but Birthday Cake Froot Loops are still creatively satisfying and satisfyingly creative. And they're certainly easier to eat than a Strawberry Keebler Sugar Wafer someone attacked with a hole punch.
On second thought, that sounds like a pretty great party game.
---
The Bowl: Canadian Birthday Cake Froot Loops
The Breakdown: As the first of its kind, Birthday Cake Froot Loops doesn't do justice to its namesake baked good, but it's not a half-baked concept: this cereal still makes good on its promise to be entirely unique with a red velvet/strawberry/hyper-nostalgic cookie flavor.
The Bottom Line: 7.5 Google searches for "what adjective do you use for things from Saskatchewan" out of 10
(Quick Nutrition Facts: 110 calories, 2 grams of fiber, 10 grams of sugar, and 2 grams of protein per 3/4 cup serving)
***HUGE thanks to my Canadian pal Stephen B. for sending these over, along with Maple Cheerios!***