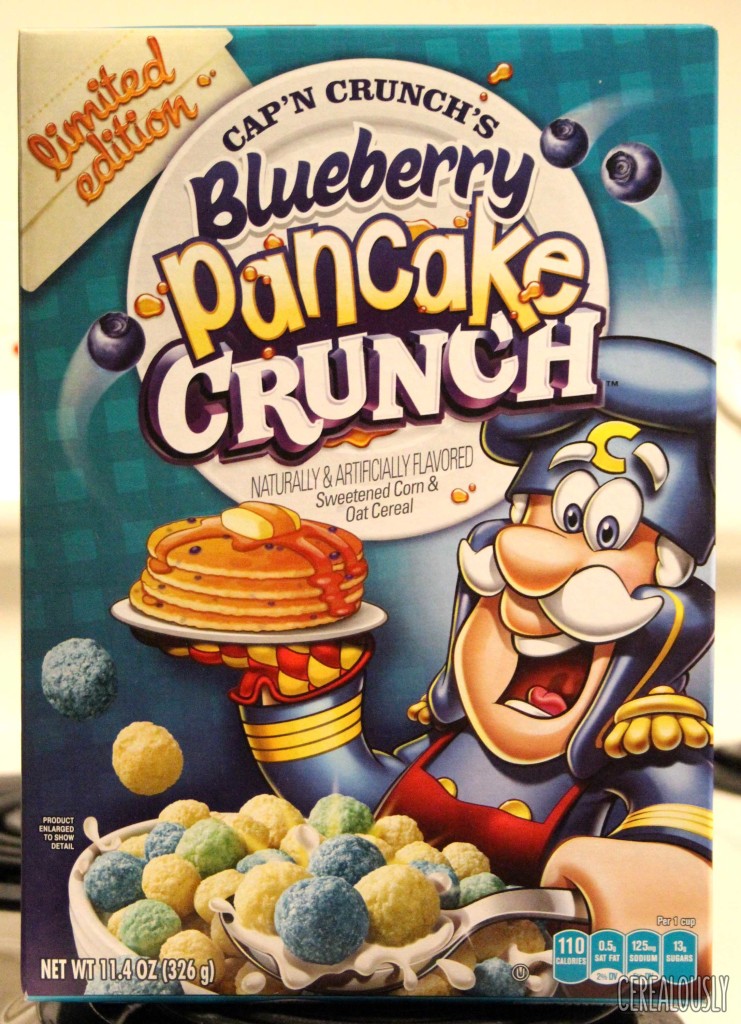 IHOP, matey!
Whoops, that was weird. I meant to write, "Ahoy, matey!" Sorry about that. Anyway, come on and IHOP aboard my cereal review ship, and we'll…darn, I did it again! I really must have pancakes on my mind today.
IHOPe it doesn't happen again.
But really, how can anyone not have pancakes stuck to their brains like syrupy griddlecakes to a plate when Cap'n Crunch's Blueberry Pancake Crunch cereal is finally here? Sold in boxes taller than Paul Bunyan's flapjack stacks, Blueberry Pancake Crunch combines fruity aquamarine and maple-flavored creme puffs (no, not that kind of cream puffs, sorry) to re-create a fascinatingly obscure breakfast in cereal form.
Personally, I would have preferred Buckwheat Pancake Crunch, but my pancake house menu choices are decidedly more octogenarian than most.
So while all you kids turn on Matlock for me and get off my darn lawn, I'll pour a fresh bowl of spherical Johnnycakes.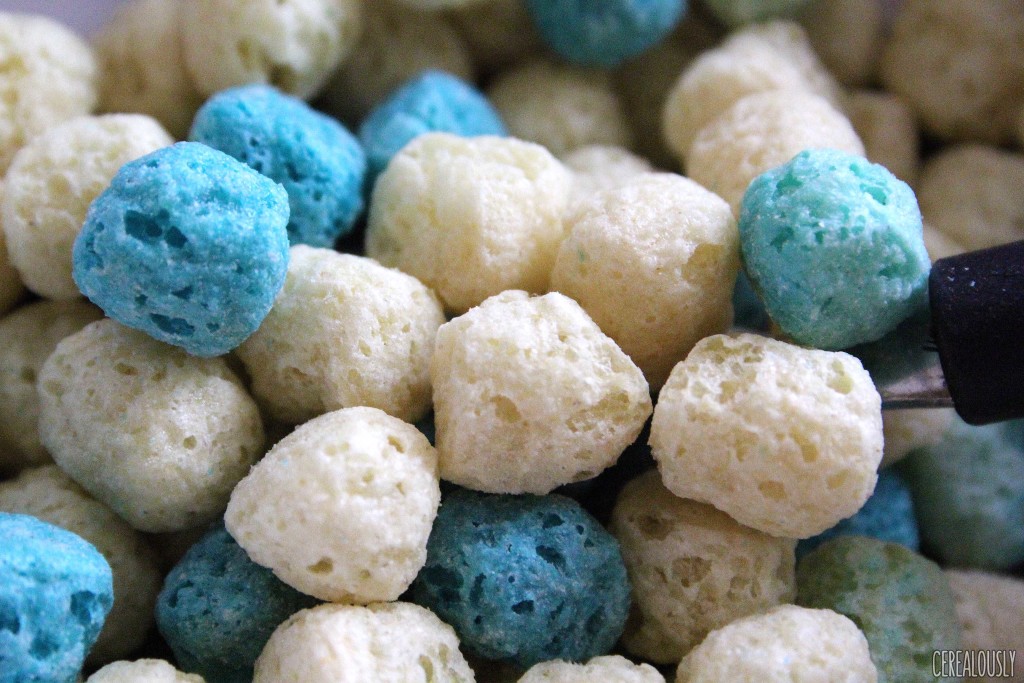 Despite the Cap'n's reputation for mouth-wateringly potent products, his glowing sapphire orbs don't bludgeon you over the head and bury you with blueberry flavor. They're the milder pieces of the bunch, and their artificial blueberry flavor is a far cry from the freshly plucked taste bud smack of Blueberry Tiny Toast.
While I prefer Tiny Toast's approach, Blueberry Pancake Crunch puts a uniquely syrupy (that's the word of the day, kids) twist on society's preconceived notions of blueberry flavor. In true-blue Powerpuff Girls fashion, it tastes like Cap'n Crunch mixed…
A) Melted blue Scooby-Doo fruit snacks,
B) The distilled juice of a Kellogg's blueberry Fruity Snack, and
C) Some blueberry compote from that cute little pancake house in your hometown: you know, the one run by a old couple that's had the same laughably simple barnyard maze on its Kids Menu since the pancake was first invented in the 5th century B.C.E.?
…and glazed it all on a corny puff. It's a fun flavor that combines nostalgic notes with IHOP intricacies, and I wish it wasn't so overwhelmed by the puffs' corn base.
If the blueberry pieces are the cabooses of Blueberry Pancake Crunch, then the maple puffs are conducting the flavor train with their rotund and sticky hands.
And if you've ever had an obscure little cereal called Sunrise Crunchy Maple, these puffs taste just like it. But if you aren't a breakfast hipster, allow me to dust off my thick-rimmed glasses and elaborate.
It's shocking how well Cap'n Crunch's maple puffs emulate a real pancake-munching experience from start to finish. The syrup glaze is light and nearly floral, almost as if it's been blended with golden honey. The puffs themselves have an eggy browned batter sweetness and an aftertaste of whipped butter.
I'm half-tempted to fill a pepper mill full of 'em and sneak it along on my next Waffle House trip to season my flannel cakes mid-meal.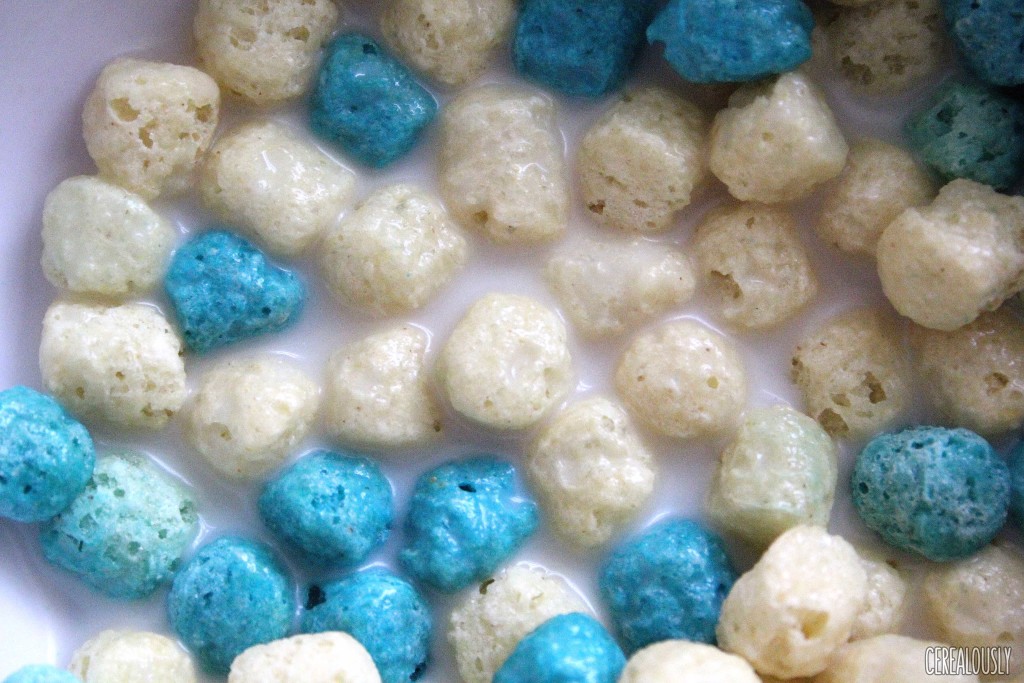 Milk is a good "syrup" for dousing Blueberry Pancake Crunch. It makes the blueberry stand out a bit more and it unites the fruity-maple flavors in a cohesive union of creaminess. But like a whipped cream dollop on a real pancake stack, moderation is key: too much milk and your Blueberry Pancake Crunch experience will quickly shift from "melt-in-your mouth fluffy flapjack" to "sopping soggy sugar wad."
Sogginess and crunch density are two of Blueberry Pancake Crunch's greatest weaknesses, and they make it not quite as good as last summer's Orange Creampop Crunch, which put a legendary orange-vanilla glaze on the Cap'n's sturdy treasure chests instead of going the airy berry route.
I also wish there was more puckering blueberry realism and a darker amber maple taste, but hey—that last one can be remedied with a quick drizzle of the real stuff: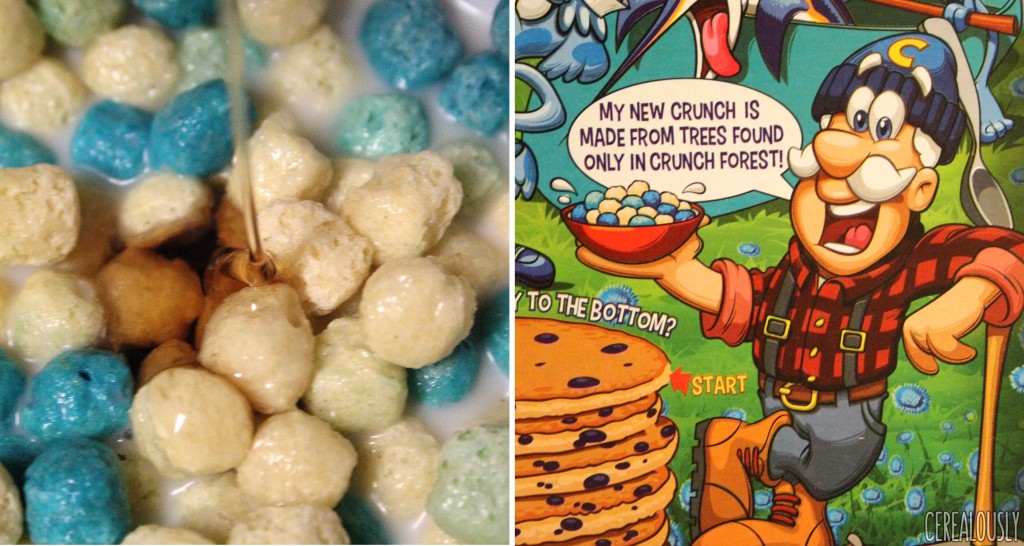 My mother wouldn't be pleased to see me eating this, but my Aunt Jemima sure would.
While I have a few gripes with Cap'n Crunch's Blueberry Pancake Crunch, it's hard to not fall in love with its goofy charms. From its flavor innovation to the lumberjack Cap'n on the back—whose rugged manliness would make both Ron Swanson and the Brawny Paper Towel Guy weep into the latter man's absorbent wares—Blueberry Pancake Crunch is a novel edition to the Cap'n Crunch flavor family. I hope it sells like hot cakes so we can get Chocolate Chip Pancake Crunch next year.
And yes, I did have to consult a pancake synonym guide to write this review. Just be glad I never used "Dough Gods."
The Bowl: Cap'n Crunch's Blueberry Pancake Crunch
The Breakdown: This cereal's coyly candied blueberry and honey-battered maple flavors batter my taste buds with goofy fun, even if its texture is more "Cap'n Crisp" than "Crunch."
The Bottom Line: 8.5 ancient Greek kids meals out of 10
(Quick Nutrition Facts: 110 calories, less than 1 gram of fiber, 13 grams of sugar, and 1 gram of protein per 1 cup serving)
***Our friends at Junk Banter and Snack Cellar have reviews of Blueberry Pancake Crunch, too. Check 'em out!***