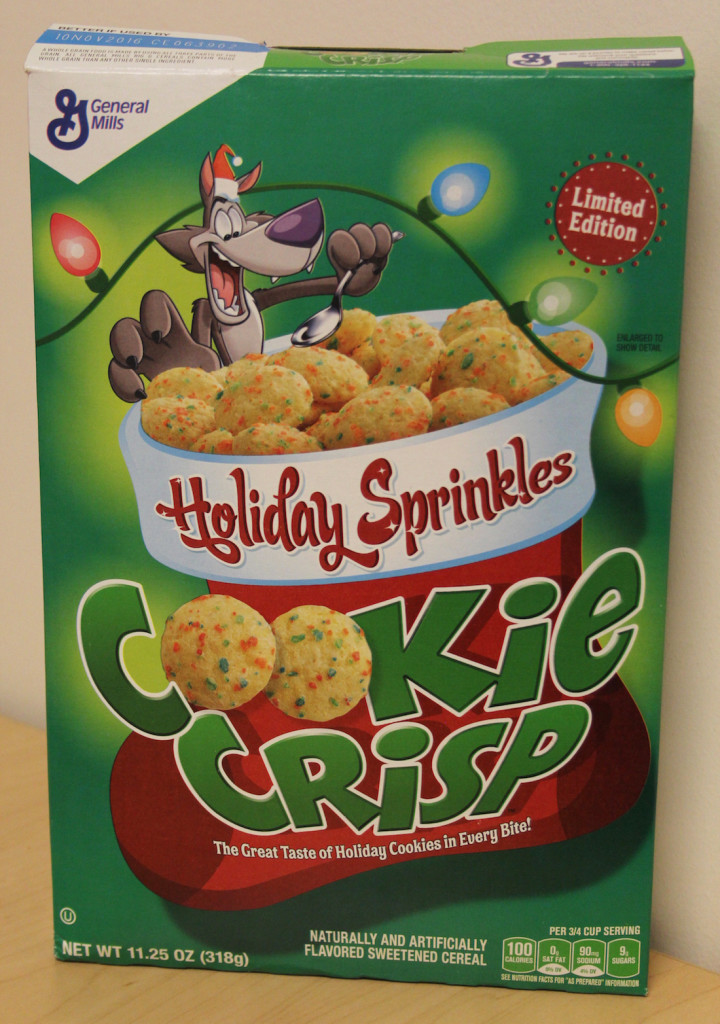 'Twas the night before Christmas, and all through the house,
Not a cookie was baking, not even a Toll House.
Even the Oreos had been eaten (I licked them all so I wouldn't have to share!)
But what would the kids leave out for Santa, who soon would be there?
The children searched their pantry, shoving aside the Wonder Bread,
While visions of a pissed off, hungry Santa clutched his stomach in their heads.
Mom and dad grumbled; they were tired of this crap,
So they threw a box of Holiday Sprinkles Cookie Crisp into the children's laps.
"Santa doesn't need real cookies," Dad said. "They'll just make him fatter."
"Give him this cereal, but go easy on the milk; we don't want a soggy disaster!"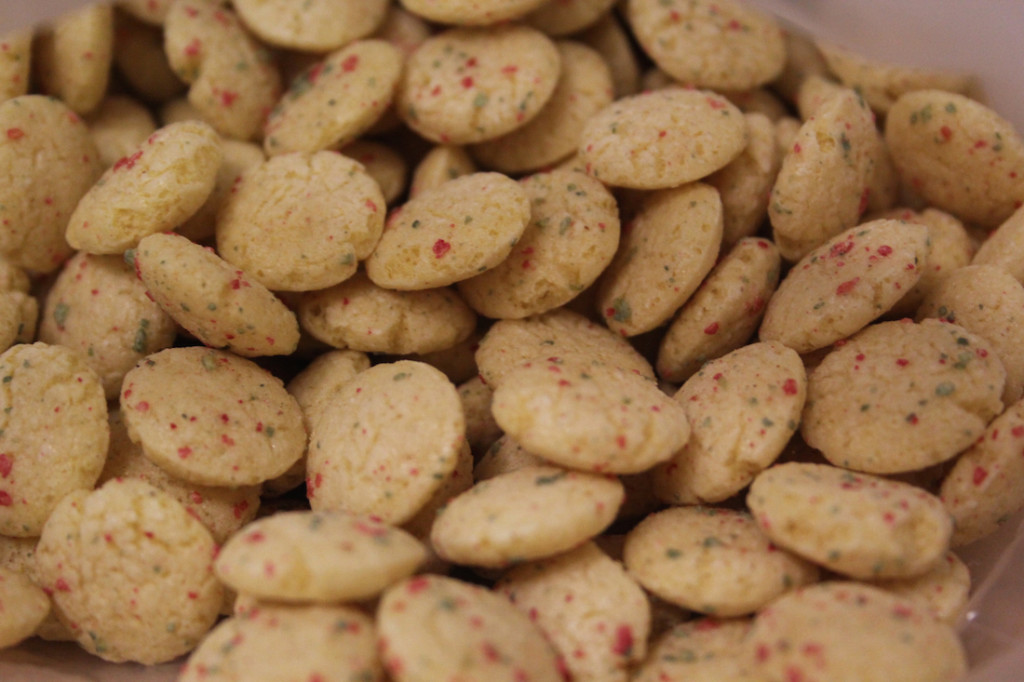 Examining the small cookie pieces, they were shiny, beige, and round.
With sparkling red and green sprinkles, this was the most festive-looking cereal around!
The kids poured out a heaping bowl and heard the falling pieces crash,
As for milk? They added just a casual splash.
With that they marched off to their respective rooms.
Innocent Little Johnny hoped Santa brought him that new game called Doom.
Soon after Santa slunk down the chimney and fell with a plop.
"Ugh, too many Fig Newtons," he said, belly clenched. "I never know when to stop."
Before laying out presents, Santa had to see whether the kids were naughty or nice:
Did they leave fruit cake or cupcakes? Old skim milk or Molson Ice?
Ready to appraise with his palate, Santa approached the cookie offering,
But what he saw had no chocolate chips! No cinnamon sugar! No frosting!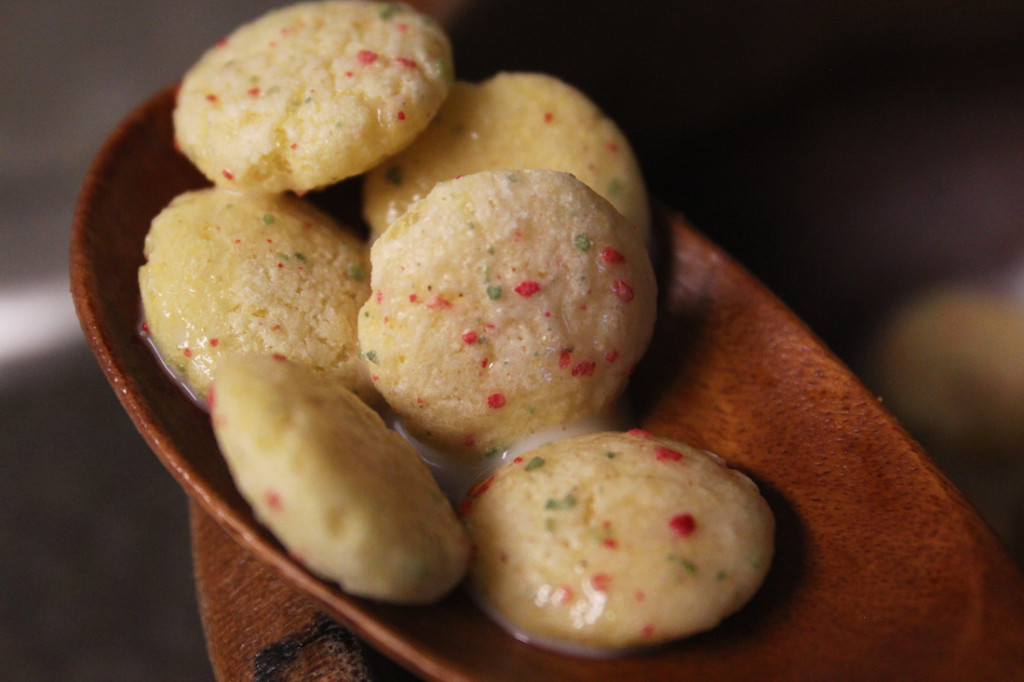 It was just disk-shaped cereal pieces, piled up in a bowl.
As a cookie expert, St. Nick was offended; he began to pull out the coal.
But just then a red light struck his eye with a twinkle.
It was the light of the Christmas tree, bouncing off of a sprinkle!
"Oh fine!" this sassy Santa said. "I'll give it a try!"
So he grabbed a gloved fistful of the pieces on top that were still dry.
As he munched them pensively, his beard filled with crumbs.
"I've certainly had better," he sighed. "These are merely ho-hum."
"They're sticky and glazed, and taste strongly of sugary vanilla."
"But at least their crunch is loud; I feel like a vengeful cereal Godzilla!"
Always referencing snack foods, Santa said, "They taste like Keebler Vanilla Sugar Wafers."
"I wish General Mills had made them gingerbread flavored, but I understand: this flavor's safer."
It was the corn aftertaste that bugged Santa; cookies should taste like dough, not a vegetable!
If the milk didn't make things better, these cookie-less whippersnappers were still in trouble.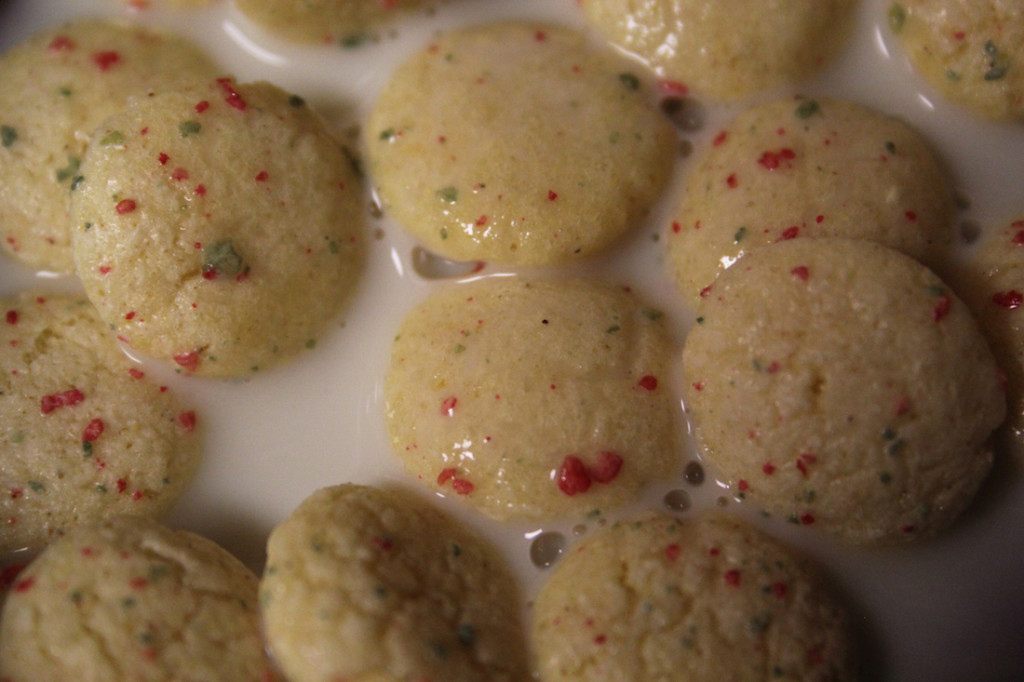 Santa reached the bottom of the bowl and plunged into the mushy, milky abyss.
He was pleasantly surprised! The milk was sweetened by the pieces' syrupy vanilla kiss!
The wee cookies were much better moist: the milk drowned out the pesky corn.
Now they were buttery, creamy vanilla dough balls worthy of Instagram and "#foodporn!"
Though the sprinkles added nothing, they were cute decorations.
Even flavorless baubles earned Santa's adoration.
The texture was still a problem, though: half grainy, half spongey sugar clumps make Santa glum.
And a sticky, waxy feeling lingered, like the residue of a bad sugar plum.
But Santa didn't want to complain: it was Christmas, and he's a sucker for sprinkles.
(Though that wouldn't stop him from raiding those kids' pantry for some Pringles.)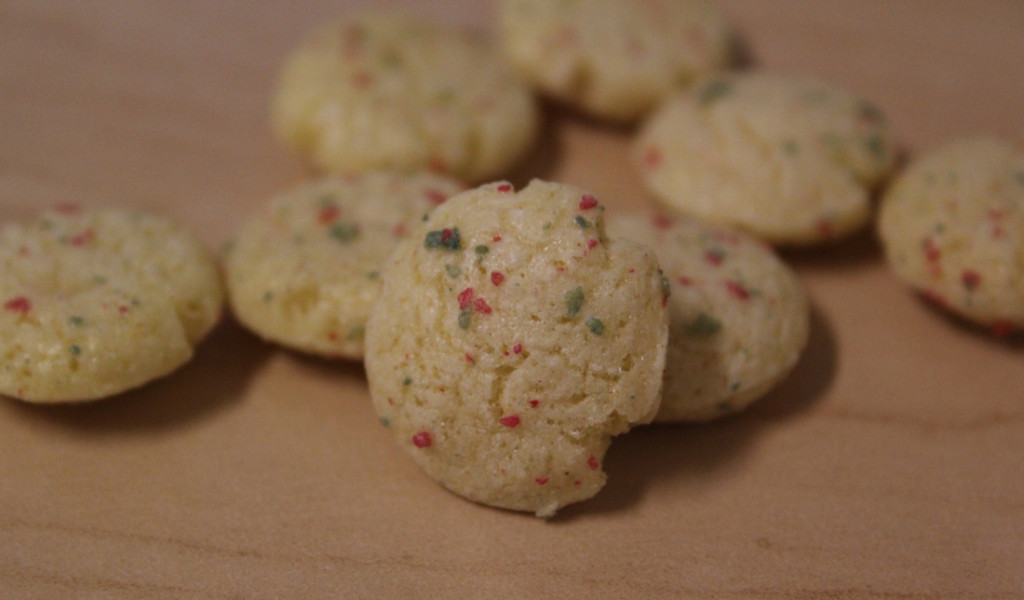 Overall, this Cookie Crisp was average, but would be great for vanilla vani-lovers.
Santa still gave the kids presents (but no Doom for Johnny, just a used copy of Glover).
He could hear children yawning; Santa's crunching must have roused 'em!
He quickly slurped up the endmilk (the best part!) and licked a sprinkle off his thumb.
As he deftly zipped up the chimney, Little Johnny walked out.
Santa tossed him a wink and flew away with a jolly shout,
"Happy Cookie Crisp to all, and to all a good night!"
Johnny woke up his dad and told him of his lucky sight.
Dad was apprehensive: "A visit from Chris Kringle?"
"I'll believe it when I see him—hey! Where the heck are my Pringles?"
---
The Bowl: Holiday Sprinkles Cookie Crisp
The Breakdown: Pieces are a bit too corny (not in the funny joke way) on their own, but the vanilla sugar and mill cocktail they create makes for a worthy holiday beverage.
The Bottom Line: 6 sassy Santas out of 10