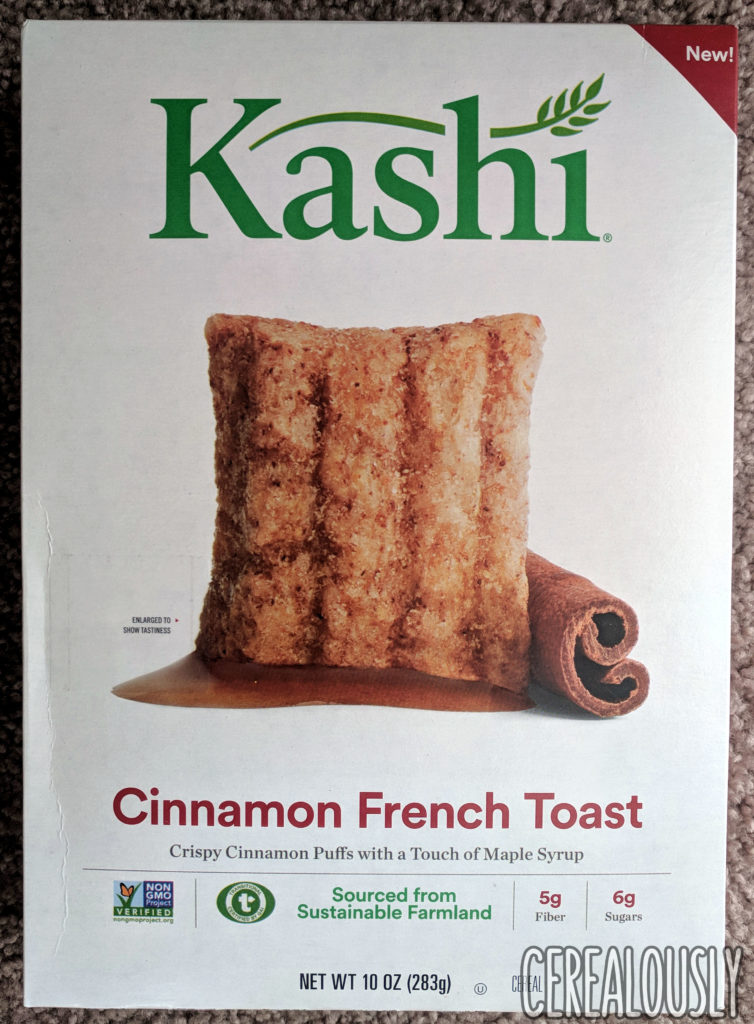 Let's raise a toast to 2018: a bowl of Kashi's new Cinnamon French Toast Cereal, to be more specific.
Yes, I figured this warm 'n' cozy-sounding, breakfast-within-a-breakfast cereal would be a fitting first review for the year of MMXVII for two reasons: one, it's pretty darn healthy and New Year's friendly, at 90 calories per 3/4 cup serving with 5 grams of fiber for "spring cleaning," and just 6 grams of sugar.
Yep, you read that right: Cinnamon French Toast barely out-sweetens Wheat Chex, a cereal I'm pretty sure can double as soy bean fertilizer.
Oh, and the second reason? Because Kashi's bulging little toasts here adopt a "new year, new me" philosophy to deliciously remix a bunch of other cereal flavors you've probably already tried and shamefully binged a whole box of during while binge-watching The Office for so long that Netflix skipped asking if you were there and just asked, "Are you still okay?"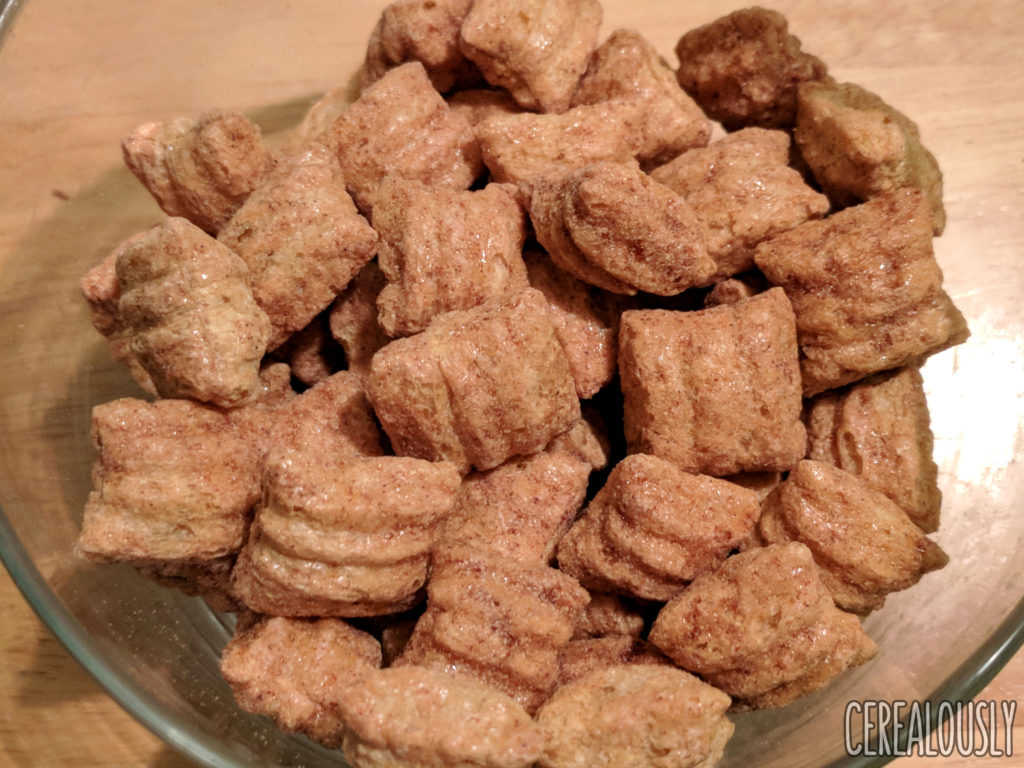 You see, Kashi Cinnamon French Toast Cereal is shaped just like Barbara's Puffins cereals, with thick, hollowly crunchy pillows that shatter satisfyingly with each bite, with pleasant echoes so loud they'd leave the Ricola guy looking for freelance yodeling gigs on Craigslist.
But this cereal's taste is the most interesting remix. At the forefront, it's Diet Cinnamon Toast Crunch, through and through: so much so that, combined with the texture, these are the 3D Doritos to General Mills' iconically crave-able cinnamon squares. Each piece of Cinnamon French Toast Cereal has a mild base of corn and grain that's left intentionally as neutral as Wonder Bread, so the sweet cinnamon coating brushed on it can shine like a Bob Ross painting of an airport Cinnabon.
This cinnamon sugar glaze is only about a third the strength of Cinnamon Toast Crunch's saccharine megaton, but it's nevertheless a similar flavor palette of sweet and buttery cinnamon spice—and one that won't leave your sugar-addled brain swirling like CTC's squares themselves.
But it's on the backend of every Cinnamon French Toast spoonful that the subtle maple syrup taste creeps in. Its sweet amber tendrils work their way through the fading cinnamon overtones to provide a pleasantly darker, genuine maple sweetness—it's like French Toast Crunch that actually went to France and returned to repent for its faux-Francophile habits.
And a solid milking makes it all the better. With a proper dousing, the cinnamon and base meld into a doughy sticky bun concoction, while the maple backend adopts a surprising twang of smokiness—picture that last, slightly charred bite of waffle from the sketchy Waffle House down the street (you know, the one where you can somehow get French toast with French fries). It does leave an odd stickiness to the back of your throat, too, but as long as you wash it down with a gulp of endmilk (preferably syrup-infused), you probably won't notice it.
So I've said a lot of good things about Kashi's Cinnamon French Toast Cereal. And while I stand by that, its meek sweetness is unlikely to win any converts from the diehard Toast Crunch clan. But for those looking for a balanced healthy–sweet cereal that will provide wholesome energy without tasting like the second fabled pig's post-Big Bad Wolf house, Cinnamon French Toast Cereal is both nostalgic and nourishing.
Just like this blog! Hah: self-five!
(Please don't leave me.)
---
The Bowl: Kashi Cinnamon French Toast Cereal
The Breakdown: A sticky-sweet triumvirate of Puffins, Cinnamon & French Toast Crunch, what this crunchy coalition lacks in outright sweetness, it makes up for in cinnamon coziness, maple complexity, and retained pride.
The Bottom Line: 8 bowls of Wonder Bread O's out of 10