Just look at those swirls. Imagine them hypnotically spinning: spinning, twirling, and careening down into your cereal bowl.
You're getting very, very hungry.
It's been a relatively slow month for new cereal, so while I continue eagerly hunting for Post's new Marshmallow Pebbles, I think it's time I gave a cinnamon-seasoned cereal veteran a proper vetting.
And since the tempting spirals in this box of Kellogg's Cinnabon cereal have been beckoning me like crunchy sirens for awhile now, they seem like good review candidates.
Maybe now I won't have to eat bowls full of Taco Bell Cinnabon Delights and milk. I hear that's how they finally killed Rasputin.
Believe it or not, Cinnabon cereal has a long history. The concept and snail shell piece shape has existed since Kellogg's introduced Cinnamon Mini-Buns back in 1991, and it persisted through several iterations and flavors until its eventual Cinnabon co-branding in 2010. As always, you can consult resident cereal historian Gabe Fonseca for the full story.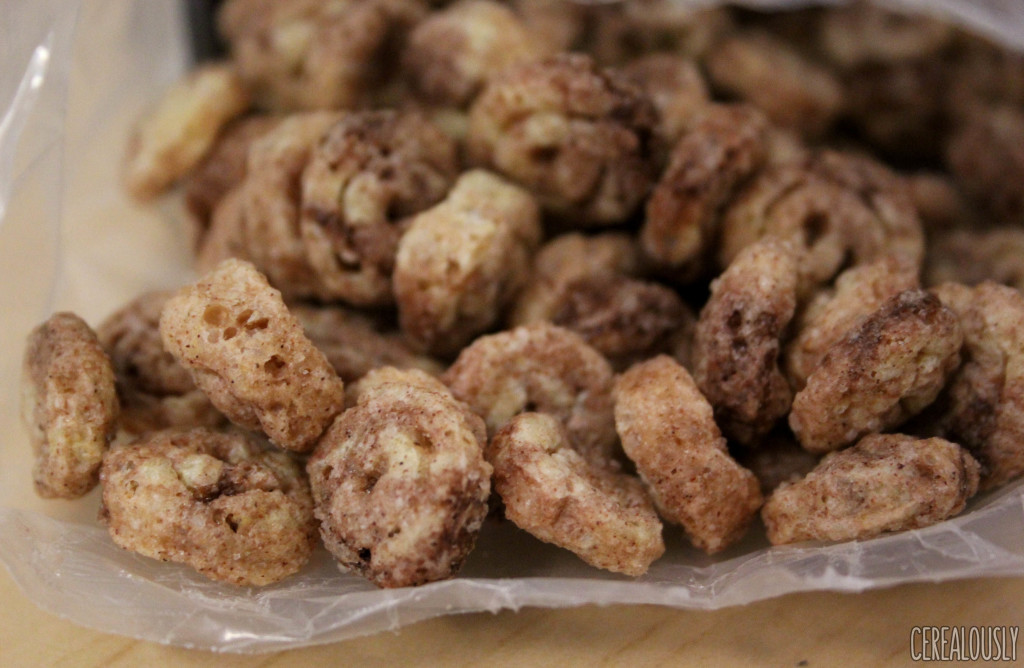 Every coiled piece of Cinnabon cereal is the toasty auburn color of pure cinnamon and sugar. After biting into just one of them, I immediately understand why the French language uses "bon" to mean "good."
This cereal really is Cinnagood; not only is there a pleasant cinnamon brown sugar sweetness on every piece, but that sweetness is also layered on a bed of rich, baked and buttered doughiness.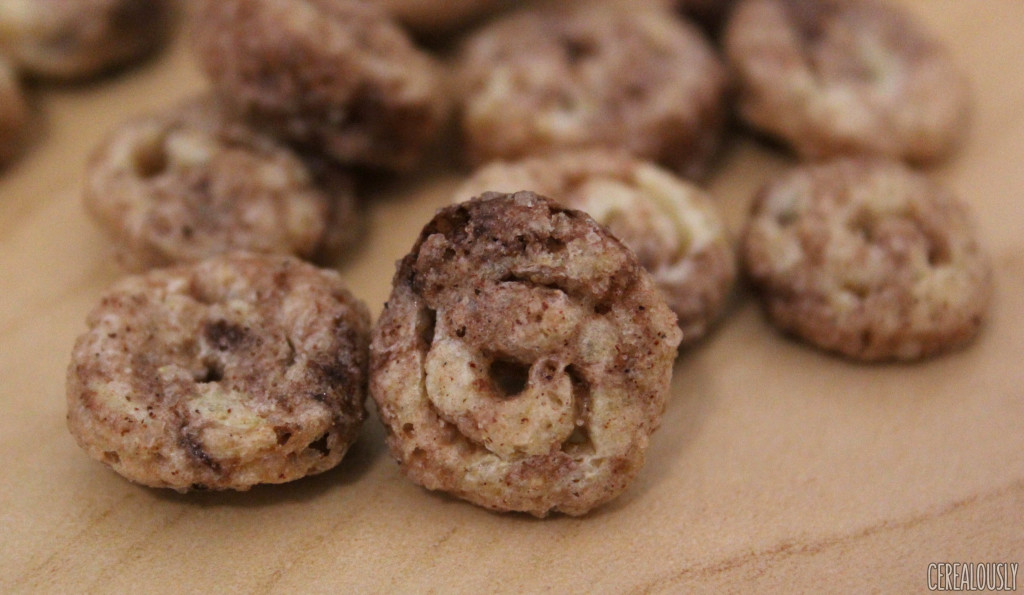 The toasted edges on some lucky bun pieces only make the "warm, fresh-baked cinnamon roll" experience even more authentic. There's even a bit of a spicy cinnamon aftertaste that provides a welcome kick.
I do have one gripe with Cinnabon cereal, though: the texture. While I was hoping for a the melt-in-your-mouth softness of a magical Cinnabon core, instead each piece has a limp, ho-hum chewiness. Uncomfortably biting through each piece is like working your way through the flabby outer ring of a slightly undercooked cinnamon roll.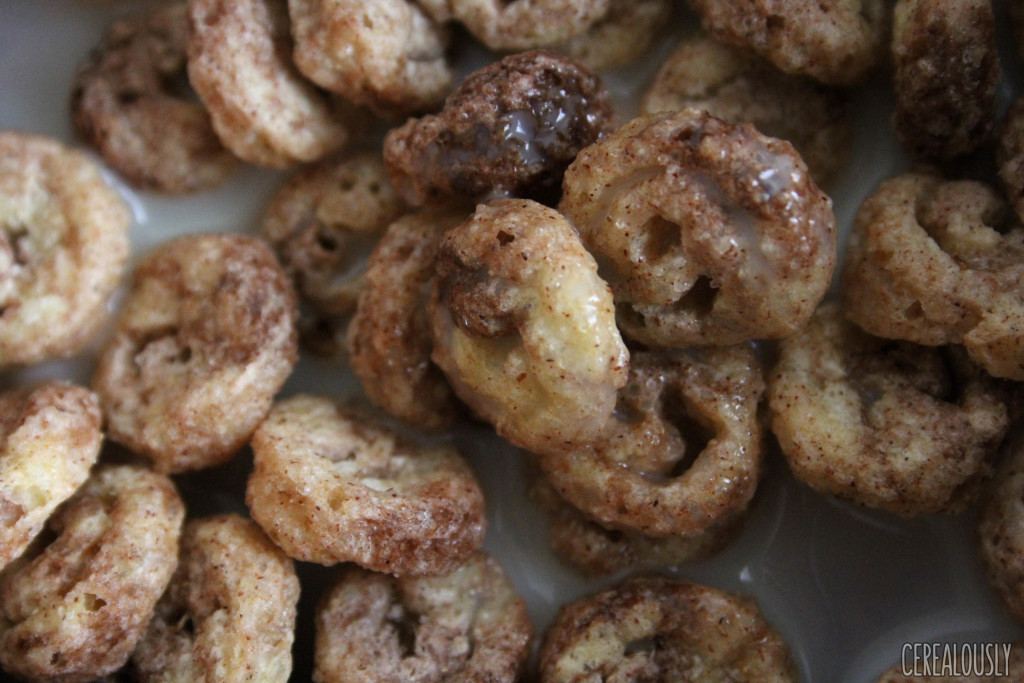 Adding milk makes the texture a little closer to moist Cinnabon insides, but it still lacks the faint bite of good, gooey cinnamon bun frosting. I realize though, that that's probably too much to expect from a commercial cereal. I could always just melt a cream cheese brick or liquefy a sour cream doughnut over my bowl for that desired sugary tang.
So despite my impossible expectations, my taste test confirmed that Kellogg's Cinnabon is a cereal aisle mainstay for a reason. As a recognizable and tasty adaptation of a famous pastry in bite-sized form, Cinnabon cereal rivals Cinnamon Toast Crunch for the title of "Best Cinnamon Swirled Cereal."
I'm not sure which I like better between the two. It's kind of like comparing cinnamon-coated apples to cinnamon-coated oranges; CTC has a straighter blast of cinnamon sugar, while Cinnabon has more complex layers of dough and spice.
And besides: why bother fighting when you can just have the best of both swirled worlds?
---
The Bowl: Kellogg's Cinnabon Cereal
The Breakdown: Like an ogre, an onion, or a cinnamon bun, this cereal has layers and layers of sweetness, butteriness, and spiciness. I just wish the blubbery texture wasn't so mediocre.
The Bottom Line: 8.5 incinerated Krispy Kreme doughnuts out of 10
(Quick Nutrition Facts: 120 calories, 12 grams of sugar, and 2 grams of protein per 1 cup serving)