Every so often, a cereal appears that you didn't know you needed in your life. That is, until you taste it and realize that a part of you—a small, quiet part chilling out near the gall bladder—has had its secret cravings fulfilled. Kellogg's Pink Donut Cereal is one of those cereals.
Like Superman Cereal's Nilla Wafer-esque goodness or Chocolate Mini-Wheats' pangs of ice cream sandwich goodness, Pink Donut Cereal—one of two  entries in Kellogg's new Donut Shop cereal line (the other is chocolate)—fulfills a very specific and very nostalgic flavor niche. So before you go all hipster-vegan-doughnut-shop on me, turning your maple-bacon-ganache-primed nostrils up and saying, "Pshh, Kellogg's just reused their Froot Loops shaped and called them doughnuts," or, "Pink is not a flavor. She's a wildly successful pop music artist whom I only enjoy ironically," hear me out:
Kellogg's Pink Donut Cereal is good, and it tastes like a very specific pink thing you already know and love.
No, not strawberries or cotton candy. And not fried Jigglypuff steaks, either.
Kellogg's Pink Donut Cereal tastes almost uncannily like Keebler Frosted Animal Cookies. This isn't too shocking since Kellogg's make those, too, but "delightfully iced animal cracker" is a flavor that hasn't been properly rendered into a cereal yet. And since Frosted Animal Cookies were one of few rare foodstuffs I'd trade my Oreo Cakesters for in a school cafeteria (the other being Bosco Breadsticks), eating this cereal brings back a lot of warm memories—namely ones of sugar-dazed Four Square games that quickly revealed the heart of darkness lurking inside every semi-competitive grade schooler.
For those whose lives haven't been blessed by Ernie the Elf's deliciously sprinkled zoo, let me better explain the flavor of Pink Donut Cereal. The base is pleasantly pillowy and dense—much more so than Froot Loops or Apple Jacks. There are pleasant notes of buttery shortbread lurking in these craterous hoops, as well as even butterier pops of buttercream frosting. Despite this, the mini doughnuts aren't overwhelmingly sweet, so you'll have to crumble in some real animal crackers to get the kind of semi-steroidal sucrose boost required to cherry-bomb a kickball over Billy's head.
When we first saw these rose rings, some readers compared them to Kellogg's Canada-only Birthday Cake Froot Loops. And that comparison is pretty apt: aside from looking nearly the same, both have a very cake battery flavor and a vanilla dough aftertaste. The only difference is that the Loops had bursts of mild strawberry, whereas these Donuts only evoke the faintest hints of strawberry shortcake fruitiness—and even that might just be the placeberry effect.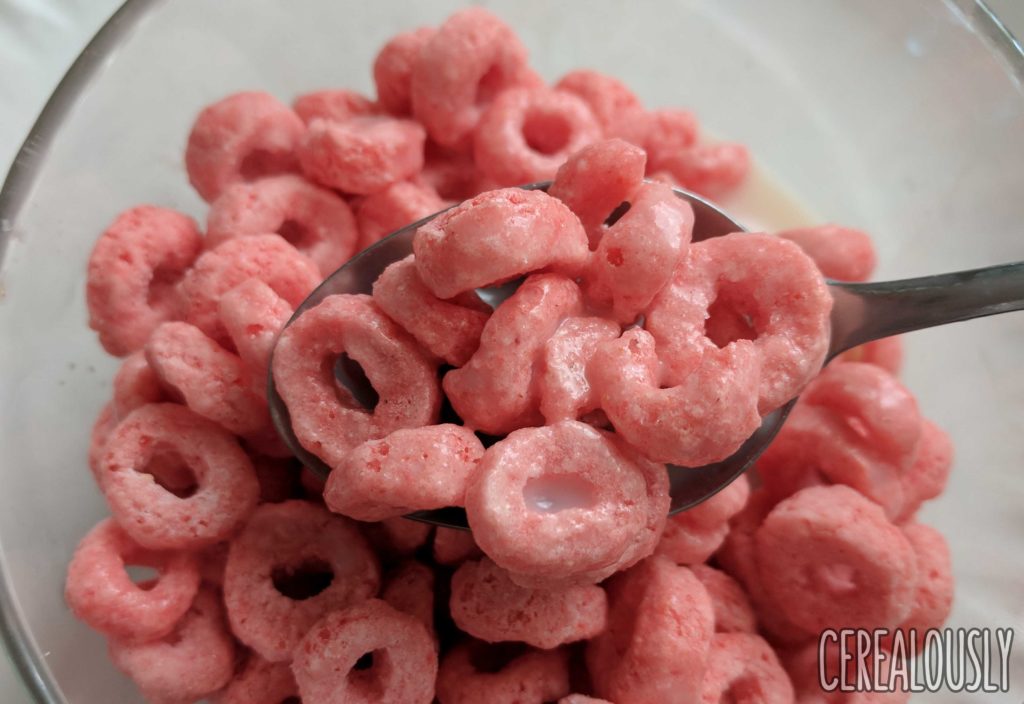 Milk makes Pink Donut Cereal even better, as milk's creaminess emulsifies the cereal pieces' sugared coating into something remarkably similar to doughnut glaze. Combine with the already delightfully soft crunch and vanilla smacks each piece presents, Donut Shop cereal with milk is like dunking a bakery pastry into coffee creamer.
So while Pink Donut Cereal may lack zany nuance or a single, pronounced flavor, its combination of yellow cake batter, vanilla frosting, and buttery animal crackeriness is comforting and memorable. It's much more cupcake than doughnut, but I still think Kellogg's take on my favorite dessert-in-breakfast's-clothing is even better than Cap'n Crunch's.
Mostly because this one doesn't tear up my mouth. When's the last time a real doughnut gave you taste bud lacerations?
---
The Bowl: Kellogg's Donut Shop Pink Donut Cereal
The Breakdown: Donut? Cupcake? Does it matter? By blending butter, cake batter, vanilla, and a dash of frosted nostalgia, this unsung delight is, most of all, unique.
The Bottom Line: 9 elven zoo tycoons out of 10