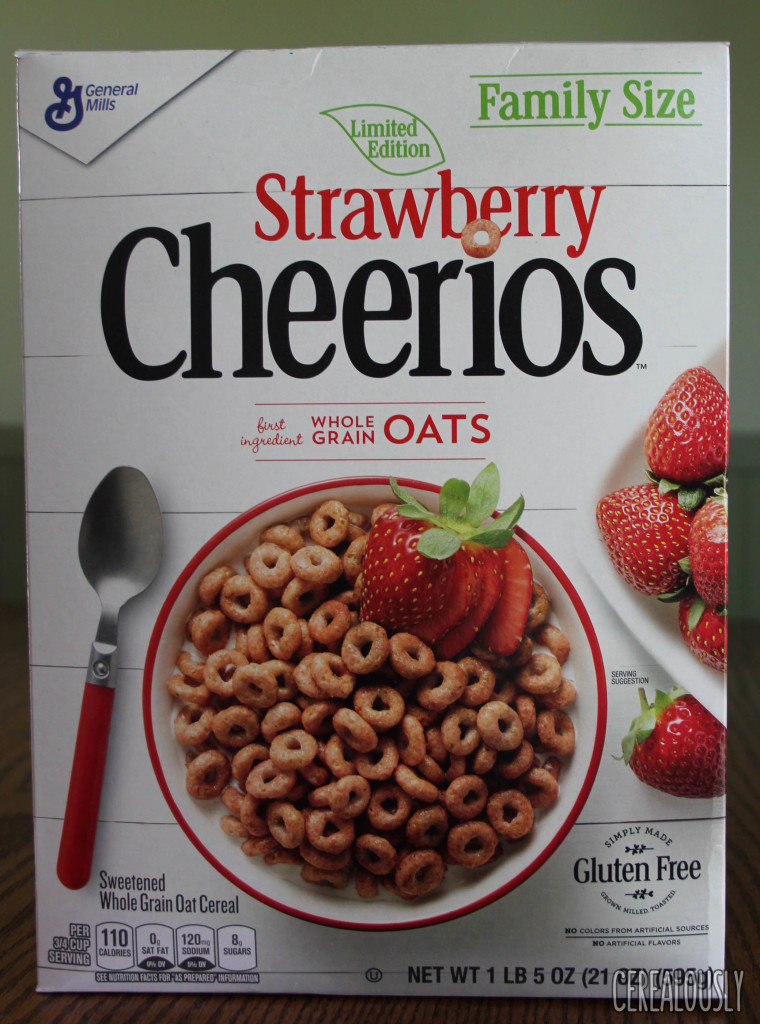 Strawberries.
Forget April showers, May flowers, and June TV re-runs of Austin Powers, because strawberries are the real harbingers of summertime.
Strawberries!
Whether it's the rosy pink of an artificial strawberry or the screaming scarlet of the real thing, the color of strawberry related things is enough to make my blood run red. Oh, wait…it always does that.
Strawberries!
Even saying the name makes me want to suck down fruity beverages through a curly plastic tube while singing along to "Copacabana," because nothing's better than straws and Barry.
Now even Cheerios—one of the most iconic cereal brands out there—has embraced this hero of the season. With gluten-free Limited Edition Strawberry Cheerios, General Mills is once again bringing peace to the breakfast aisle after the tragic discontinuation of Strawberry Yogurt Burst Cheerios in 2013.
We also know that the bread and strawberry butter of General Mills' strawberry cereal game is still to come with this summer's Strawberry Tiny Toast, but let's give Strawberry Cheerios their time in the oat ring-shaped spotlight. Hi ho, Cheerio: let's-a go!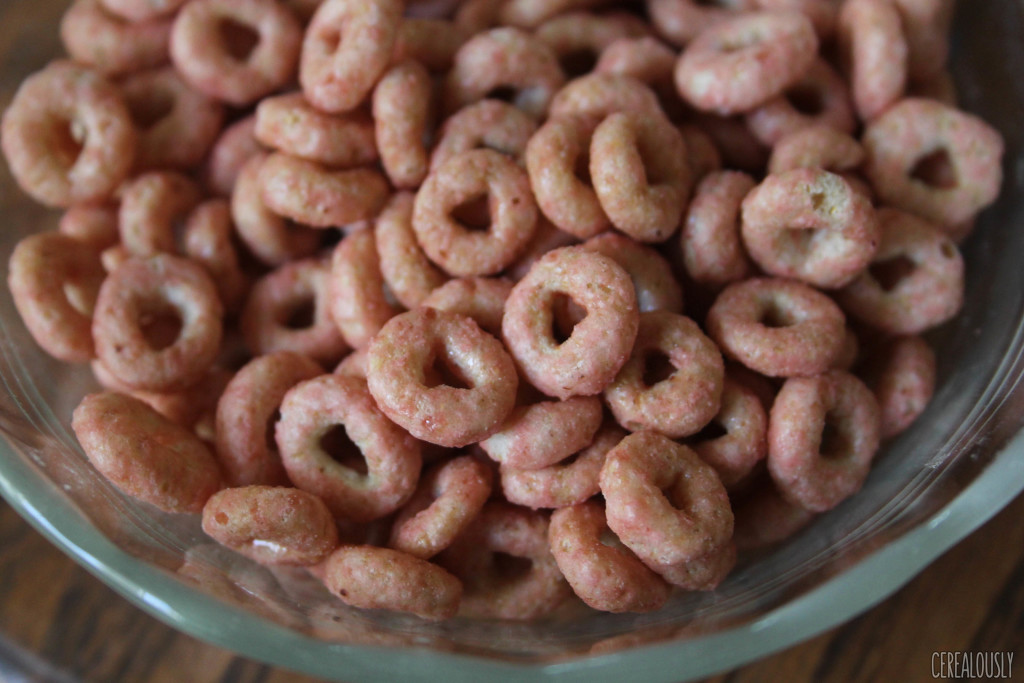 This "limited time only" cereal currently only comes in family-sized boxes at Walmart, so if you're a lone wolf bachelor like me, you'll be left with a bag of pale red polka-dotted rings big enough to bathe in.
A dry handful is all it takes to leave me addicted. These Cheerios have a modest crunch that's not too wimpy and not too hearty. But right when you bite into a spoonful, it bites back; this cereal is bursting with authentic strawberry flavor, complete with the ripe tang of a freshly plucked berry. This sweet bite pairs well with the comparatively muted and earthy oat base.
This very real taste will certainly be refreshing for anyone who's tired of the overly fake strawberry found in Laffy Taffy or Starburst (if this sounds like you, feel free to mail me each and every Strawberry Starburst you have. I'll "dispose" of them properly).
The closest cereal analogue I can think of is Strawberry Honey Bunches of Oats, but that cereal has freeze dried strawberries that are uncomfortably chewy, chalky, and bitter. Strawberry Cheerios only contain real strawberry purée. This makes them taste exactly like the strawberry jelly and strawberry syrup my dad makes from homegrown strawberries, which he then uses for pancakes and daiquiris but mostly daiquiris.
Note: Cerealously is not liable if you pour alcohol over your Strawberry Cheerios instead of milk.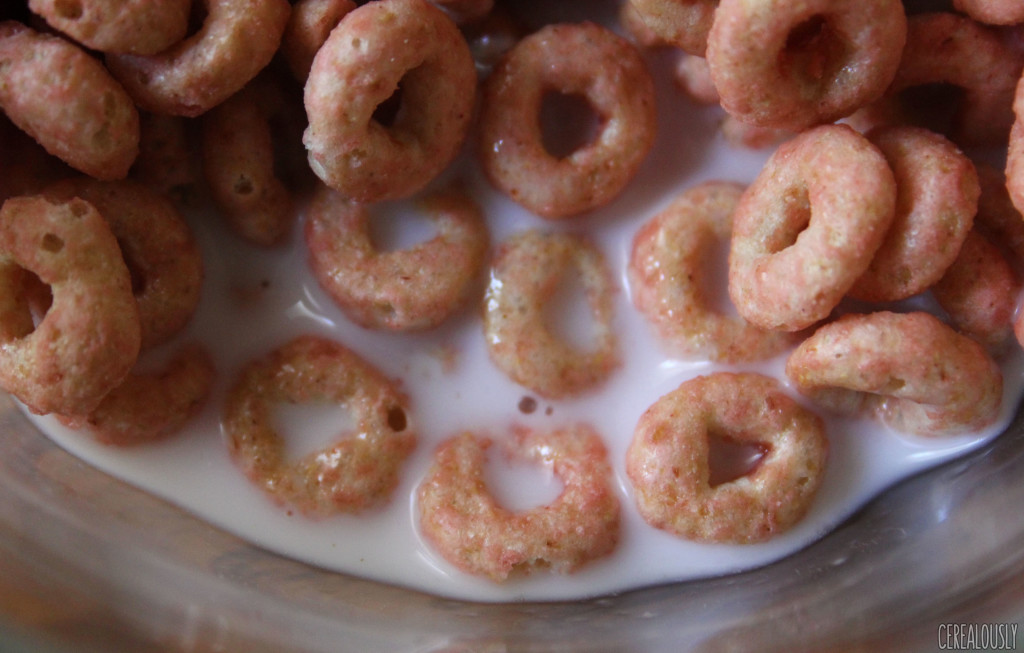 On the topic of milk, I personally feel it's a toss-up whether or the white stuff's necessary on Strawberry Cheerios. Milk does add a welcome burst of parfait-esque vanilla to the real berry flavor, and it does leave behind a strawberry syrup-striped endmilk that tastes like a less sugary Strawberry Nesquik, but it also washes away the Cheerios' lip-smacking coating rather quickly.
*Note: Cerealously does recommend that you pour Strawberry Nesquik over your  Strawberry Cheerios instead of milk.
And that's my only real problem with Strawberry Cheerios: their fruity beauty is only skin deep. After the wonderful strawberry glaze is sucked dry (by either me or the milk it's soaked in), all that's left is a plain ol' oat base.
This is why, while Strawberry Cheerios are probably the best new member of the Cheerios family since Cheerios Plus, they aren't my favorite strawberry cereal out there. That honor goes to Van's Blissfully Berry cereal: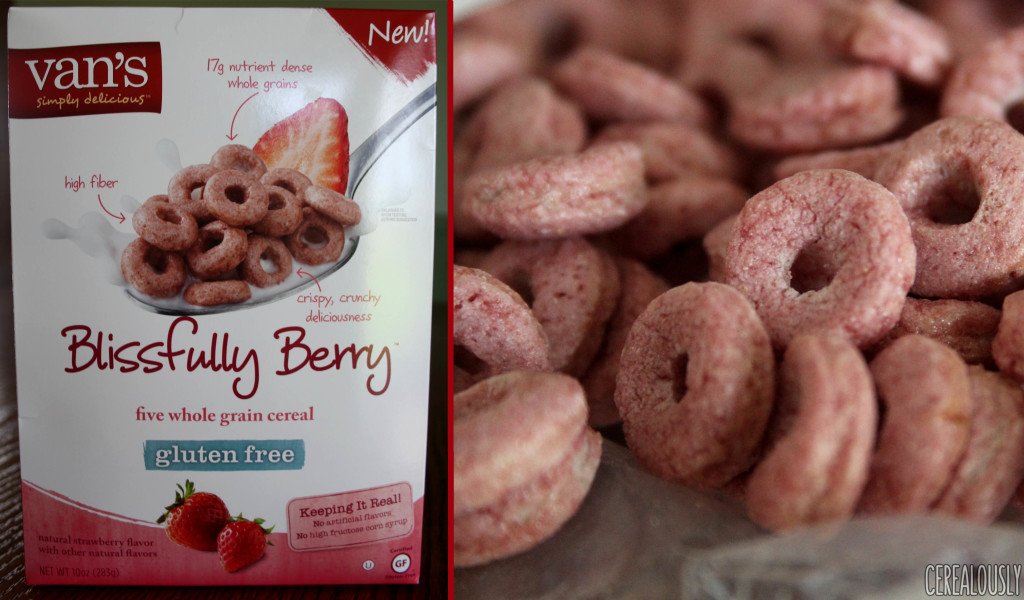 Though this cereal may have a slightly pulpier and cardboard-like base, Van's Blissfully Berry has a heavy and gratifying crunch. It also has a creamy strawberry taste that's absorbed deep into the core of each piece, as if every ring had its bones infused with Strawberry Go-Gurt,Wolverine style.
Sorry, Strawberry Cheerios: I stole your spotlight again. You really do deserve compliments for bringing real strawberry flavor into a mainstream cereal, even if I did have to lug your giant box through Walmart like it was a chubby cardboard baby.
Now if you'll excuse me, I need to call Paul McCartney. I've written the word "strawberry" so many darn times that I could sell him this review as a sequel to "Strawberry Fields Forever."
---
The Bowl: Limited Edition Strawberry Cheerios
The Breakdown: Like normal Cheerios all slathered up with strawberry jelly, these rings have an addictive real fruit bite that I wish ran a little deeper in its rosy red blood.
The Bottom Line: 8.5 pancake and daiquiri breakfasts out of 10
(Quick Nutrition Facts: 110 calories, 2 grams of fiber, 8 grams of sugar, and 2 grams of protein per 3/4 cup serving)
***Check out more reviews of these from our friends at Junk Banter, Snack Cellar, and The Impulsive Buy, too. Look at you, Strawberry Cheerios: you're popular!