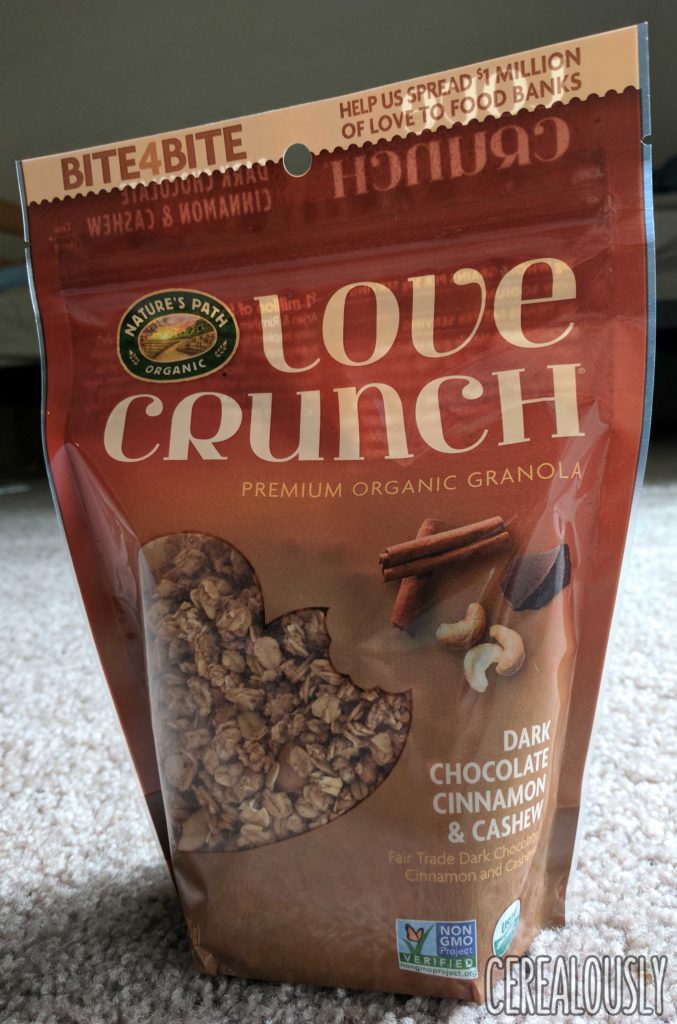 We should all be thankful for nuts.
Yes, from squirrels and industrial fasteners to Eddie Murphy professors and Link from The Legend of Zelda in a Deku forest, the humble nut has helped us do a lot of cool things—whether it's put together cars or make a whole movie based on flatulence jokes.
Heck, without the nut, my favorite breakfast pastries would just be called "do's."
Nature's Path obviously understands the under-celebrated nut, because their Love Crunch Dark Chocolate Cinnamon & Cashew Granola, which has a name so long that typing it is giving my fingers biceps, is the nuttiest granola I've ever had. And I don't mean nutty like "gee lads, let's get nutty and do backflips off a suspension bridge," though putting chocolate and cinnamon together is pretty bold.
But is the taste of these nutty nuggets worth toasting, or Comedy Central Roast-ing? Let's find out.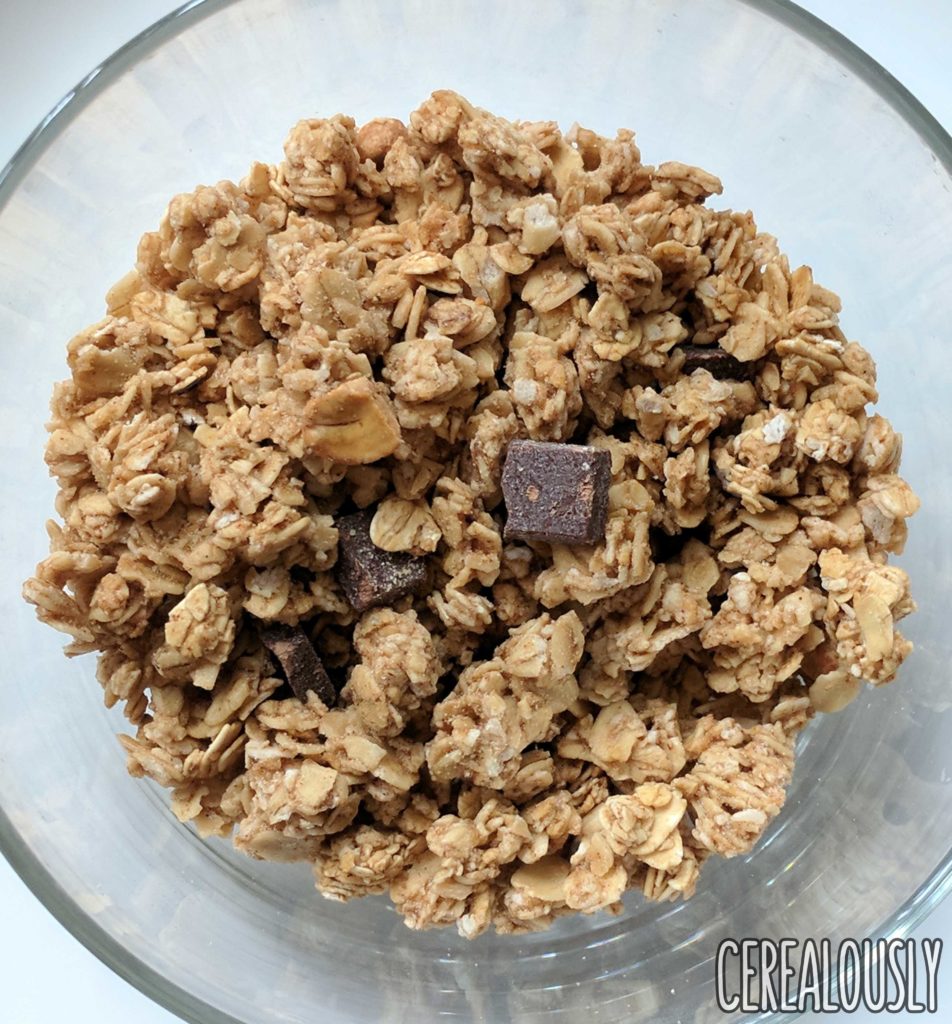 As alluded to, huffing the bag's contents produces an odor so generically and potently nutty that you could reboot Chip 'n Dale: Rescue Rangers just by leaving it in your living room.
And even though cashew is this granola's nut of choice, the perfectly crisp oat clusters themselves taste more like roasted peanuts. Golden brown sugar-roasted peanuts, to be more specific. This is still super pleasant, of course—picture Cracker Jacks tossed with a few sunflower seeds—but there's only a disappointingly mild dash of cinnamon spice in the granola's end notes, and the tragically tiny cashew bits strewn throughout don't get to contribute the uniquely creamily and fancily salted signature taste that cashews are known for.
It's why I call cashews "the cocktail shrimp of nuts." Though their shape probably helps with that, too.
Thankfully, the generously sized chocolate chunks fill this much-needed indulgence gap with their own buttered creaminess. Another caveat: the bits don't taste much like dark chocolate, though. There's little bitter cocoa, as these tempting treasure chests are as milkily sugared as M&M innards or those chocolate suckers you'd get at any graduation party, Halloween party, or Halloween graduation party.
Hey, Frankenstein had to get his doctorate somehow.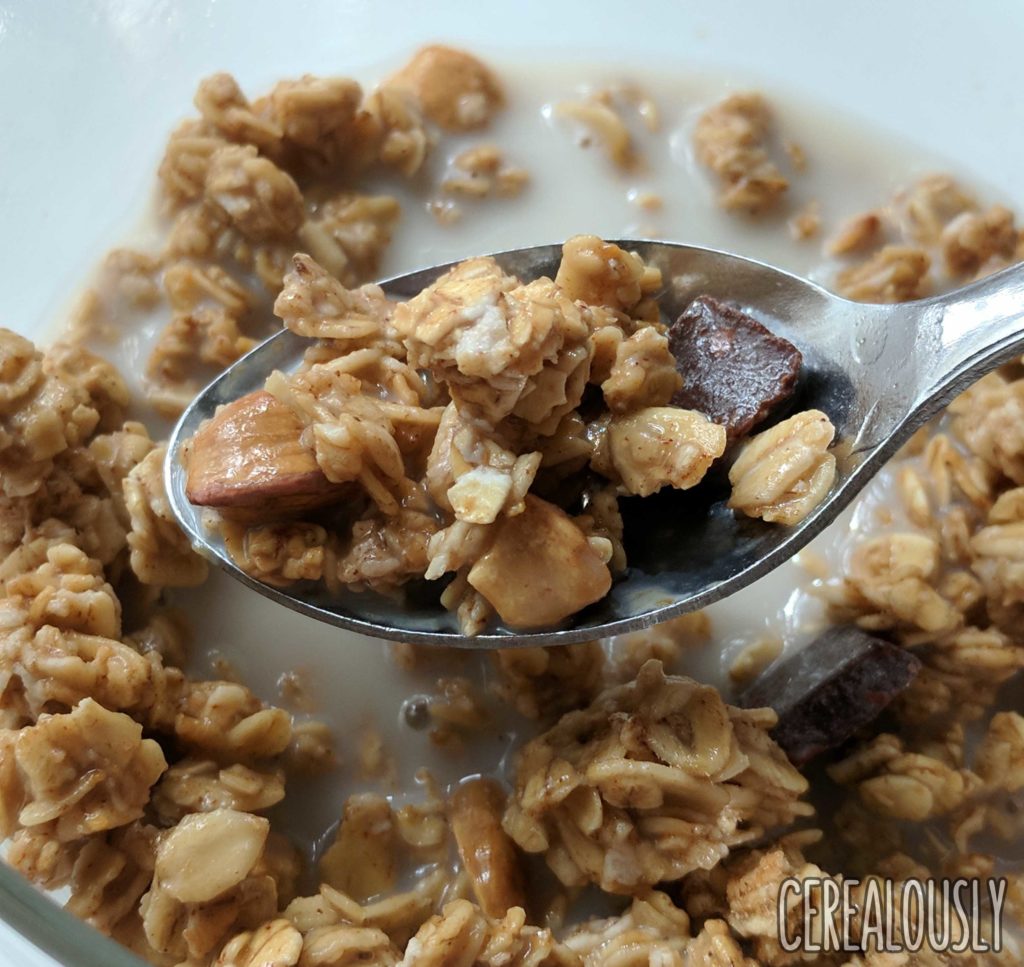 Eaten together, this Dark Chocolate Cinnamon & Cashew granola is bafflingly good, albeit untrue to 40% of the words in its name. With its roasted nutty chocolate, it's like a deconstructed grown-up Snickers—or at least some sort of trail mix from a hipster summer camp. Eating it with milk is dangerous, too, as milk awakens a mild cinnamon heat on the granola's backend, instantly leaving your mouth watering for more.
It reminds me of my childhood favorite cereal: Chocolate-Covered Praline Cinnamon Toast Crunch. Except this granola actually exists.
So while this stuff is a little too decadent and waist-line-diverging to eat regularly, it makes a low(er) guilt treat compared to other snack mixes. As long as you don't expect too much cinnamon, dark chocolate, or cashew-specific flavor, this pouch will leave you in a world of voluminous leguminous goodness.
In fact, I might just strap it to my face: donkey feedbag-style.
---
The Bowl: Nature's Path Love Crunch Dark Chocolate Cinnamon & Cashew Granola
The Breakdown: Not as nuanced as its name would suggest, this warm 'n' cozy granola lacks its namesake subtleties but makes up for it with unbridled choco-nut deliciousness.
The Bottom Line: 8.5 backyard Monster Mashes out of 10