Has Honey Bunches of Oats been taking lessons from Nintendo?
Because Nintendo is the master of releasing "upgrades" that are actually wholly new, entirely better products. The Nintendo Entertainment System and the Super Nintendo Entertainment System. The Game Boy and the Game Boy Advance. The Wii and the Wii U. Luigi and Waluigi. The list goes on.
Post must be studying in Mario's dojo, because even though Pecan & Maple Brown Sugar Honey Bunches of Oats are billed as an "improved" version of their old Pecan Honey Bunches of Oats, I can already tell this new cereal's going to render its predecessor totally obsolete.
Which is a good thing, because you can't even buy Pecan Honey Bunches of Oats any more. How do I know? Because one look at Honey Bunches of Oats's Facebook page reveals a dedicated legion of Pecan Honey Bunch lovers who continually mourn the loss of their dearly beloved, roasted nut-flavored breakfast product.
Well, let's just hope this cult following approves of Pecan & Maple Brown Sugar Honey Bunches of Oats. Otherwise there might be a nutty Internet meltdown, the likes of which hasn't been seen since 2016's infamous Hostess Suzy Q fiasco.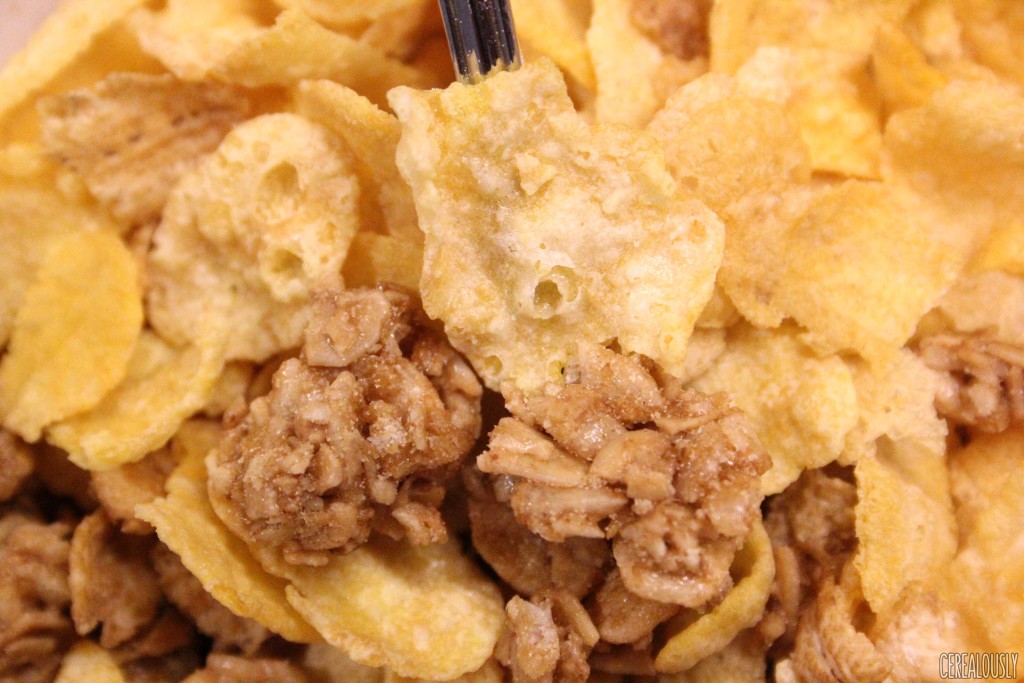 Any fears I had about Pecan & Maple Brown Sugar Honey Bunches of Oats not living up to the hype were silenced after a single, intoxicating whiff and a single, delightful munch. Simply put, these Honey Bunches smell and taste like smashed up shards of Waffle Crisp that were roasted over an open fire—right next to the chestnuts.
Like Waffle Crisp, the maple flavor glazed on these corn flakes and oat clusters is much more sweet and artificial than it is dark or genuine. But that doesn't mean it isn't addictively delicious: combined with the toasted oats, this maple taste reminds me of a half-baked, golden Belgian waffle saturated with syrup and whipped butter.
And speaking of brown sugar, the stuff in Pecan & Maple Brown Sugar Honey Bunches of Oats is also very light and nearly floral, without the caramelized molasses flavor of dark brown sugar. Imagine melted Brown Sugar Cinnamon Pop-Tart innards, lovingly drizzled over that same Belgian waffle from before.
Make sure to wipe the drool of your monitor and cancel your trip to IHOP, too, because I've still got a little more to say.
The tiny pecan bits infuse pleasant ribbons of nutty flavor into every bite. I wish these pieces were bigger—even a baby squirrel would scoff at these—but they still have a lightly candied, even more lightly oiled, and ever-so-faintly salted taste that makes me want to stockpile boxes of Pecan & Maple Brown Sugar Honey Bunches for my own winter hibernation.
I'll fight the squirrels for them if I have to.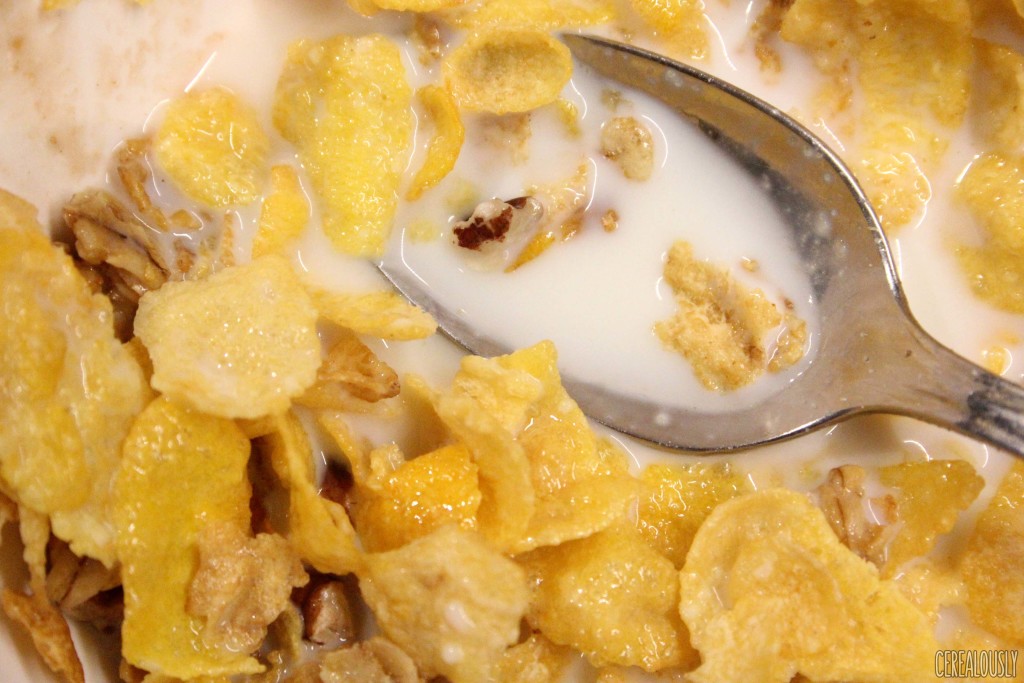 When milk is added, this Pecan & Maple Brown Sugar cereal unfortunately loses everything after the ampersand. All the Waffle House subtleties are largely washed away as the fragile flakes get rapidly soggy. Once all is said and slurped, it ends up tasting like the plain ol' Pecan Honey Bunches of yore. So unless you're one of those caps lock-loving Facebook users, I recommend eating these new Honey Bunches dry.
Or just add some maple syrup of your own, of course.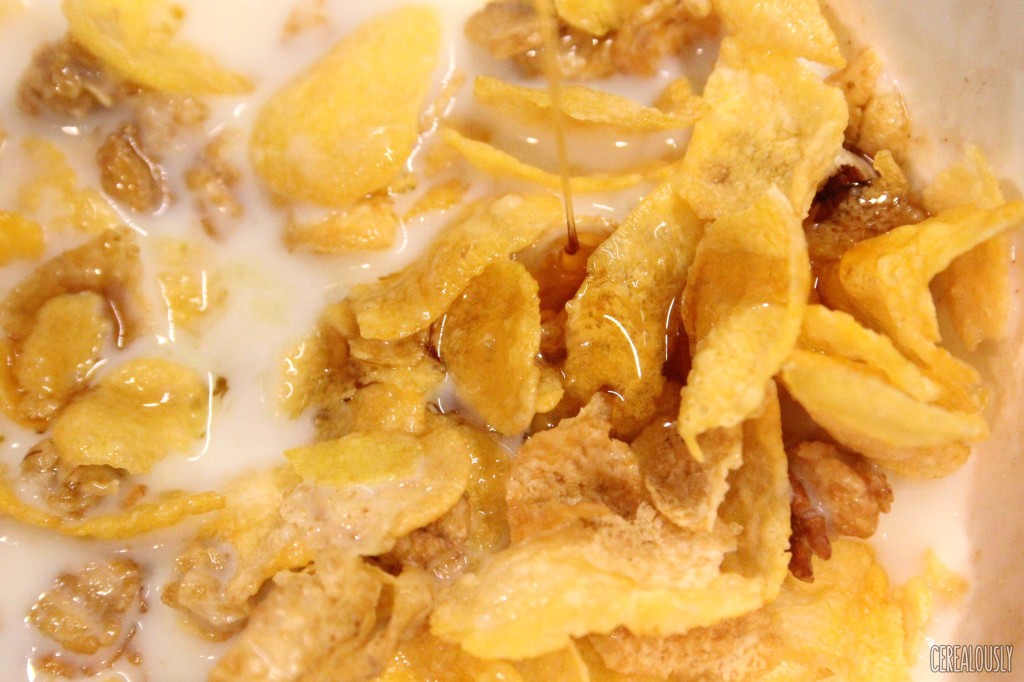 Despite its milquetoast performance in milk, Pecan & Maple Brown Sugar is easily my new second-favorite Honey Bunches variety—right after Chocolate. I really hope P&MBS sticks around on shelves, or else I might need to bust out the ALL CAPS, too. I also hope all of you who dearly missed Pecan Honey Bunches will be satisfied with this new and improved flavor.
Though if you are, I guess you'll have to find something else to passionately write about online. Maybe we could all rally for a Suzy Q Cereal?
---
The Bowl: Post Pecan & Maple Brown Sugar Honey Bunches of Oats
The Breakdown: A cozy bowl of crispy waffle chips glazed with browned butter and candied nuts?  Aside from better in-milk flavor integrity, what else could a Waffle Crisp addict like me ask for?
The Bottom Line: 9.5 bottles of liquefied Pop-Tart filling out of 10
(Quick Nutrition Facts: 120 calories, 2 grams of fiber, 6 grams of sugar, and 2 grams of protein per 3/4 cup serving)