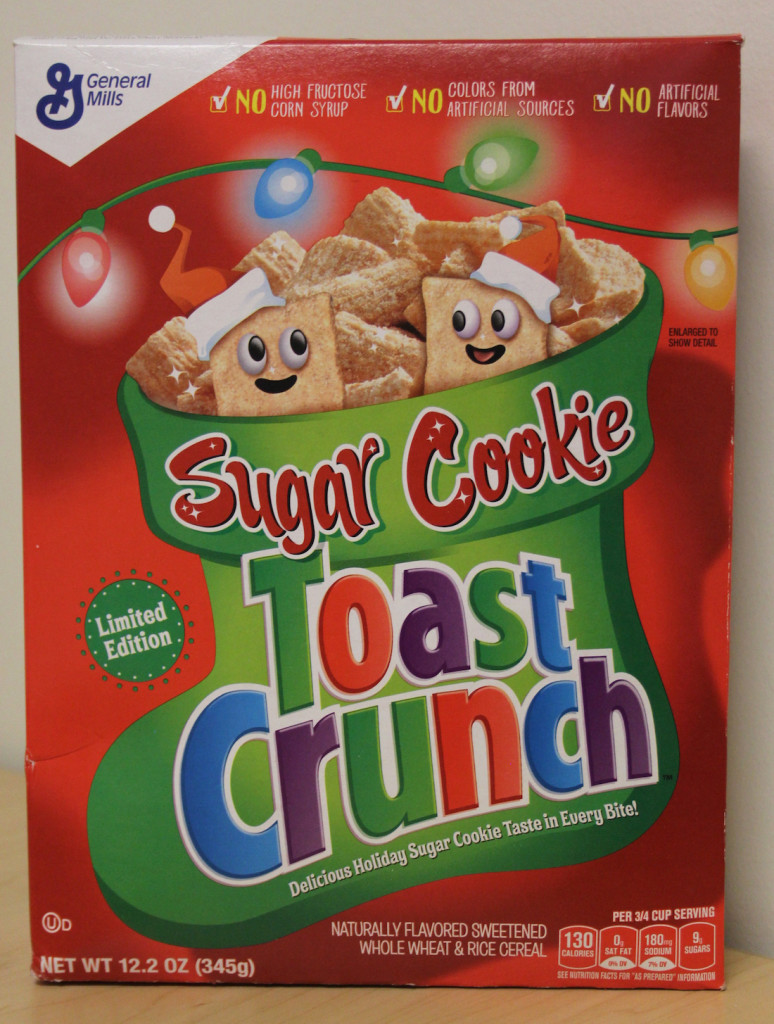 We're a few days deep into December now, and even though I have yet to be buried a few feet deep in snow, the holiday spirit is already coursing through my veins like some sort of magical energizing fifth humor that the Greeks never noticed. Or maybe I'm just feeling a rush from all the sugar in this Sugar Cookie Toast Crunch.
Returning in a new, vibrant red packaging for 2015 (SCTC debuted last winter), Sugar Cookie Toast Crunch combines 4 of the greatest words of all time into one great cereal name. I mean, seriously: sugar, cookie, toast, and crunch. Each of these words on its own represents something fantastic and delightful, and now they're all partying together in the form of white powdered flakes.
The only way General Mills could've made the name more badass is if they somehow worked in the word "Tyrannosaurus."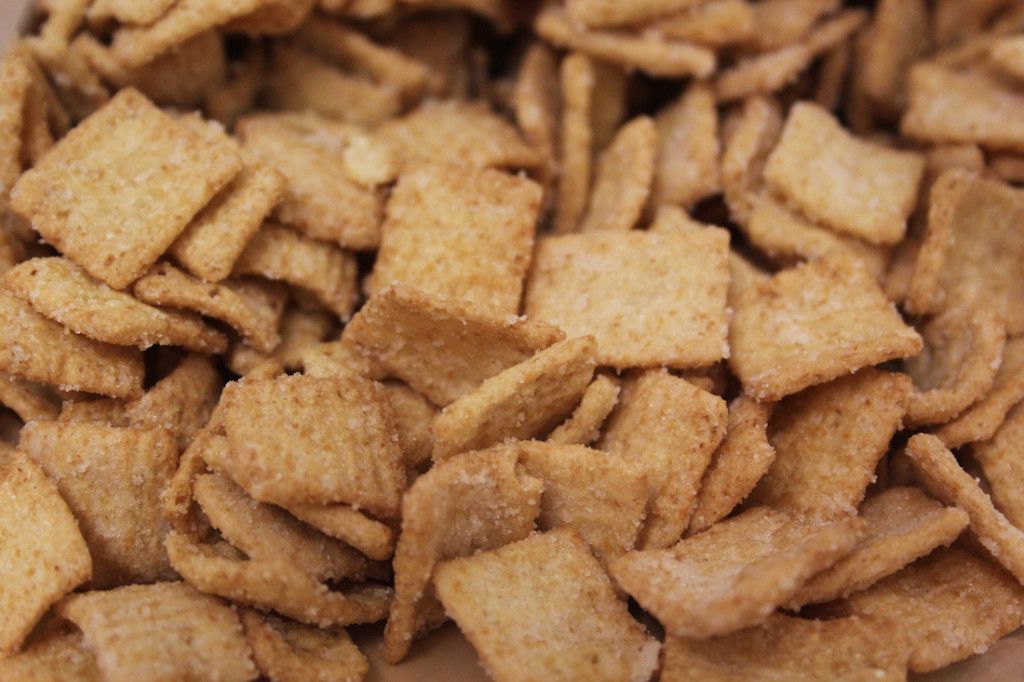 After inspecting these little pale tan flakes that look like they've been drenched in flakes of snow (I can see it now: Flakeception, a new film starring Leonardo DiCap'n Crunch), their appearance gives me a serious snickerdoodle vibe.
But after crunching into a spoonful of Sugar Cookie Toast Crunch, their taste doesn't quite reach that level of "oodles of tiny snickerdoodles." For whatever reason, that patented, mouthwatering cinnamon sugar flavor that the Toast Crunch line of cereals was founded on (rumor has it the secret ingredients are cinnamon and…wait for it…sugar!) is absent. While it's understandable that General Mills wanted to differentiate Sugar Cookie Toast Crunch from the now discontinued Frosted Toast Crunch, it seems like they really missed an opportunity to more explicitly tie-in to the holiday season.
Or maybe I just want an excuse to say the word snickerdoodle a bunch of times. Snickerdoodle. Snickerdoodle. Snickerdoodle! Try it, it's fun!
But it's important to mention Frosted Toast Crunch, because it helps make sense of the complex beast that is Sugar Cookie Toast Crunch. See, I'm convinced that somewhere at GM headquarters, some cartoonish, bumbling oaf swapped the recipes for Frosted and Sugar Cookie Toast Crunch. Because Frosted had all the cinnamon sugar goodness of an iced holiday cookie, and its powdered, cloyingly sweet coating was a lot like that of a powdered doughnut: it stuck on literally every surface and orifice imaginable as if it were saccharine glitter.
This Sugar Cookie Toast Crunch, meanwhile, tastes less iced, but has all the trappings of a buttercream frosted cake. And before you ask, yes, I'm not ashamed to admit I had to Google search this more than once:
The coarser, sandy sugar coating of SCTC is ironically textured; I feel like I've been to the beach after touching it. And the taste really does mimic cake frosting. It's sweet and granulated with strong vanilla overtones, but savory, browned butter undertones keep it from being overwhelming. As for the base, it's light and floury: half cookie, half graham cracker. Eaten plain, the pieces of SCTC are almost too dry. We're talking "Dry Bones racing on Dry Dry Desert in Mario Kart" levels of dry.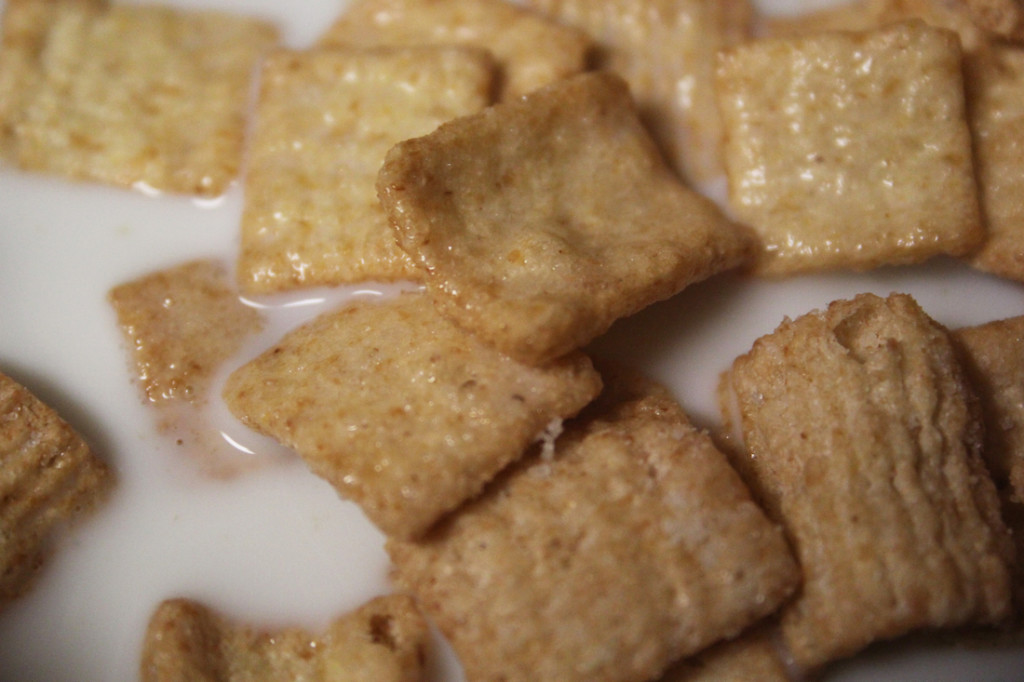 But don't despair, because as any cookie connoisseur knows, the best holiday cookies are moist, dense, and served with a tall glass of milk. That's why Sugar Cookie Toast Crunch and milk make for perfect bowlfellows. The formerly crispy, gritty pieces become pleasantly crumbly and doughy, and the rich, syrupy, liquid frosting endmilk is good enough to make me consider bottling and selling it as an indie, hipster milk alternative under the designer label of "Cookie Milk."
Wait a minute, that doesn't sound hipster enough.
How about "Cøök-E-m1lk?"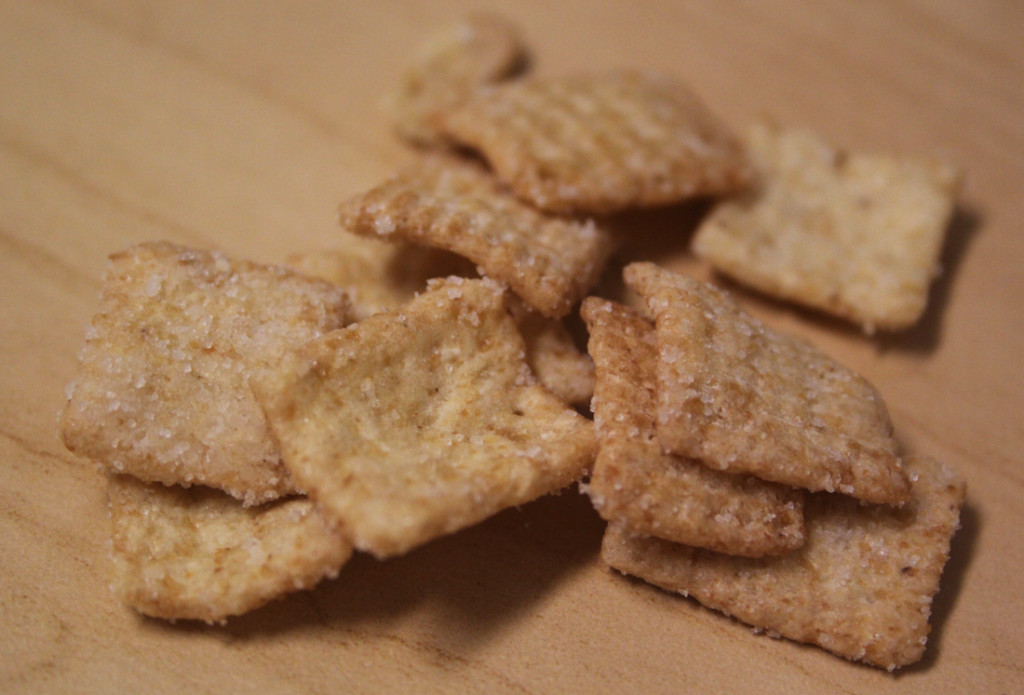 All this coupled with the buttered coating and graham-like base makes Sugar Cookie Toast Crunch taste an awful lot like Frosted Animal Crackers. And since I'm convinced that Frosted Animal Crackers are what the addictive drug "crack" was named after, this is a high compliment. I just hope that the flavor base of this cereal can open the door for other "Cookie Toast Crunch"s. Just add some cinnamon, and you've got Snickerdoodle Toast Crunch. Add some specks of creamy cocoa, and BAM: Chocolate Chip Cookie Toast Crunch.
Or just dream with me for a second and imagine the holiday gloriousness that "Gingerbread Man Toast Crunch" has the potential to be.
So happy holidays to you, Sugar Cookie Toast Crunch. At the very least, you managed to get me to stop dreaming about those darned dancing sugar plums for awhile.
---
The Bowl: Sugar Cookie Toast Crunch
The Breakdown: Even though they're closer to Frosted Animal Crackers or a buttercream cake than a traditional holiday cookie, as long as you add milk to these buttery delights, you'll still be sure to have a merry Christmas/Hanukkah/Kwanzaa/Festivus/Krampus Day.
The Bottom Line: 8 great ideas for "Tyrannosaurus Toast Crunch" out of 10