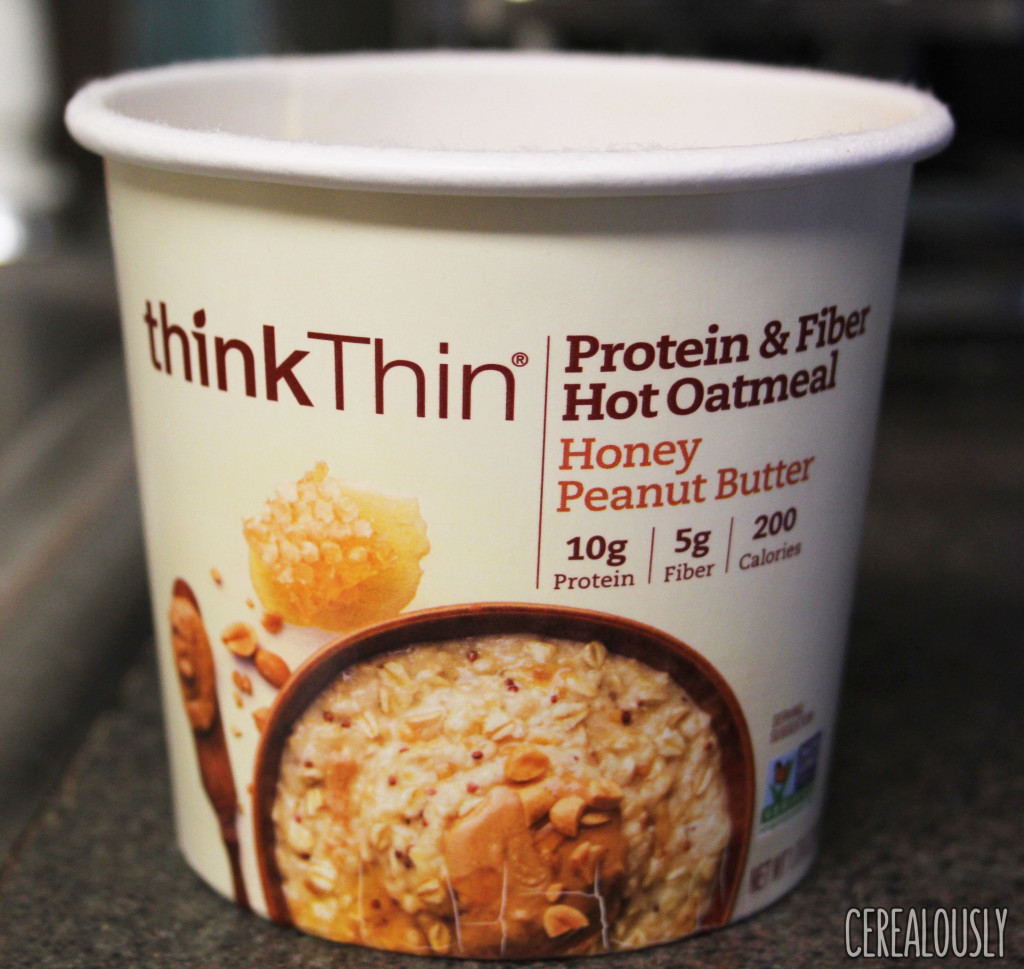 Being on a soft food diet sucks.
But being a cereal review blogger on a soft food diet sucks harder than Starkiller Base on the energy of a sun.
While I was able to stockpile several cereal reviews before undergoing this wretched tooth surgery, at the moment my palate has been forced to gum down meal after meal of oatmeal. Don't get me wrong, I love oatmeal, but after packet #6 it starts to feel like a beige, mushy nightmare.
However, I figured it was only fair to toss out a review of one of the oatmeal varieties I've tried for the first time. It's ThinkThin Honey Peanut Butter Oatmeal. I don't know how new it is, but I don't actually care enough to wade through the silly string of Google searches necessary to find out.
I'd also like to add that one of my New Year's Resolutions was to start writing some shorter reviews, so those that don't want to wade through labyrinthian walls of parentheses and references to decades-old fruit snacks will still enjoy this site. My other New Year's Resolution was to line up an entire package of Keebler E.L. Fudge Cookies and topple them like dominoes, but that's beside the point.
On to the review!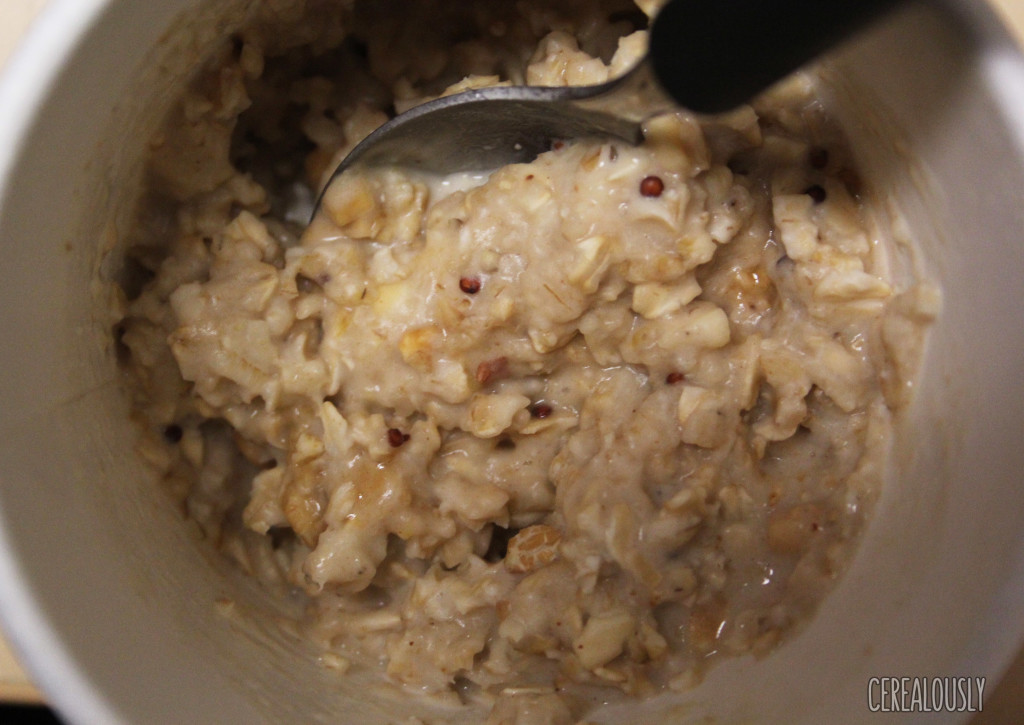 After microwaving my cute little cup with a rough estimation of water (for some reason, the cup says to fill "to the fill line" which is invisible from the inside of the cup. I would facepalm, but it would probably hurt my teeth), I was left with a standard looking oatmeal that was also speckled with adorable tiny peanut butter chips that I considered plucking out and keeping as pets. But before I could rescue them, the heat of the oat magma melted them into morbid (but still cute) PB puddles.
The texture was perfect: not too mushy or soupy, but not so disturbingly firm that it would send me back to the dentist with a very embarrassing story to tell. I didn't detect much of any honey flavor outside of a faintly sweet glaze on top of the oats, but the peanut profile was butterrific! (Note: don't ever say "butterrific" in public").
The flavor of the oat and red quinoa base had a rich, roasted nuttiness, with major emphasis on the roasted. I even wrote "tastes roasted" in my notes with three (3!) underlines. The pools of melted PB chips also provided pleasant bursts of sweet creaminess to give this oatmeal the best of both peanut worlds. Seriously, the only way this could have been peanuttier would be if Charlie Brown were at the bottom.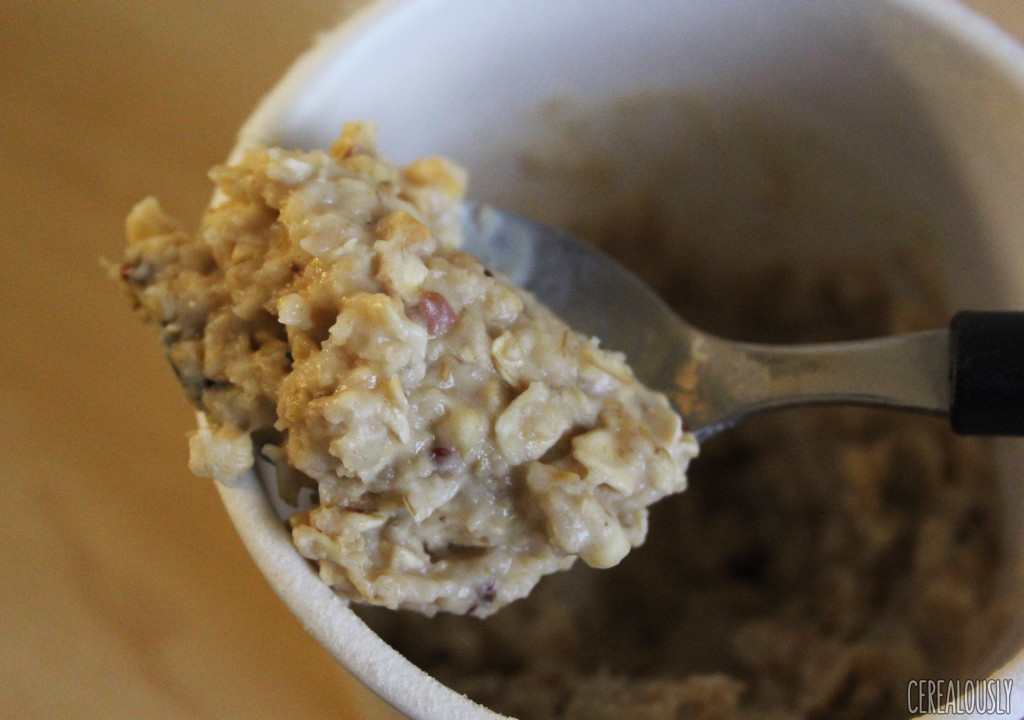 So all in all, the delightful nuttiness and butteriness of ThinkThin Honey Peanut Butter Oatmeal provides a welcome reprieve from all the generic apple cinnamon and maple brown sugar oatmeals out there. While a stronger honey flavor would have been nice, when I become Dan v1.0 once more (I'm at about a v0.625 right now), I'll toss in some bunches from Honey Bunches of Oats and call it a day.
Now if you'll excuse me, I need to go longingly stare at my cabinet full of cereal that I can't eat. Who know, maybe something will bite me and I'll develop superhuman healing powers.
---
The Bowl: ThinkThin Honey Peanut Butter Oatmeal
The Breakdown: All the roasted, toasted, and sweet peanut fun you can imagine in a pleasantly textured, but conspicuously honey-free, oatmeal.
The Bottom Line: 9 "shorter" reviews that weren't even really that much shorter than usual out of 10