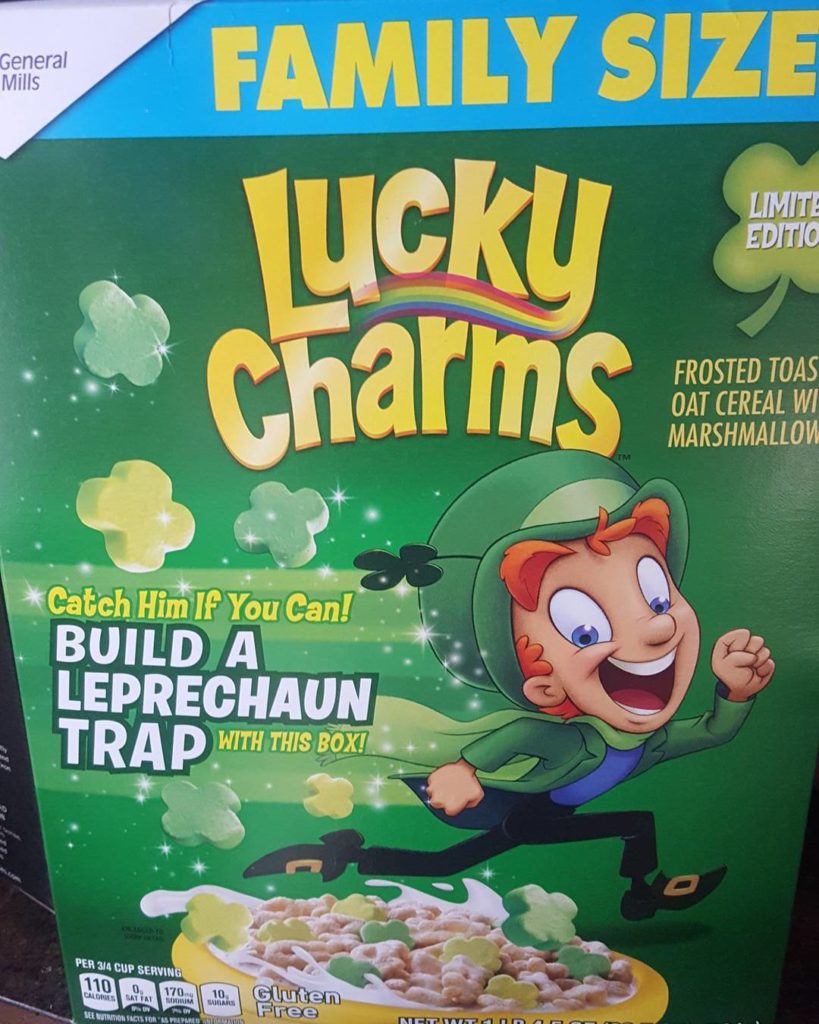 Though it feels like only yesterday that I was straining eggnog through a stocking to craft an ultra-filtered holiday cocktail I call "St. Nick's Knickers," Lucky Charms is reminding me that St. Patrick's Day is practically a Shamrock Shake away.
Because instead of releasing a strawberry-flavored, all heart marshmallow Lucky Charms variety for Valentine's Day (that's okay, General Mills. I'll jsut eat a bowl of Conversation Hearts with milk, I guess), the cereal brand, still coming down from its Frosted Flakes sugar rush, has re-released its annual classic: All Shamrock Lucky Charms (which also comes in chocolate).
Spotted by reader Chris on Twitter, this year's box reminds us that the good old Lucky design is back to stay, replacing the Fairly Odd Parents x Adventure Time mascot who graced boxes all last year. And this design may be back to stay on a plaque above your mantelpiece, because, continuing General Mills' recent theme of turning cereal boxes into playsets (which any action figure-savvy kid has been doing since the '70s), this Lucky Charms box doubles as a build your own Leprechaun Trap.
It's like Ghostbusters, if Slimer studied abroad in Ireland and wouldn't shut up about it.
Thanks again to Chris for sharing the photo. If you have a cereal find of your own to share, new or just plain awesome, feel free to pass it along to our Submissions page for a chance to see it featured on the site!