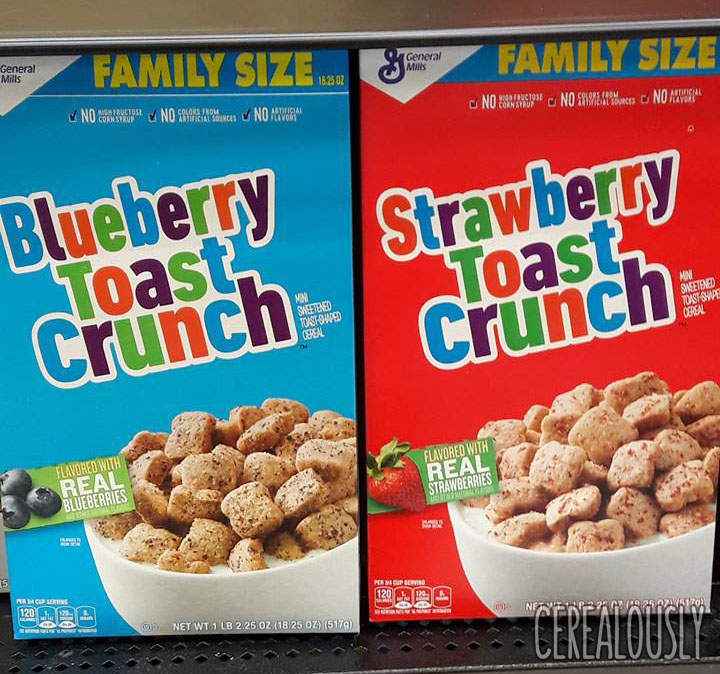 Is Tiny Toast…toast? At first glance, that's what the "debut" of "new" "Strawberry Toast Crunch" and "Blueberry Toast Crunch" would seem to "indicate."
Whoops, I don't think I needed those last snarky quotation marks.
Reader Sydney N. kindly sent us the above snapshot from Walmart, which shows the adorably fruit-speckled bread slices we've known as Tiny Toast for nearly a year now re-branded under the Toast Crunch family of cereals. Led by the patriarchal Cinnamon Toast Crunch, this crunchy clan also consists of wild child Chocolate Toast Crunch, Canadian uncle French Toast Crunch, deadbeat son who only comes back to mooch on Christmas Cinnamon Star Crunch, (and his long-lost twin brother Sugar Cookie Toast Crunch), as well as a plethora of dead ancestors, from Peanut Butter Toast Crunch to Frosted Toast Crunch, who the family nonchalantly buried in the backyard after they failed to live up to Daddy's legacy.
♫ Our house, is a very very very morbid house. ♫
Tiny Toast's relationship to the Toast Crunch kinfolk has always been dubious: the cereals look so much like French Toast Crunch that we never knew if they were related, or if Tiny Toast was just French's obsessive best friend who weirdly emulates his hero. But now that it's been established in cereal canon that TT is FTC's cousin who moved south to warmer, berry-friendly weather and changed his name, I can rest easy at night—and start editing my fan fictions.
That was all a very long-winded segue into my main point about Strawberry and Blueberry Toast Crunches: that it may not mean Tiny Toast's demise at all. The fresh-faced pair has only been seen at Walmart so far, so it could be a store-exclusive rebrand demo, like Post did with Waffle Crisp and Good Morenings Waffle Crunch. I refuse to make a definite coroner's call on Tiny Toast until General Mills itself gives the sweet slices a eulogy.
Which is perfectly fine with me, because like my great-granny definitely might have said, "you can have too many cooks in the kitchen, but you can never have too many cute crunchy loaves in the cereal aisle."
Thanks again for the photo, Sydney! If you've got a cool cereal photo of your own to share, spoon it over to cerealously.net@gmail.com for a chance to see it on the site.