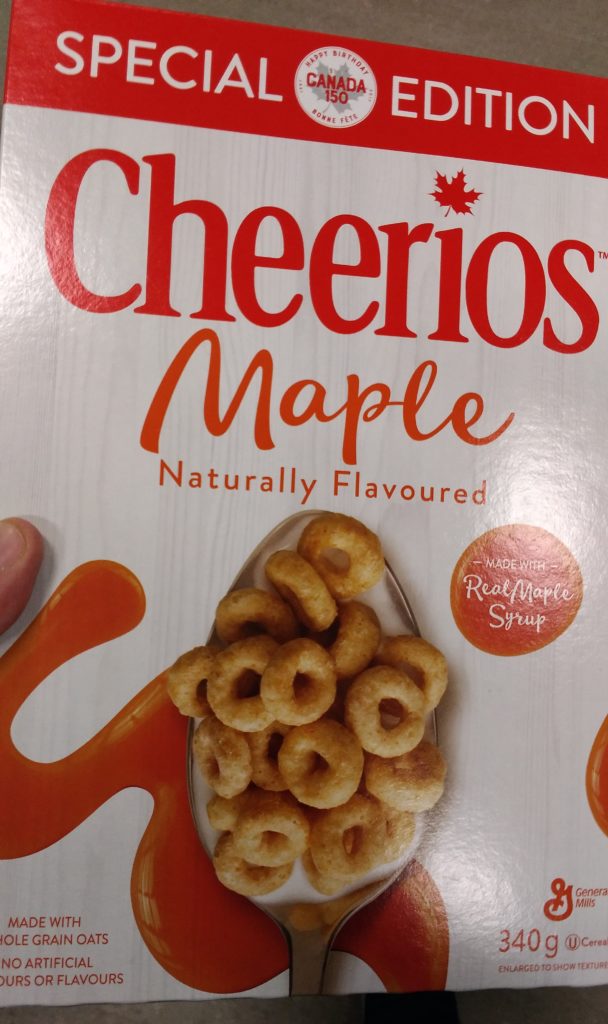 Ever wonder what would happen if a French Toast Crunch bread slice decided it wanted to be a doughnut instead?
Well wonder no longer: assuming you have a passport or Canadian citizenship. Because Maple Cheerios—baffling stylized as Cheerios Maple—has quietly dripped onto Canadian shelves as smoothly as syrup through a spigot. It's a Special Edition flavor released to celebrate Canada's 150th birthday, so stuff the waffle iron back in the pantry and enjoy a cake pan's worth of this pancake-flavored stuff while you can. I know I'm going to do whatever it takes to get my sticky, Waffle Crisp-stained mitts on a box, whether that means negotiating, migrating, or mutating into a man-moose hybrid.
And speaking of Waffle Crisp, I have high hopes that these Cheerios will taste more authentically maple-y, since they are flavored with real maple syrup. If all goes according to plan, I'll be stuffing flapjacks with these crunchy syrup circles in no time.
Massive thanks to our friends at Junk Food Canada for sharing the photo above. Maple Cheerios may not be as interesting as Birthday Cake Froot Loops, which are also hitting Canadian breakfast aisles as we speak, but hey: most of my birthday cakes involve maple syrup anyway.
(Most of my birthday cakes are pancakes.)
Got a cool cereal photo of your own to share? Spoon it over to cerealously.net@gmail.com for a chance to see it on the site.