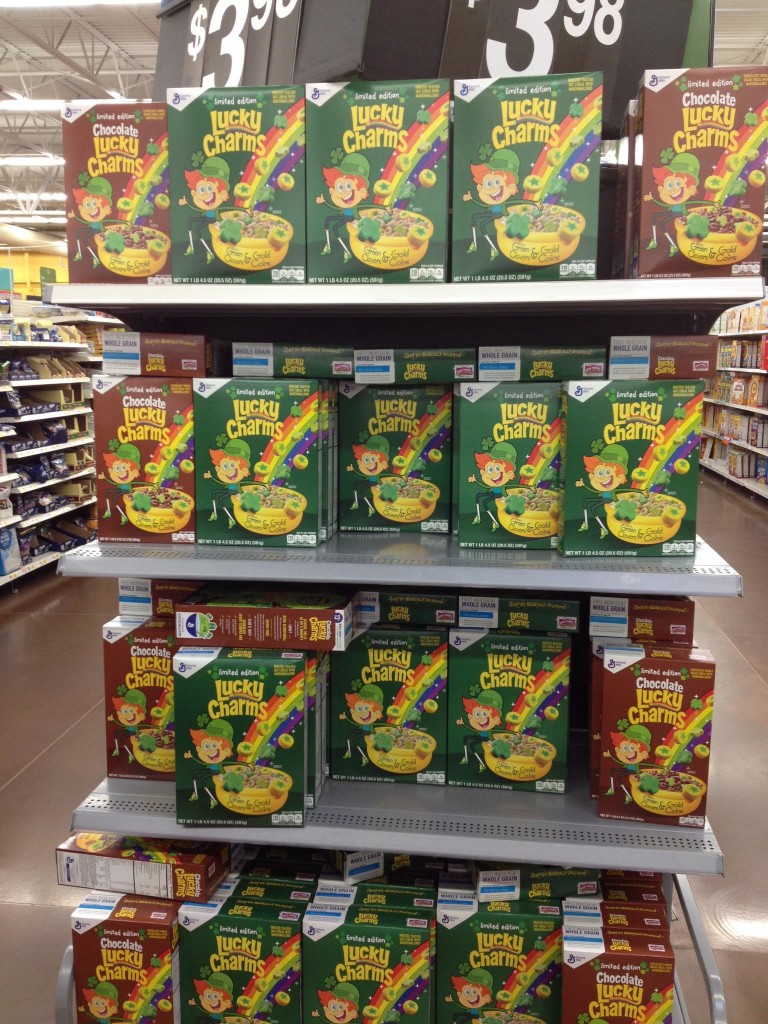 Happy St. Patrick's Day, or as it's alternatively known, "Beer & Lucky Charms Day!" I can't recommend mixing both together, but if you alternate swigs and spoonfuls, I won't tell anyone.
What I can recommend is Lucky Charms' Limited Edition Green Clover & Gold Coin Marshmallows cereal, specially released for this season of emerald and jade.
The name of the cereal says it all: instead of his usual rainbows, horseshoes, shooting stars, and more, Irish Timmy Turner Lucky has cut down his marshmallow menagerie to two holiday appropriate ones.
The good news is that these Lucky Charms come in both original and chocolate, so oat purists and chocoholics alike can both have a happy St. Patrick's Day. The bad news is that the green marshmallows don't have any special minty flavor or anything.
C'mon, Lucky! This was your chance to overthrow Shamrock Shakes for the title of "St. Paddy's Day dessert of choice!" I have nothing against Shamrock Shakes, but I am still a little bitter that Uncle O'Grimacey isn't around anymore.
Oh, and one more bit of bad news. I had actually bought and tried a box of the chocolate variety while visiting my parents, planning to do a full review of the cereal. But before I could take my photos, my dad bulldozed through the whole box.
Talk about unlucky.
So a brief summary should suffice:
The chocolate oats have a pleasant cocoa flavor that's not too overpowering or syrupy to be eaten for breakfast. If I were to rate them from 1-10 on a chocolate-o-meter, with 1 being "buying M&M's and eating the packaging" and 10 being "suckling straight from the udder of a chocolate milk-producing chocolate cow," these Lucky Charms get a 4.
As for the marshmallows, there just aren't enough of them to make a flavorful impact. Sure, they look pretty, but I wish they weren't as rare as an actual four-leaf clover.
Sorry about the lack of photos: if you want to see some glamour shots of these Charms, Dinosaur Dracula snapped some good ones. As for me, I'm off to go buy some of this green TruMoo to drown out my lost cereal sorrows.
If you'd like to see your picture or thoughts (I spotted/bought these at Walmart) featured on a "Spooned & Spotted" post, click yourself right on over to our submissions page, or just email us at cerealously.net@gmail.com.