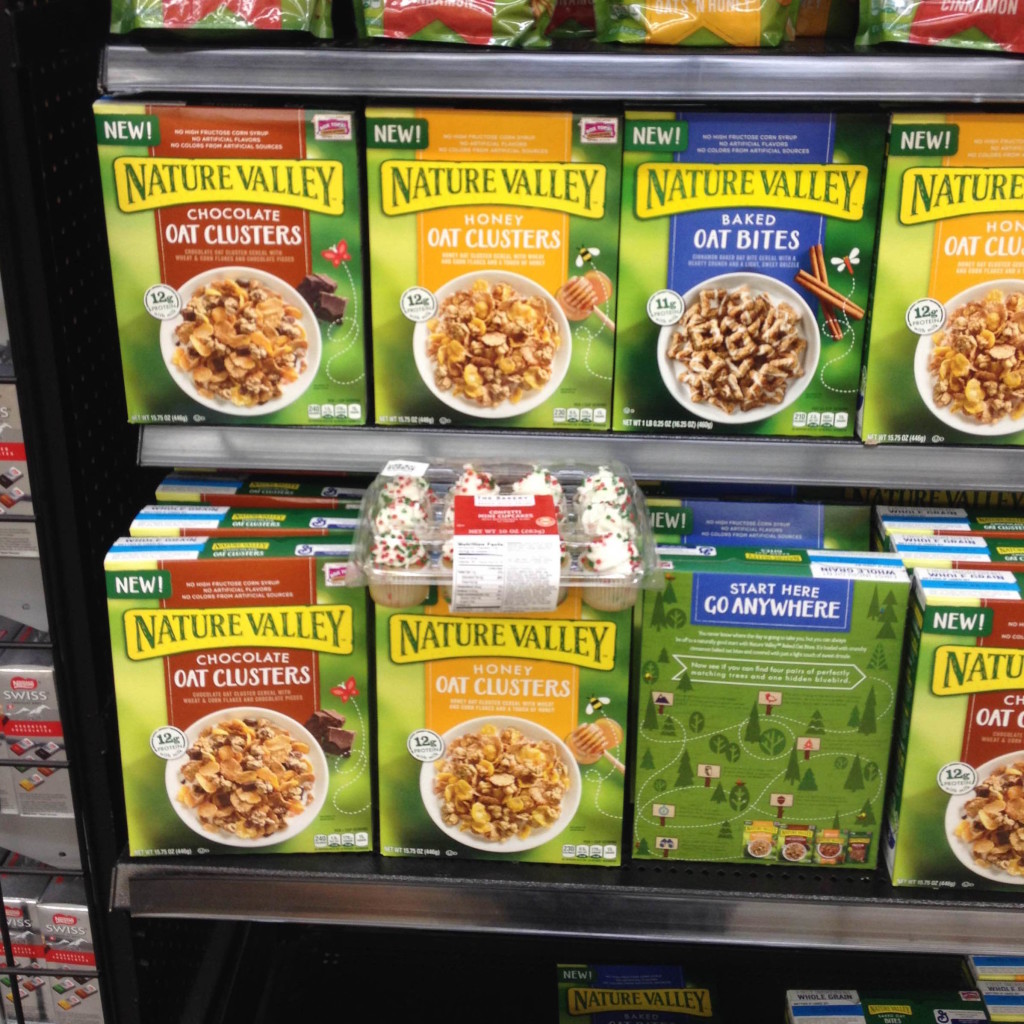 (UPDATE: I reviewed Chocolate Oat Clusters here and Baked Oat Bites here! I reviewed Honey Oat Clusters here!)
First of all, shoutout to the random, misplaced holiday cupcakes for photobombing this edition of Spooned & Spotted.
While on the prowl like a legendary Pokémon hunter for all the mythical new cereals that have been spotted at Walmart (my success was mixed; my prehistoric, local Walmart isn't exactly hip with the times), I surprisingly stumbled upon three new (or so says Google) cereals from Nature Valley.
And when I say "surprisingly," I mean it: picture a lanky man, arms full of cereal boxes, exaggeratedly gasping at a cardboard display like some bumbling cartoon character whilst everyone around him considers snapping a photo and submitting it to "People of Walmart."
When it comes to oat products, Nature Valley is the GOAT, so it's no surprise that each cereal here works in those little earthy nuggets somehow. Each will get its respective review in due time, but for now, let's unfairly judge these boxes by their covers.
We have Honey Oat Clusters, which appears to just be another ho-hum cousin in the
"Honey Bunches of Oats impersonators" family of cereals. However, I'm going to predict that this cereal will be significantly more crumbly, like those crumb-exploding treats that Nature Valley calls "granola bars,"
Next we have Chocolate Oat Clusters. I'm praying to every great cereal deity there is that this cereal tastes like the amazing Chocolate Honey Bunches of Oats that have been long discontinued and not like the comparatively choco-lame Honey Bunches of Oats Morning Energy: Chocolatey Almond Crunch.
Finally, there's Baked Oat Bites. This looks just like Cracklin' Oat Bran but with an added, sexy drizzle. Oh, man, did I really just write "sexy?" Forgive me, but Cracklin' Oat Bran is a spiritual experience, so the thought of adding more to that has me approaching nirvana at 88mph.
The Buddhist kind, not the "A mulatto, an albino, a mosquito, my libido" kind.
If you'd like to see your picture or thoughts featured on a "Spooned & Spotted" post, click yourself right on over to our submissions page, or just email us at cerealously.net@gmail.com.