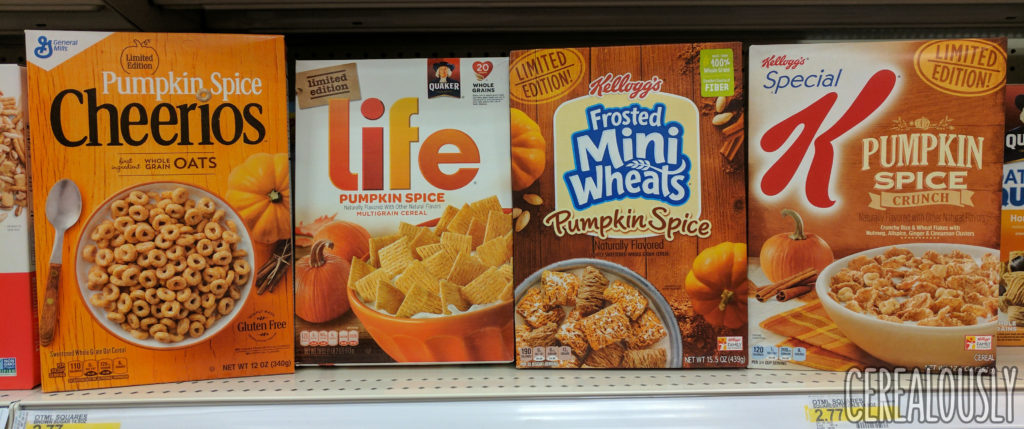 After a summer no-doubt filled with complex hollandaise recipes and brunch casseroles with more strata than a riverbed, do you want to go back to basics for your autumn breakfasts?
Well it doesn't get much more basic than these pumpkin spice cereals. *ba-dum-tss*
Yes, despite the lingering stockpile of leftover hot dogs and Bomb Pops in my fridge, fall has officially creeped its way into August, as the Four Cereal Horsemen of the A-pumpk-alypse have already hit shelves. All four of the pumpkin spice cereals you see above are returning from years past, and there's no word yet whether whether we'll see a new *cough* Pumpkin Spice Toast Crunch *cough* autumnal cereal for 2017.
Personally, I hope that all's quiet on the pumpkin front to make more room for a caramel apple or candy corn cereal. Heck, even Cap'n Crunch's Circus Peanuts would break the pumpkin spiced fatigue.
Based on how busy the next few months get, I may give a quick re-review to each of these cereals, but for now, here are some trading card bios to refresh your taste buds' memory:
Pumpkin Spice  Cheerios: A true jack-o-lantern-of-all-trades but master of none, Pumpkin Spice Cheerios are the pumpkin spiced cereal you choose when you want to appeal to a whole kitchen's worth of costumed ghouls at Halloween breakfast time. With an even blend of inoffensive spices, a pleasantly toasted golden oat base, and a dash of real pumpkin veggie flavor, this is your safest bet.
Pumpkin Spice Life Cereal: The crustiest, but the least spicy, the multigrain base of Pumpkin Spice Life overwhelms its meek attempt at pumpkin spice flavor, which is pretty much relegated to just cinnamon. If you love pie crust, this is the perfect thing to eat when Grandma's being stingy with the leftovers, because there's even a dash of vanilla to simulate whipped cream. Now pass the stuffing, Grams!
Pumpkin Spice Mini-Wheats: My favorite pumpkin spice cereal by a decent margin, Pumpkin Spice Frosted Mini-Wheats has a complex blend of just about all pumpkin spice's iconic flavors, as nutmeg, ginger, and even cloves—the perennial dark horse spice—get to have pumpkin skin in the game. But this spice blend doesn't come at the cost of pumpkin and whole wheat crust flavor, which all blend for a mellow, wholesomely cozy cereal.
Special K Pumpkin Spice Crunch: I won't lie, this is b far my least favorite pumpkin spice cereal. Special K Pumpkin Spice Crunch is aggressively spicy, to the point where gnawing a hunk of Yankee Candle in between bites starts feeling logical. Spice nut(meg)s might have a good time with this one, but if you're lookin' to get down with the Big Red Consonant, I'd recommend the superior Apple Cinnamon Crunch.
So there you have it: a pumpkin spice cereal for just about any kind of pumpkinhead. Well, except for maybe Pumpkinhead himself. None of these cereals taste like flesh or human souls.
Conspicuously missing from this lineup are Trader Joe's Pumpkin O's and Barbara's Pumpkin Puffins. Now on whether they will or won't be returning as the season goes on, but I hope they do—those two fill the "hyper squashy and vegetable-y" pumpkin cereal taste better than the mainstream ones here.
And hey: after four bowls of sugary orange stuff, you kind of need a vegetable.
I found all four cereals at Target. If you have a cool cereal find of your own to share, whether it's autumn-themed, somehow Christmas-themed, or just a package of Pop-Tarts you found that happened to have 3 inside (lucky!), we want to see it. Chuck it on over to our Submissions page, and it might appear on the site!