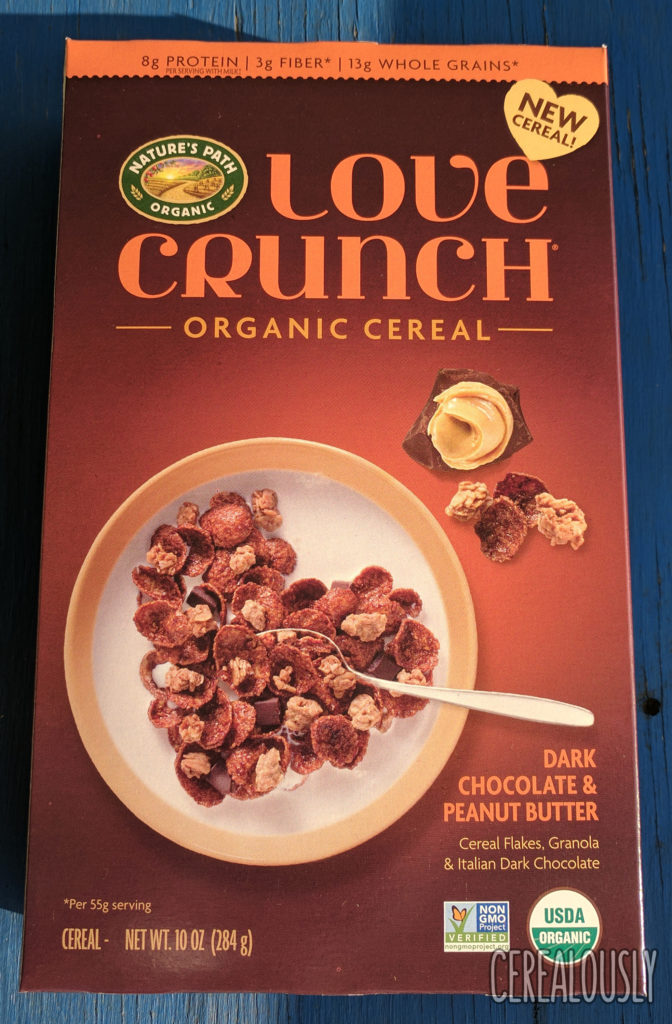 These ain't your kid brother's Reese's Puffs.
No, while the most famous chocolate and peanut butter cereal is a sugary smorgasbord of twinkling cocoa spheres, downright pedestrian peanut butter puffs, and the persistent spirit of a million Saturday morning memories, the granola gourmands at Nature's Path have conspired in their organically all-natural gluten-free ivory tower to produce a choco-nutty cereal with class.
"Look at those pithy Puffs," one doubtlessly said. "They're all the same. We're capitalists, for GORP's sake: we need a hierarchy!"
Thus, Love Crunch Dark Chocolate & Peanut Butter Organic Cereal was born, ready for the well-mouthed silver spoons of people who can afford $4 boxes of cereal. This new Love Crunch line of flake 'n' cluster foodstuffs also includes Dark Chocolate & Red Berries and Dark Chocolate Macaroon, but my ennui about fruity cereals and boycotting of macaroons until we get a French macaron cereal made my first flavor choice obvious.
And really, how could I lose, when all 3 flavors contain weirdly specific fair trade Italian dark chocolate that Nature's Path probably impulsively bought like it was Milo's Egyptian cotton? Real chocolate chunks are like a cheat code for cereals. But I digress: let's ↑ ↑ ↓ ↓ ← → ← → B A START this review. Continue reading →