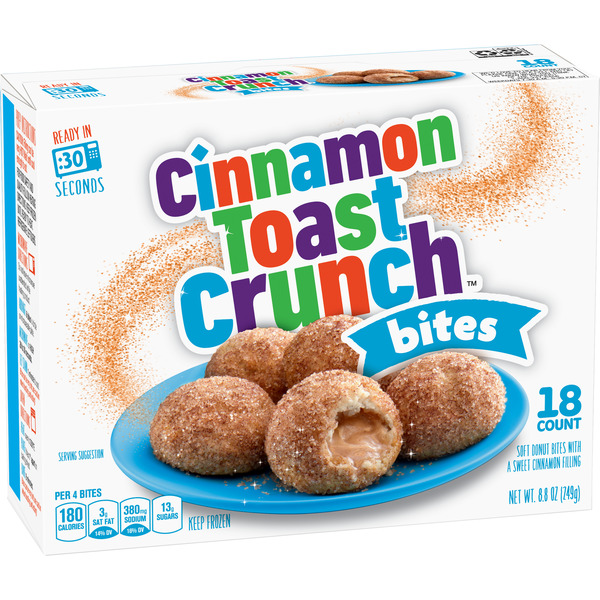 (Update: We reviewed Cinnamon Toast Crunch Bites!)
I go nuts, you go nuts, we all go nuts for bite-sized, Cinnamon Toast Crunch-encrusted doughnuts!
General Mills formally announced their new summer product lineup yesterday, and while all the traditional cereals mentioned, like Apple Cinnamon Toast Crunch and Blueberry Chex, have already been on shelves long enough for me to shamefully eat a family of family-sized boxes, one frozen novelty somehow avoided early distribution or online news leakage: Cinnamon Toast Crunch Bites!
Coming soon to grocery freezer aisles, Cinnamon Toast Crunch are soft, cinnamon sugar-dusted doughnut holes filled with cinnamon filling that turns warm and gooey when heated. This isn't the first time we've seen a Cinnamon Toast Crunch doughnut, and it's not the first time we've seen a filled cinnamon doughnut hole—these seem like a spiritual successor to Taco Bell's Cinnabon Delights.
But it is the first time we've been able to savor sweet, doughy cinnamon swirls in every bite within 30 seconds of open packaging. That's how long it takes to make a Cinnamon Toast Crunch bite in the microwave, an I'm thankful.
Because that's just enough time to scarf down an appetizer bowl of Cinnamon Toast Crunch in anticipation.