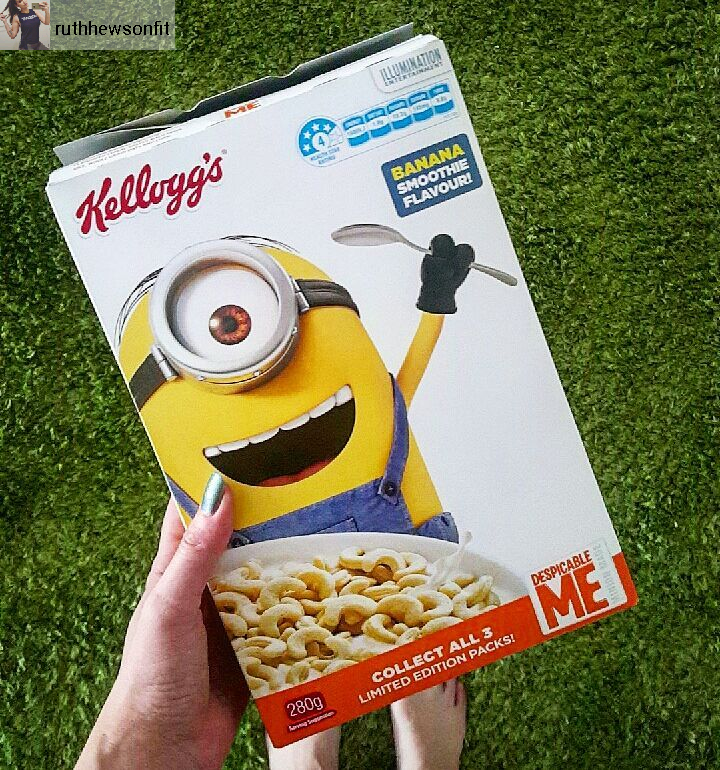 Hey, remember just last week when I chatted nerdishly about how a trip across the border, equator, or prime meridian can drastically change the nature of a familiar cereal?
It is happening again.
Never thought I'd quote Twin Peaks in a post about Minions, but here we are. If there's a fan art mash-up of those two things, please throw it into fire and walk with me to the eyeball bleach emporium.
Yes, here we are: as Instagram fan @ruthhewsonfit has kindly shared with us, Australia has a very unique take on Minion cereal mania. While America's latest fortified take on those little cyclops Twinkie McNuggets was a basic oat and marshmallow mix-'em-up with a brown sugar vanilla glaze, Despicable Me: Down Under Edition is way cooler: it looks like crunchy cashews and has a unique banana smoothie flavor.
It sounds closer to the Minions Banana Berry cereal we got some baker's dozen or so Minion movies ago (or at least that's how it feels), but this one is made by Kellogg's. I have to assume that those jumbo anthropomorphized Tic-Tacs snuck into General Mills headquarters, stole the formula, and then made farting noises while babbling like a '90s dial-up internet tone.
You know, standard Minion stuff.
Big thanks to Ruth for sharing this photo that I'm equally excited to see and jealous I can't eat. We're jonesing for a good banana cereal here in the States while we wait for Banana Nut Cheerios to return, so if you think you can throw the cereal hard enough to reach me, it'd be much appreciated. Though given their shape, the pieces would probably come right back, boomerang-style.
Got a cool cereal snapshot from America, Australia, Antarctica, or even the Andromeda Galaxy? We want to see it and share it! Use our Submissions page or start your intergalactic transmission now.