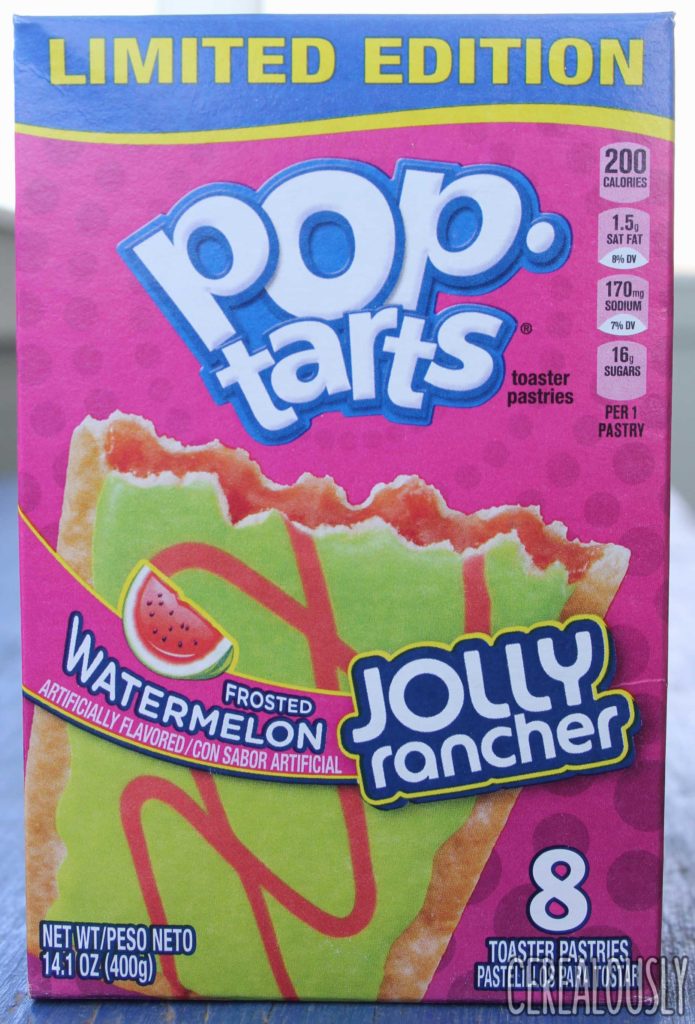 You may think that there's nothing more delicious on a hot summer day than a fresh, juicy slice of watermelon. But true beach bums and Slip 'n' Slide savants know that a Watermelon Pop-Tart is is the more economic choice for warm weather refreshment. Just consider the benefits of eating a fruity watermelon crust quadrilateral over the real thing:
– Watermelon Pop-Tarts are seedless.
– Watermelon Pop-Tarts won't ruin your white shorts with drippy mess.
– Real watermelons can't be stored in your glove compartment.
– Real watermelons can't be shoved into a toaster (without calamity, at least).
– Most of all, real watermelons taste like, well, water. Watermelon Pop-Tarts taste like zany water that went to clown college.
And while regular watermelons have gone for thousands of years without a flavor upgrade, Kellogg's classic Watermelon Pop-Tarts have become jollier and atomically greener with the release of Watermelon Jolly Rancher Pop-Tarts. As the last Jolly Rancher Pop-Tart I'll be reviewing, Watermelon has a chance to exceed the mixed reputations of its brethren: Green Apple is interestingly sweet & sour, while Cherry is like an egg roll stuffed with liquefied Swedish Fish.
With this precedent, I expect Watermelon Jolly Rancher Pop-Tarts to taste like ranch dressing. Continue reading →