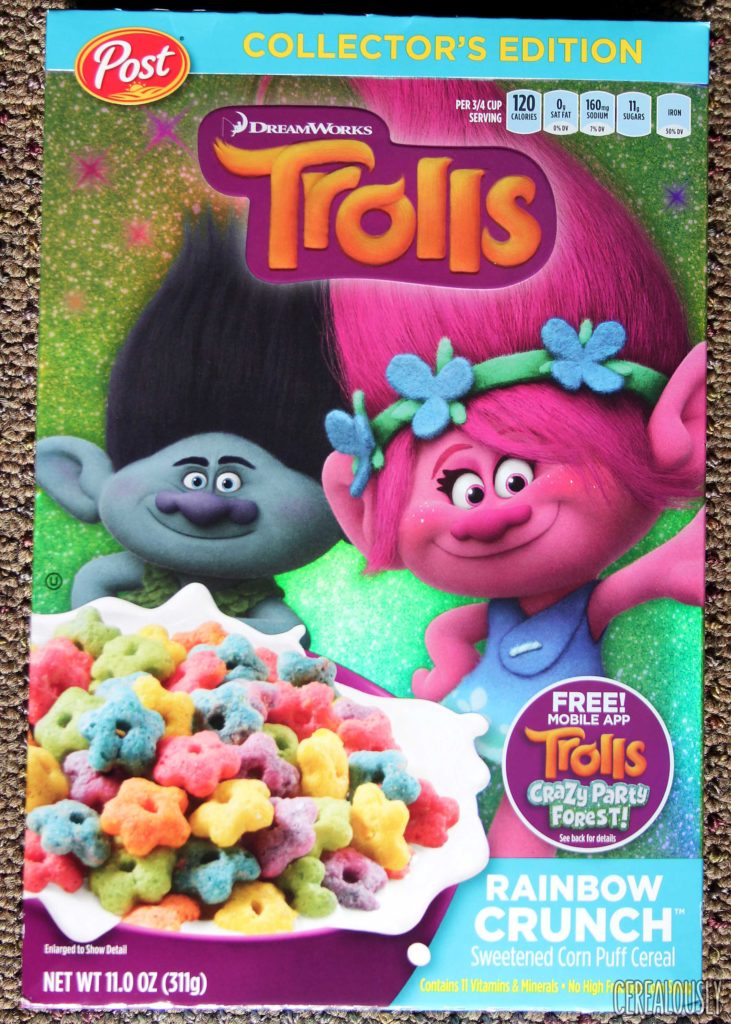 Movie cereals are like grizzly bears. And Post's new Trolls Rainbow Crunch cereal is living proof.
No, I don't that movie cereals taste like salmon and ruin your campsite. Rather, they just like to hibernate—for very long periods of time. See, back in cereal's Golden Age, movie cereals had heart: fortified heart. From double-crunching C-3PO's to Reese's Pieces-flavored E.T. cereal, these cinematic cereals were as innovative as they were memorably tasty.
But then the breakfast film industry must have crashed, or at least fell asleep. Because for what felt like decades, every movie cereal was basic and bland. Most were either cheap Lucky Charms knock-offs or some generically fruity or chocolaty puffed shape. No franchise was safe, from Shrek and Shrek 2 to Shrek and seriously why the heck were there so many Shrek cereals? 
But very recently, matinee meals have been stirring from their slumber, returning once more to the creative concepts of their more marquee-worthy years. Minions Banana Berry cereal was a crunchy smoothie. Disney Princess cereal is rethinking the tired oats 'n' 'mallows gambit. Batman and Superman fought with volleys of caramel-iciousness and fondued berries.
And now? Trolls Rainbow Crunch Cereal—based on a 2017 DreamWorks movie based on a bug-eyed, soft-serve-haired fad toy from the 1960s—is bringing peace to the world of fruity cereals. Continue reading →