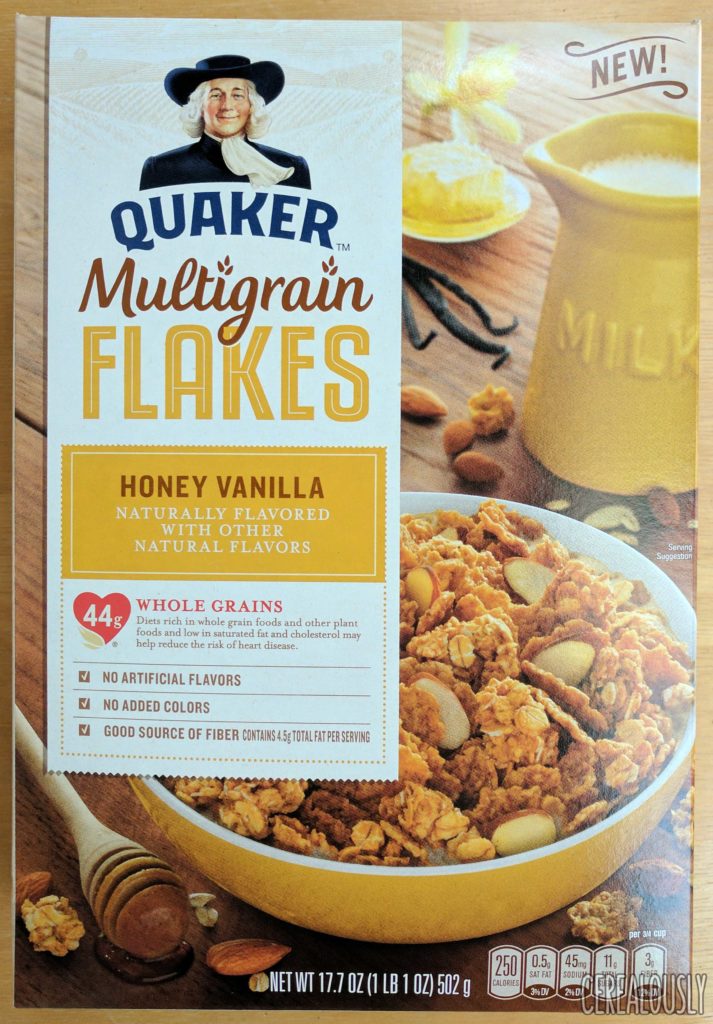 Can you feel it, fellow breakfast clubbers?
We're at the epicenter of a Quakerquake.
Much like the seismic phenomenon from which it draws its name, a Quakerquake is a tough to predict event that really shakes up the norm. It occurs when Quaker, on a whim, decides to release an onslaught of new products—often of shaky quality—to flood the breakfast aisle with various tan boxes that look identical to the company's other thousand oatmeal receptacles. This is why aftershocks of a Quakerquake will often be felt months later: they leave the "NEW" label on their flavors so long, you won't know whether the antioxidant-rich. steel-cut. all-natural apple cinnamon oatmeal came before or after the gluten-free, sugar-free, enjoyment-free apple cinnamon.
I guess with babies (and suckers) born every day, oatmeal is always bound to be new to someone.
Long story short, these new Quaker Honey Vanilla Multigrain Flakes are from the cereal arm of Quaker's latest a-Quake-ening. It debuts alongside Cranberry Apple Multigrain Flakes and Oats & Honey with Vanilla & Pecan Granola. I chose to review this one first, because even though Cran-Apple is more autumnal, last week's Shredded Wheat burnt me out on fruit, while the granola simply has too many ampersands to be trusted.
Plus, granola is barely cereal anyway. It's like that weird cousin who ate gravel in kindergarten. Continue reading →