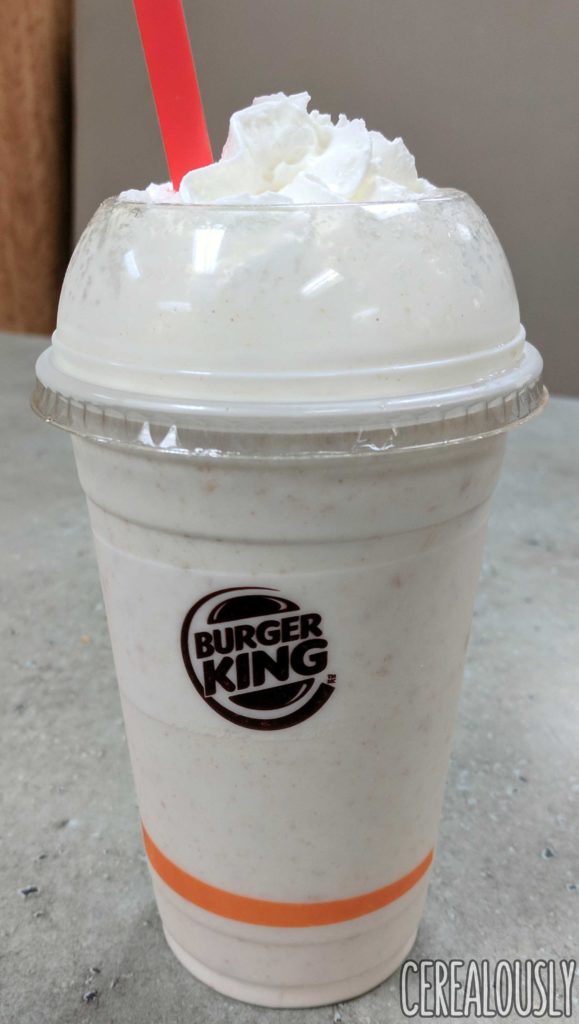 Lucky number seven, everyone.
That's right: Burger King's Cinnamon Toast Crunch Shake is the seventh cereal milkshake I've reviewed in the year 2017. In fact, it's the seventh cereal milkshake I've reviewed ever.
Cinnamon Toast Crunch is a top candidate for Most-Beloved Cereal Ever. Alongside, Honey Nut Cheerios, Frosted Flakes, and Cap'n Crunch, it's a cult classic—and for good reason: it's got cinnamon sugar swirls in every bite. It's the taste you can see!
Well now it's the taste you can suck, too, thanks to Burger King. I don't know how it took so long for the Meat-Puck Maestro to adapt this fan favorite, but I'm glad he did. The cylindrical ivory tower standing before me, adorned with an ethereal whipped cream peak and filled with modest beige freckles, is certainly an unassuming beast, but I'm ready to take down its pasteurized soft-serve Walls of Jericho with my plastic reverse-trumpet.
Or as some call it, "a straw."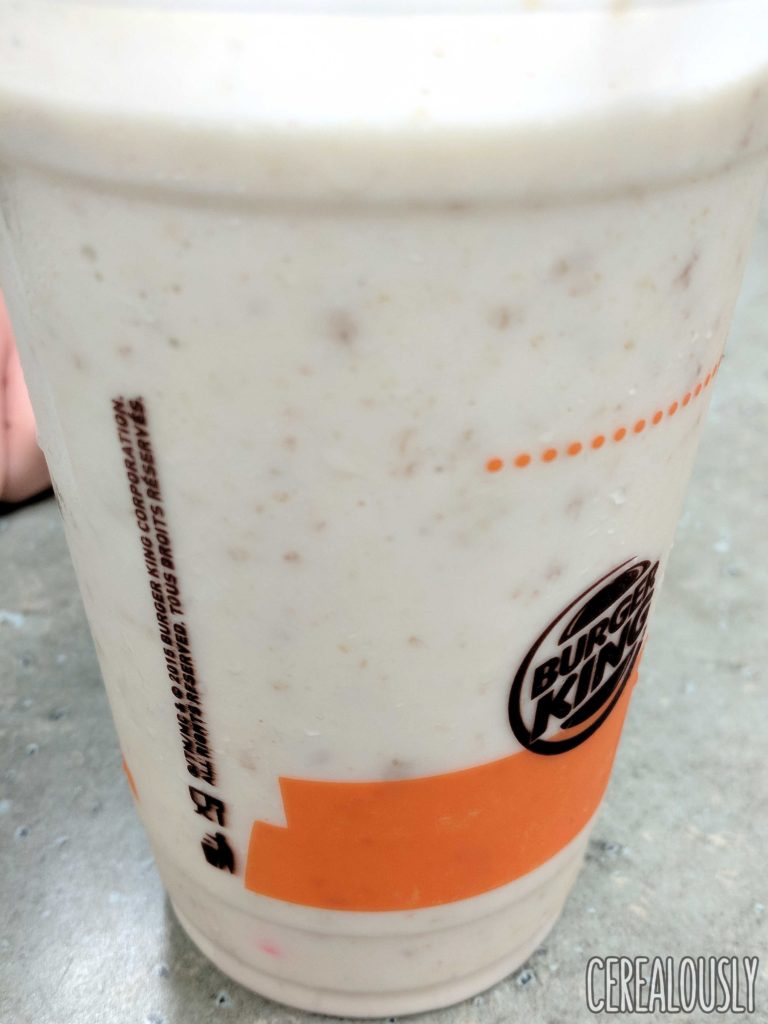 One sip is all it takes to get my entire circulatory system hyped-up and rhythmic like a sugar-soaked scene from Requiem for a Dream. Or more like, Requiem for "Special Sauce"-Infused Soft Serve Ice Cream, because even though the mashed up bits of slightly soggy Cinnamon Toast Crunch cereal are definitely palpable—they create a fun textural contrast as the lumpy bits, alongside the shake's thick creaminess, cascades down past your palate with a tracheal tingle—the flavor of this milkshake definitely comes from BK's proprietary flavoring sauce.
It's super syrupy and sweet—certainly too much for a lot of people—and it tastes way more like cinnamon bun filling than anything Cinnamon Toast Crunch related. Hyper-buttery, with a cozy brown sugar edge and a hint of actual, warming cinnamon spice, this cinnamon flavor is not the straight-up saccharine punch you'll remember from any of the childhood Saturday morning breakfasts, adult Saturday night cereal binges, or Monday morning commutes we've all spent plowing through bowls (or Thermoses) of Cinnamon Toast Crunch.
A cereal milkshake? Not quite. But a darn fine milkshake all the same? Absolutely.
Because the base shake flavor is amazing, too. So thick that you'll need to mix in whipped cream as a diluting agent or set the cup atop a flame-broiled Whopper until it melts a little, the Cinnamon Toast Crunch Shake goes beyond the creamy "vanilla bean and whole milk" flavor of normal soft serve. As others have noted, there's a nearly eggy or custardy component to it. Combined with the vanilla and roasted cinnamon, I felt like the whole shake started to taste like, of all things, eggnog…with a snickerdoodle eternally dunked inside.
So everyone who has ever wanted General Mills to release an Eggnog Toast Crunch cereal (we are a Sisyphean few), this may be as close as we'll ever get.
Overall, the Cinnamon Toast Crunch Shake is Burger King's best cereal shake, but it's also their least cereal-y shake. Come for the Cinnabon Core flavor, stay for the eggnoggy intricacies, then pass out on the floor shortly after you come up with the genius idea to spike your own Cinnamon Toast Crunch Shake.
I don't think we'll see another fast food cereal milkshake this year (knock on wood…or rather, knock on the faux wood panelling of my car interior in this Burger King parking lot), so now I can confidently rank all of Burger King and Steak 'n Shake's respective Moo Slushies.
That's an acceptable euphemism for "milkshake," right?
6. Steak 'n Shake Cocoa Krispies Shake
5. Steak 'n Shake Honey Smacks Shake
4. Steak 'n Shake Cinnamon Crunch Shake
3. (tie) Burger King Lucky Charms Shake
3. (tie) Steak 'n Shake Frosted Flakes Shake
2. Burger King Froot Loops Shake
1. Burger King Cinnamon Toast Crunch Shake
---
The "Bowl:" Burger King Cinnamon Toast Crunch Shake
The Breakdown: Not a good Cinnamon Toast Crunch milkshake, but a fantastic shake all the same. Rich with eggnog flavor, this crazy good goo will be too sweet for some, but a perfect "winter is coming" treat for the rest of us.
The Bottom Line: 9 risky decisions to eat cereal on the expressway out of 10