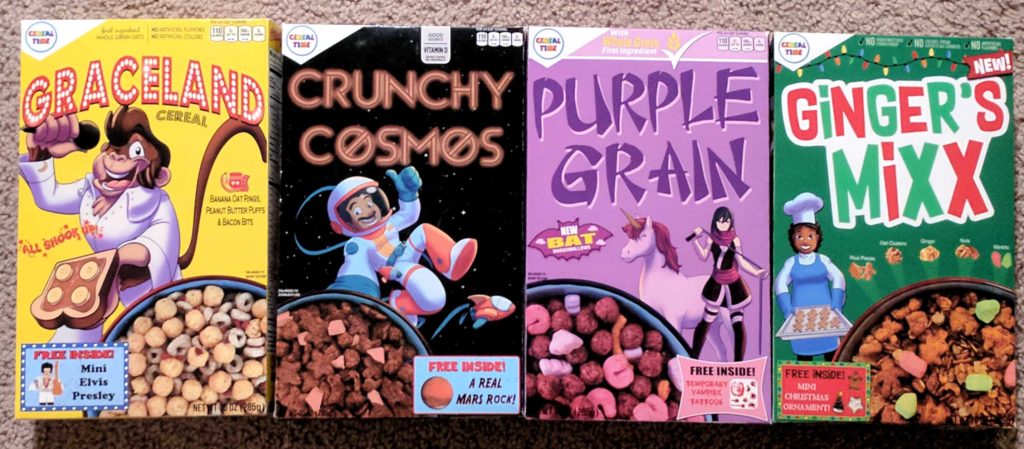 If there's one tangible distinction separating the rank of Cereal Knight from Cereal Master, it's hand craftsmanship of one's own cereal.
And while I once (keyword: once) tried baking my own "Golden Dan Grahams," that particular odyssey ended with a smoking oven full of half-cooked honey cardboard crisps. So even though I may be on the Cereal Council, I'm okay with not being granted the rank of Master.
Because after receiving a surprise shipment of homemade cereals from Cereal Time historian Gabe Fonseca, I feel like a corn-puffed Padawan.
As an awe-inspiring holiday gift to a select crew of cereal lovers like me, Gabe made four cereals, complete with custom box art and prizes & trading cards inside. So as but a tiny, Chuck E. Cheese token-sized token of my gratitude—and in accordance with my responsibility as reviewer of all cool cereals—I'm gonna taste test them all. Because after taking just one look at his cosmonautical Neil deGrasse Tyson and Hunka Hunka Burning Monkey, I'm convinced these mascots could fit in on shelves next to the Trix Rabbit and Tony the Tiger.
Silly Neil: theoretical astrophysics is for kids!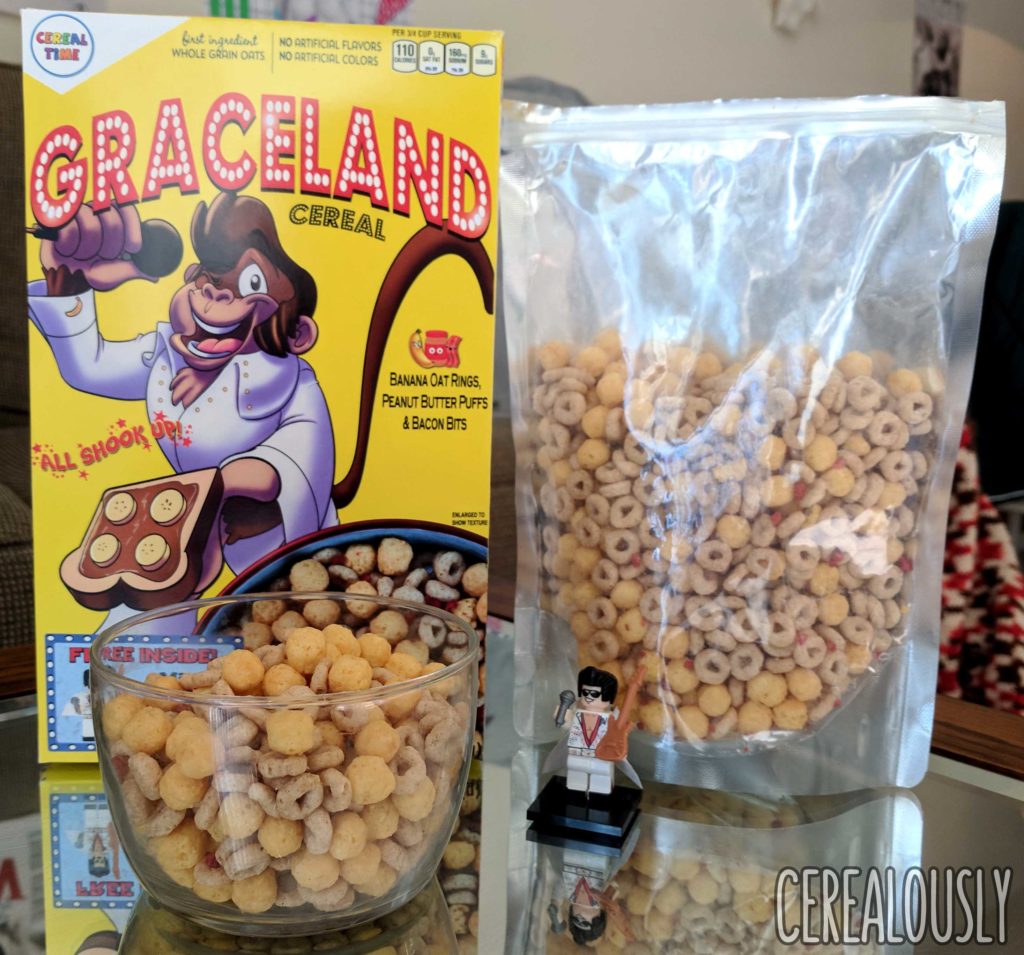 Graceland Cereal
Prize Inside: LEGO Elvis
At the risk of splitting my banana too early, I tried the most exciting one first: Gabe's tribute to the King, a no-brainer blend of peanut butter and banana that I'm baffled no major cereal company has tried yet. It's a money-printing idea anyone would eat for breakfast—well, except for the divisive "bacon" part.
As predicted, the grounded nutty notes of both the Banana and Honey Nut Cheerios and PB Panda Puffs, so tied together by a pervasive, buttery and ripely browned fruit sweetness, produces a flavor that's simultaneously complex and creamily smooth. And while I worried about the bacon bits, their pangs of smokiness are so subtle that they just make the cereal's savory–sweet blend worth savoring even more.
---
The Bottom Line: 9 rejected ideas for "Pineapple and Ham Blue Hawaiian Pizza Cereal" out of 10
Crunchy Cosmos Cereal
Prize Inside: Mars Rock
What Gabe's most out-of-this-world cereal lacks in flavor diversity (it's chocolate on chocolate on chocolate—and the British Star Wars Cereal here tastes just like the Cocoa Puffs), it makes up for in asteroid-sized impact. While its hefty crunch is impressive in itself, Crunchy Cosmos' novel freeze-dried astronaut ice cream bits (similar to what was once found in Kellogg's long-discontinued Kream Krunch cereal) are worth the cost of admission* alone. They provide a fun creamy contrast and an underlying, buttery soft-serve flavor.
*Considering how few boxes of this exist, the cost of admission is beating me head-to-head in medieval jousting and/or the arcade game Joust.
My only critique is the how much the ice cream flavor gets lost in the corny bits when you scoop up a handful like God playing marbles with the stars. I'm not saying Gabe should've made the whole bag freeze-dried ice cream bits, but I will be sending him intimidating photos of the creepy Kream Krunch mascot until he catches my drift.
---
The Bottom Line: 8 upcoming Tang Cereals out of 10
Purple Grain Cereal
Prize Inside: Temporary Vampire Tattoos
The clear aesthetic outlier here, Purple Grain celebrates this year's Pantone color of the year by uniting cereal's most iconic purple flavors under the watchful gaze of a unicorn-riding, whip-toting anime vampiress named Kimiko who looks straight out of a DeviantArt greatest hits collection.
This pleasantly purpled mix includes Trix (100% Grapity Grape Trix, of course), marshmallows from Lucky Charms and Count Chocula, purple Pixie Stix and Nerds, and the most iconically violet thing of all…wheat sticks? I can't say I understand Gabe's reason for the sparse wheat sticks in Purple Grain, but I can hypothesize: a broom stick? A whip? A vampire-slaying stake? Or a simple red herring meant to distract me while that smug unicorn steals my wallet?
All mythical larceny aside, Purple Grain is surprisingly addictive. Tragically, any distinct grape notes are washed out by the sheer sugar rush of marshmallowy Trix, but the cereal's candied, lightly puckering artificial fruit pangs are refreshingly cozy and nostalgic after the previous two cereals' more avant-garde bits.
I'll just have to use Ghoul-Aid instead of milk to fulfill Gabe's vision.
---
The Bottom Line: 7.5 much-needed Sir Grapefellow cameos out of 10

Ginger's Mixx Cereal
Prize Inside: Mini Christmas Ornament
The only reason I said I was most excited for Graceland Cereal was because Gabe, a fellow crusader for the advancement of gingerbread cereal, warned me to temper my expectations about Ginger's Mixx, knowing that the very mention of a custom gingerbread cereal—let alone one whose name references a cereal as obscurely great as Big Mixx—would leave the sugarplums in my head dancing a dizzying Charleston.
But I'm proud to say Gabe was wrong, because Ginger's Mixx is by far the best cereal in his set. With a Sears toy catalogue-length ingredients list that includes cinnamon and ginger, maple syrup and molasses, pecans and walnuts, and Multi-Grain Rice Krispies and merry marshmallows, this delightfully spiced granola tastes exactly like crunchy gingerbread cookie dough. With a strong emphasis on warmly tickling winter spice and darkly syrupy molasses, all built on a base of buttery toasted oats with marshmallowy pops to act as faux icing, this is the authentic gingerbread cereal the real breakfast aisle needs, but perhaps doesn't deserve right now.
The only thing keeping Ginger's Mixx from a perfect score are the sizable ginger crystals. While they're key for infusing the whole batch with underlying spice, occasionally I bit right into one, a thermal sensation akin to roasting your taste buds over an open fire.
Best of all, Gabe sent me the recipe for this stuff, so even when it's 72 and sunny, you can catch me by the poolside with a martini glass full of Ginger's Mixx and eggnog, sweating through my ugly sweater like a festive Water Wraith.
---
The Bottom Line: 9.5 bottles of tongue sunscreen out of 10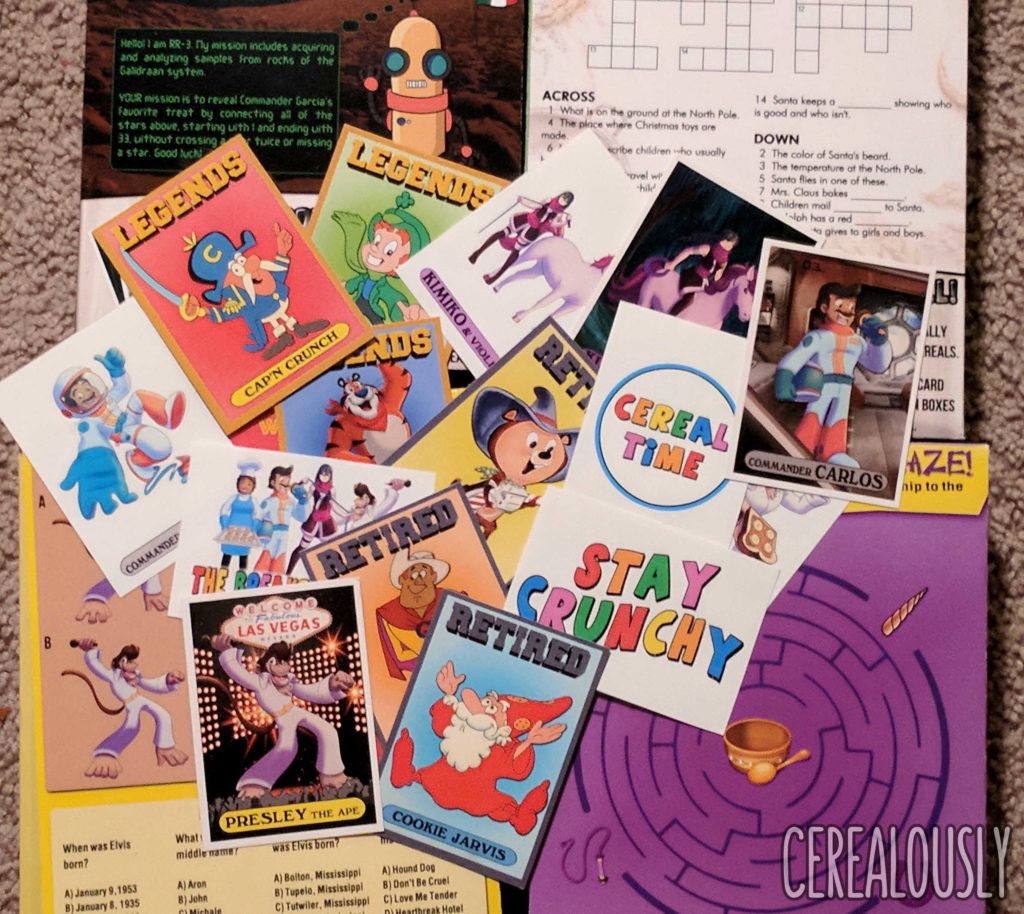 So while every cereal of Gabe's was pretty good, it's the collective experience that was a 10/10. Every box has so much detail and thought put into it, from the nutrition facts to the box tops. Each one has fun and games on the back, plus cereal trading card packs. The stickers and character bios are great, but I'm most happy about pulling out that Cookie Jarvis Retiree trading card.
That's rarer than a Methusaleh Rookie Card!
My sincerest thanks and appreciation goes to Gabe for sending these out—be sure to check out his channel for more cereal goodness. I'm now inspired to craft another cereal of my own, so if you see smoke billowing in the distance, bring a firehose full of 2%