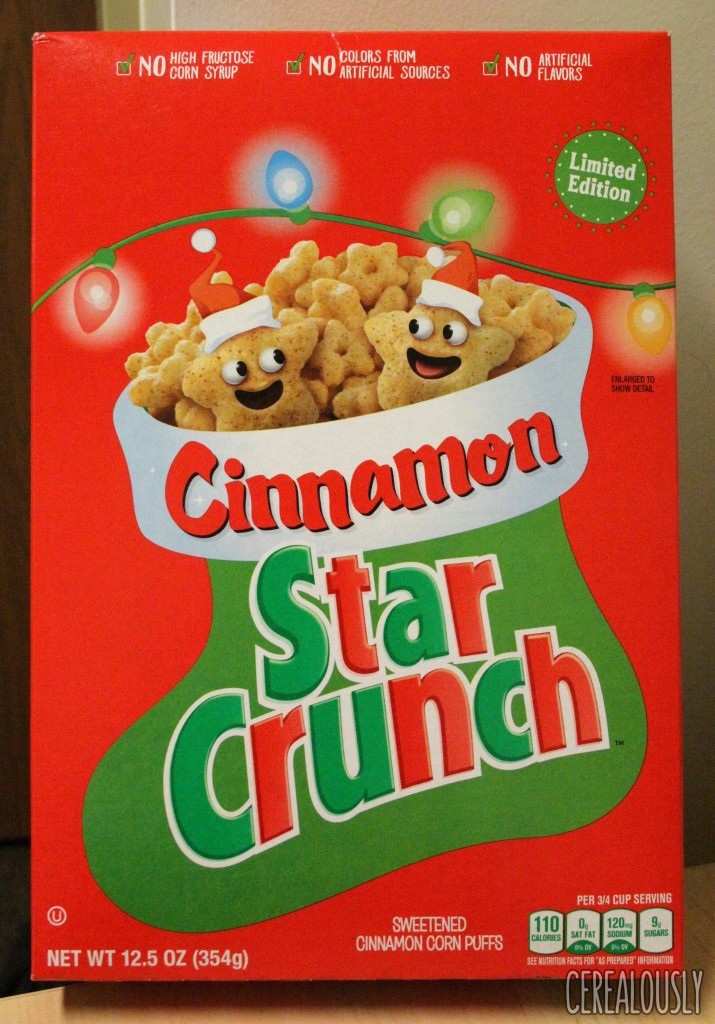 A Eulogy for Sugar Cookie Crunch:
O Cookie! my Cookie! our sweet breakfasts are done,
My spoon is in the dishwasher rack, your "prize inside" was fun,
December's near, Salvation Army bells I hear, the people's stomachs rumbling,
While eyes scan the cereal aisle, the boxes plump and shining;
But O heart! heart! heart!
O this new bleeding box of red,
While in the trash my last Sugar Cookie Toast Crunch lies,
Eaten, empty, and dead.
Okay, I could easily go on for two more verses, fervently typing until my own fingers fall cold and dead, but I think it's time to move on and face the facts. Sugar Cookie Toast Crunch was arguably the most revolutionary Holiday cereal in years, but after a two-year tenure on shelves, it has been unexpectedly replaced by Generals Mills's new Cinnamon Star Crunch. My instinct is to remain pouty and cynical, but I'm going to take "the Grinch approach:"
When someone steals your annual present, sometimes you just have to sing anyway. So let's carve into this box like it's a roast beast.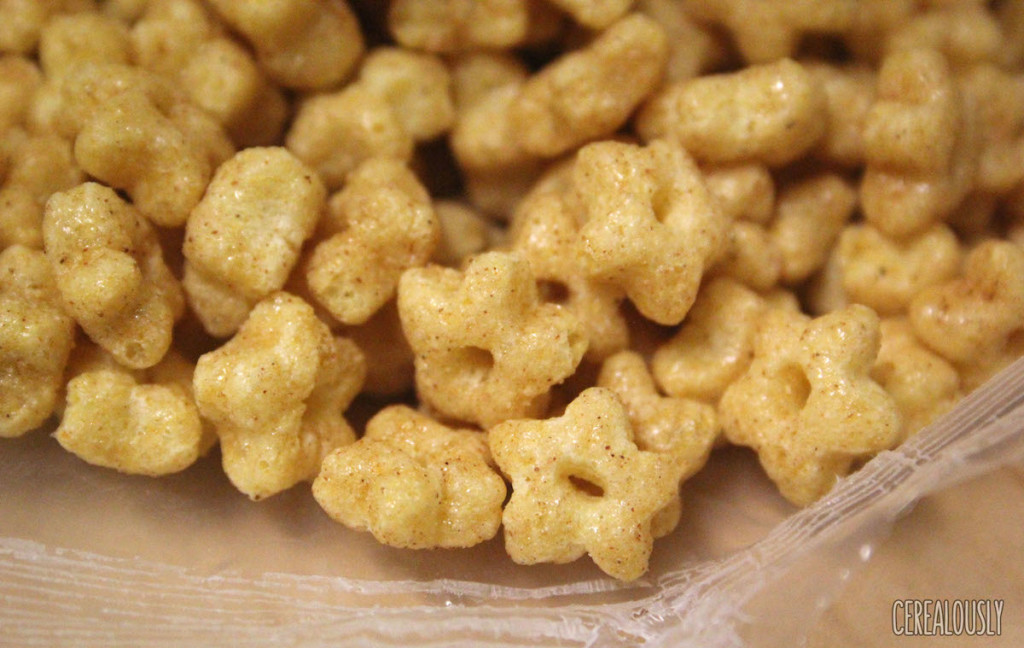 My biggest gripe with Cinnamon Star Crunch isn't that it's not Sugar Cookie Crunch. It's that it doesn't appear deserving of the "Toast Crunch" name at all. Rather than the squares or rounded square bread slices the Toast Crunch line is known for, here we're treated to a totally foreign sight: a dazzling galaxy full of a million glittering and glossy star bits. Each star looks like a spiced hybrid of Dora the Explorer Cereal, Cröonchy Stars Cereal, and Sprinkle Spangles, but much tinier—each piece is no bigger than the buttons on a mouse's overalls.
And you know what they say: "When you give a mouse a sugar cookie, he's bound to be a little upset if it turns into a cinnamon star."
Remaining cautiously optimistic, I sucked down a handful of these stars…and my heart grew three sizes that day. This stuff is pretty good. Cinnamon Star Crunch is no Sugar Cookie Toast Crunch, but that wouldn't be a fair comparison: like comparing apples to orange-painted Lamborghinis. Every Cinnamon Star Crunch piece has a mild, yet savory sweet corn base (like Cocoa Puffs or Trix) with a lip-smacking glaze of cinnamon sugar.
It's nothing like Cinnamon Toast Crunch, though. Instead of delivering a powdery saccharine sucker punch straight to the "sweet" section of your taste buds, Cinnamon Star Crunch provides a soothingly warm cinnamon caress with dark, caramelized nuances. Like a cinnamon Barry White song, Cinnamon Star Crunch's flavor is deep, cozy, and relaxing. It has a bit of a nutty finish, too—not the "roasting over an open fire" kind, but more like the oily nuttiness you'd find in Honey Nut Cheerios.
In fact, the cinnamon stickiness that coats Cinnamon Star Crunch is a lot like the almond extract glaze on Honey Nut Cheerios. I can pretty much close my eyes and pretend these Cinnamon Stars are just malformed Cheerios from the Island of Misfit Breakfasts.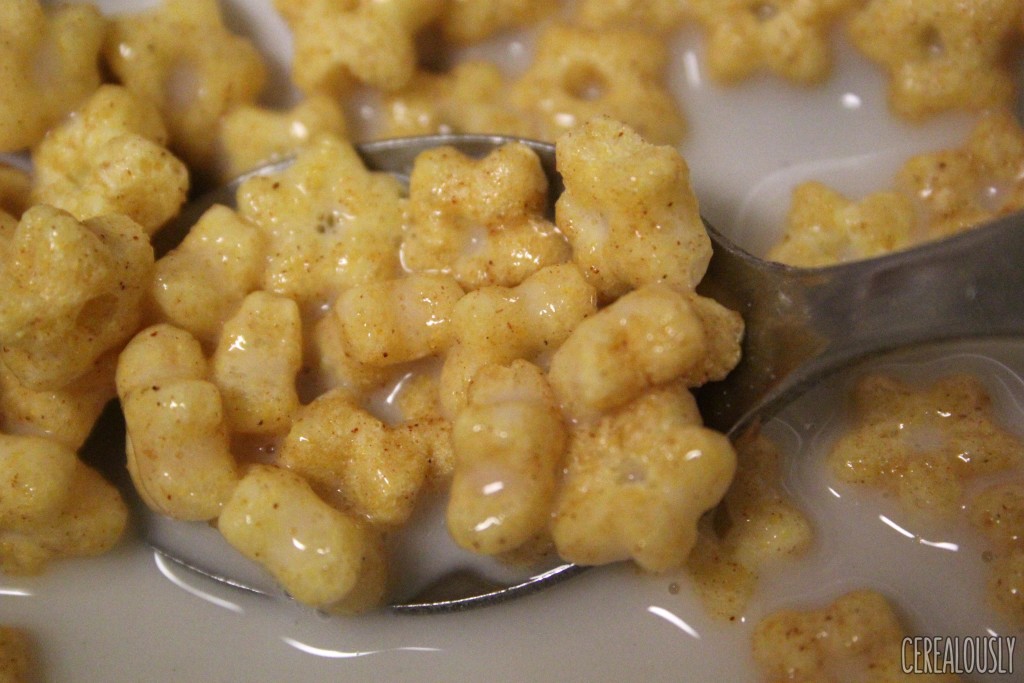 I know Santa's going to want a bowl of Cinnamon Star Crunch and milk left out for him on Christmas Eve, so I might as well taste test this combo, first. Cinnamon Star Crunch gulps down milk faster than ol' Chris Kringle himself, and the resulting mush looks a bit like cinnamon mac & cheese. It tastes much cornier when milk-soaked and less Barry-licious, but the golden brown endmilk is a buttery delight.
Because this cereal gets soggy and bland so fast, I'd recommend you stay dry with Cinnamon Star Crunch: use it as a stocking stuffing snack or as a popcorn mix-in during your annual Christmas Story marathon.
Overall, my heart says "treachery," but my tongue says "stuff more stars into me, you idiot." It's impossible to forgive Benedict Arnold Crunch Cinnamon Star Crunch for what it did to Sugar Cookie Toast Crunch, but this new cereal is tasty enough in its own right, albeit a little lame and uncreative. If General Mills had just called it "Buzz the Bee's Snickerdoodle Cheerio Stars" instead, we wouldn't have this problem. Those who like their cinnamon cereals puckeringly sugary probably won't be impressed either, but for the rest of us, Cinnamon Star Crunch is a mindlessly merry munchie worth trying.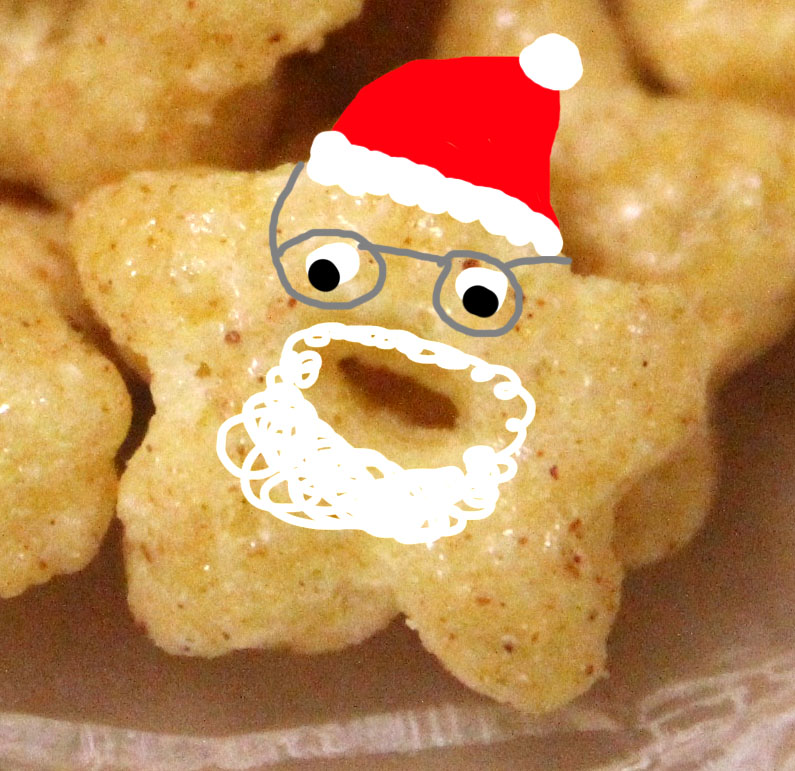 I really just wish the cinnamon glaze didn't plug every star's hole full of dried syrup. I want to turn these things into tinsel!
---
The Bowl: General Mills Cinnamon Star Crunch Cereal
The Breakdown: Cinnamon Star Crunch's nutty cinnamon syrup and cheek-stuffing piece sizes make for a pleasant winter nosh that's nevertheless haunted by the ghost of its tastier ancestor.
The Bottom Line: 7 dreams of a Barry White Christmas out of 10
(Quick Nutrition Facts: 110 calories, 2 grams of fiber, 9 grams of sugar, and 1 gram of protein per 3/4 cup serving)
***If you want to read what the world's biggest Sugar Cookie Toast Crunch fan thinks of Cinnamon Star Crunch, head over to Junk Banter for his review!***