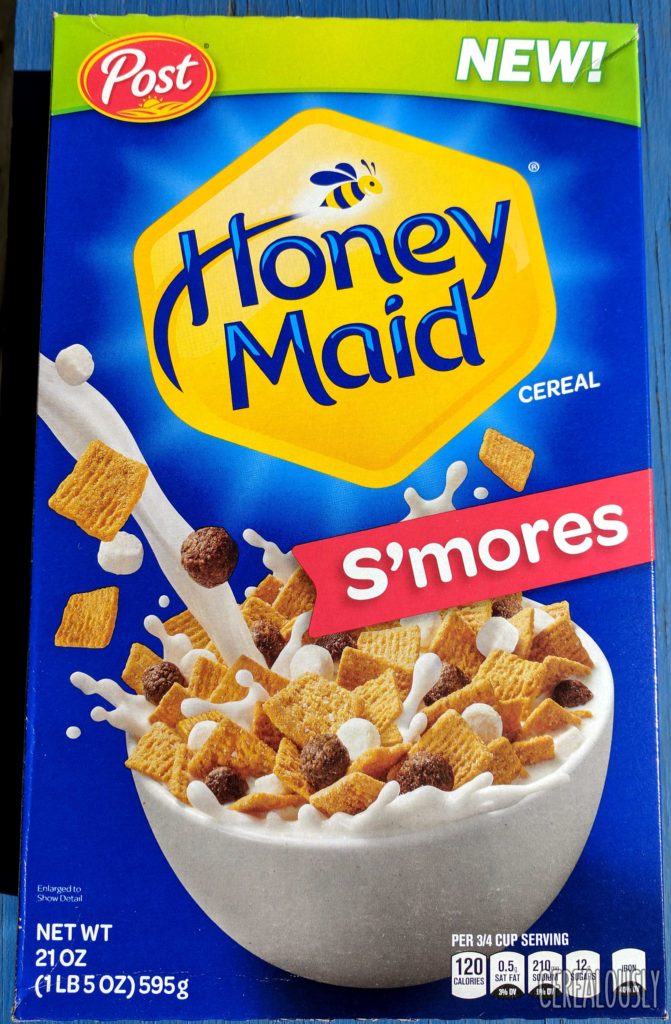 Okay, I love all things s'more, and I support the junk food craze of s'morifying just about everything. But if society's going to continue its wonderful quest to inject graham-chocolate-marshmallow flavor into every cake, cookie, and cake-stuffed cookie crumble Frappuccino, we have to amke one thing clear: are we supposed to capitalize the "M" or not?
For so long, I treated the term "S'More" as an inflexible proper noun. Like any number of deities, to misprint its name as "s'more" was blasphemy worthy of campfires and brimstone. But now we do it all the time, as evidenced by Post's new Honey Maid S'mores Cereal. Are we just supposed to accept this normalization of "s'more?" Is an artificially flavored s'more not subject to the same capitalized deification of the one true, fire-toasted S'More? Should I just stuff my mouth with this cereal so you don't have to hear me babble about s'more theology?
I know at least one of those answers is a yes.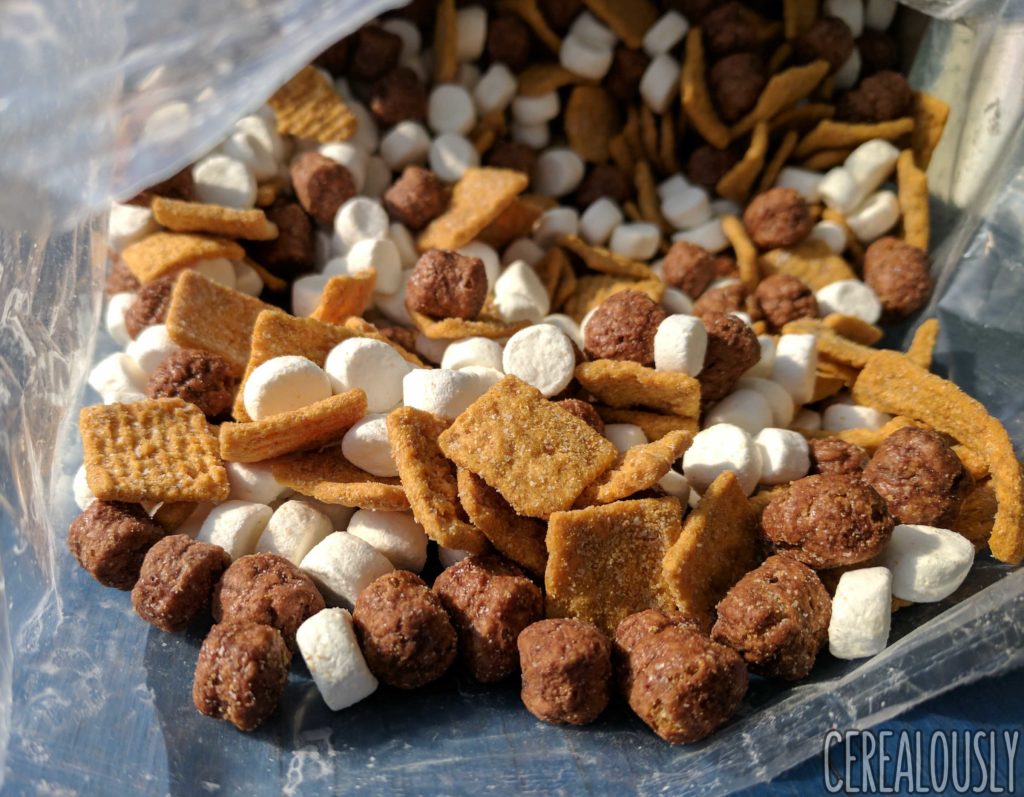 On the surface, Honey Maid S'mores looks just like Malt-O-Meal (which Post owns)'s Madagascar S'mores Jungle Party, a delightful treat that combined graham squares, chocolate puffs, and mini marshmallows to simulate a s'more's iconic flavors, which form a more iconic trio than a first Star Wars films or a certain whipped chocolate bar.
But after tasting Honey Maid S'mores Cereal, something seems off. It's too bland and decidedly un-s'morevelous. There's the obvious explanation: I got too many sugary marshmallows in my first bowl, because all the more interesting pieces fell to the bottom (PSA: shake this box up like a tossed salad before you open it). But even after sampling the graham squares and chocolate puffs in isolation, they still feel cheaper than their Madagascan ancestors.
The squares have less defined ridges and only a thin honey glaze—Golden Grahams these are not. The chocolate puffs have a heartier crunch than Cocoa Puffs, but none of the real chocolate flavor (just faint twinkles of milk cocoa powder). And the tragically chewy and generically sweet marshmallows are a far cry from Lucky Charms' crackling pops of vanilla-tinged sugar. So far, no good: aside from an oddly compelling smoked aftertaste, eating Honey Maid S'mores is isn't as good as S'mores Jungle Party or the frankenstein's cereal I could've assemble with the help of General Mills.
I have to wonder if Post's recent tendency to """"""improve"""""" their old cereals (I had to use so many quotes to emphasize that that was their word, not mine or the hundreds of people who are upset about new Honeycomb) is to blame for this s'less than memorable s'mores flavor.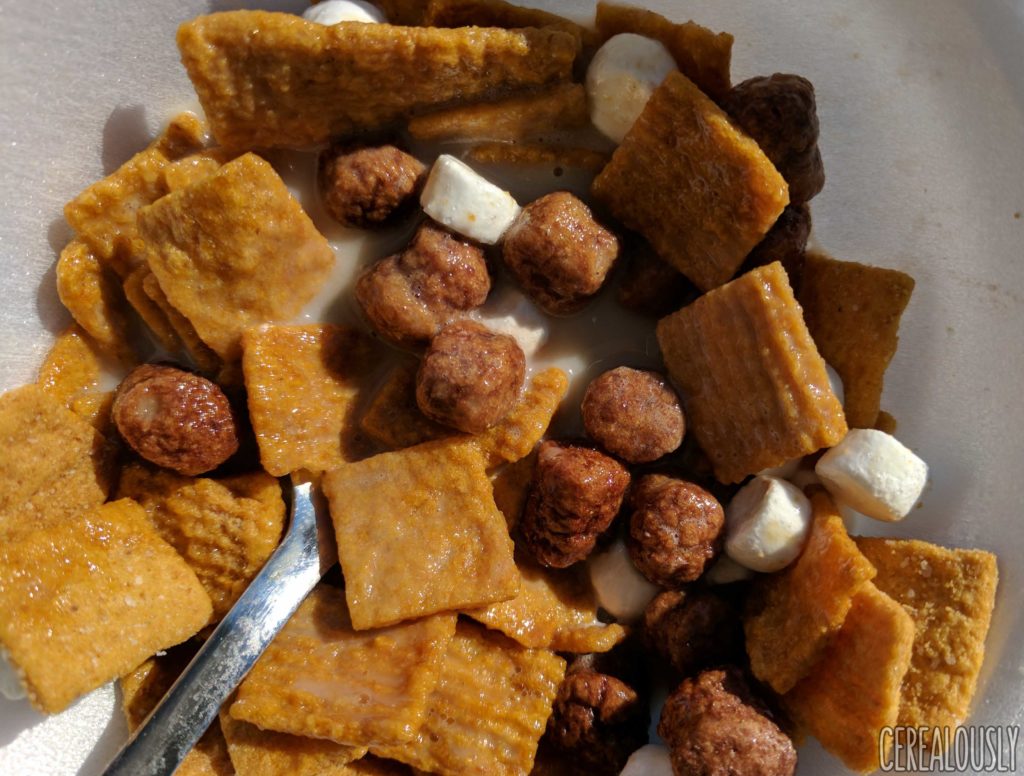 Just like we all totally do with real toasted marshmallows over the campfire, I poured milk on my Honey Maid S'Mores Cereal to try improving its potency.
And whether you call it fighting campfire with campfire or creaminess with creaminess, it kind of worked. The marshmallows' monopoly over this cereal's flavor profile is loosened by milk's soothing flow, and the graham squares get their chance to shine with honey-smacked, brown sugar-soaked bursts of golden-baked goodness.
Of course, this makes the chocolate puffs the true losers here, as they never get the cereal spotlight, dry or milked. The best they get is a supporting role in the graham squares' leading dairy performance, as the puffs' meek cocoa flavor provides a little buttery sweetness in the endnotes. Without the overbearing marshmallows, this ends up tasting a bit like my favorite Pop-Tart, Limited Edition Milk Chocolate Graham, but as you could probably tell by my use of words like "meek," "a little," and "a bit" that this graham-cocoa pairing isn't tasty enough to dethrone Kellogg's Smorz as the best s'mores cereal currently on the market.
Though I'll never forgive Smorz for its brazen bastardization of the "S'Mores" name.
So between its poor flavor balance, shy chocolate wallflowers, and dubious ingredient quality, Honey Maid S'mores is a fun summer novelty at best, and a redundant downgrade at worst. If you've never experienced Madagascar S'mores Jungle Party or Malt-O-Meal S'mores, give this stuff a try. The rest of us are better off waiting for Honey Maid to bring back Teddy Grahams Breakfast Bears.
---
The Bowl: Honey Maid S'mores Cereal
The Breakdown: With too much marshmallow and over-sweetened fluff, as well as too little chocolate and graham that only grows vaguely Pop-Tart-esque in milk, this s'mores cereal is pretty "s'meh."
The Bottom Line: 5.5 frankenstein cereals that don't include Franken Berry out of 10