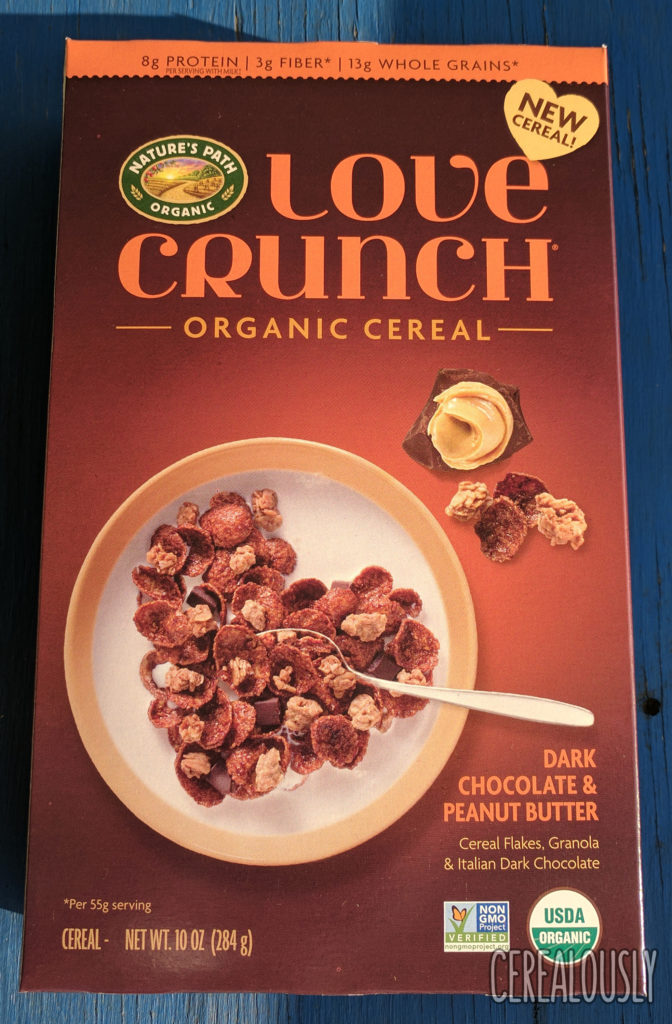 These ain't your kid brother's Reese's Puffs.
No, while the most famous chocolate and peanut butter cereal is a sugary smorgasbord of twinkling cocoa spheres, downright pedestrian peanut butter puffs, and the persistent spirit of a million Saturday morning memories, the granola gourmands at Nature's Path have conspired in their organically all-natural gluten-free ivory tower to produce a choco-nutty cereal with class.
"Look at those pithy Puffs," one doubtlessly said. "They're all the same. We're capitalists, for GORP's sake: we need a hierarchy!"
Thus, Love Crunch Dark Chocolate & Peanut Butter Organic Cereal was born, ready for the well-mouthed silver spoons of people who can afford $4 boxes of cereal. This new Love Crunch line of flake 'n' cluster foodstuffs also includes Dark Chocolate & Red Berries and Dark Chocolate Macaroon, but my ennui about fruity cereals and boycotting of macaroons until we get a French macaron cereal made my first flavor choice obvious.
And really, how could I lose, when all 3 flavors contain weirdly specific fair trade Italian dark chocolate that Nature's Path probably impulsively bought like it was Milo's Egyptian cotton? Real chocolate chunks are like a cheat code for cereals. But I digress: let's ↑ ↑ ↓ ↓ ← → ← → B A START this review.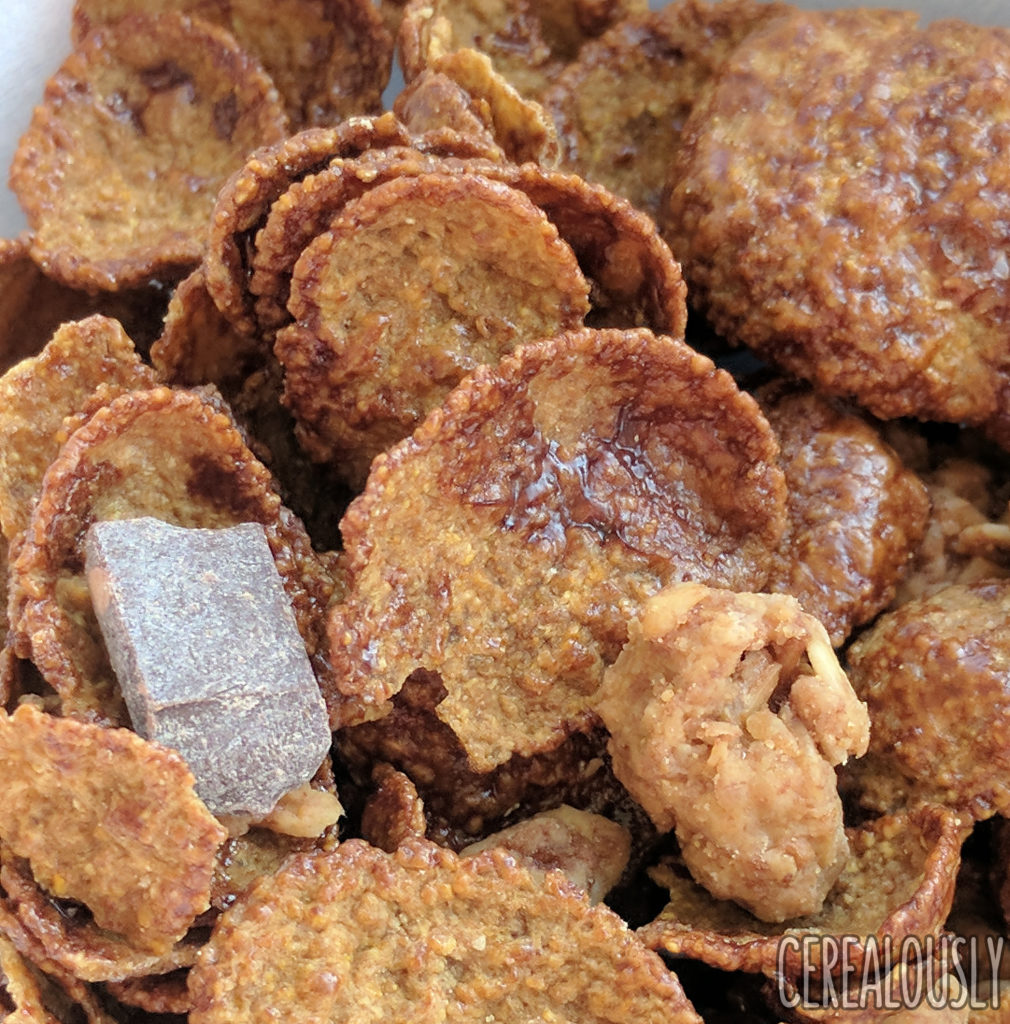 While each piece glistens beautifully in the sunlight (I'd take this cereal out for a romantic, dark chocolate-covered red berry dessert any day), Love Crunch Dark Chocolate & Peanut Butter really does have a hierarchy. And while the cereal as a whole is surprisingly, nay, shockingly good, I think I need to give credit where it's due.
So sorry, flakes, it's not due to you. Because you don't really do much. Each hardy flake has an impressive crunch and a glossy glaze, but its oily toasted maize flavor tempers its pleasant coating a little too much. The chocolate sheen on every shard is very darkly sweet, with a bitter sort of semisweet cocoa flavor that's tinged with burnt caramel. To simplify things, let's just say Love Crunch Dark Chocolate and Peanut Butter flakes taste like corn flakes dusted in a 2:1 mixture of crushed Cocoa Puffs and molasses.
Sonny might not go cuckoo for them, but they'd probably make him consider a Gingerbread Cocoa Puffs flavor.
The same can't be said for the chocolate chunks. With a smooth texture, buttery bittersweetness, and fudgy finish, they're exactly as tasty as you'd expect Italian dark chocolate to be. Seriously: these lil Ferraris make Cocoa Pebbles look like used sedans. But the catch is that they're as rare as they are indulgent, as I found myself mining my box for photogenic bits like a down-on-his-luck prospector in desperate need of that big score.
Yet Dark Chocolate & Peanut Butter's breakout stars are actually the peanut butter oat clusters. Perfectly toasted, these magical crags do something no other PB cereal truly has: they're salty! Pairing mouthwatering nut flavor with a salty butter one and the wholesome platform of oats, these peanut butter clusters are pretty much crunchy peanut butter cookie dough. I want to bathe in them.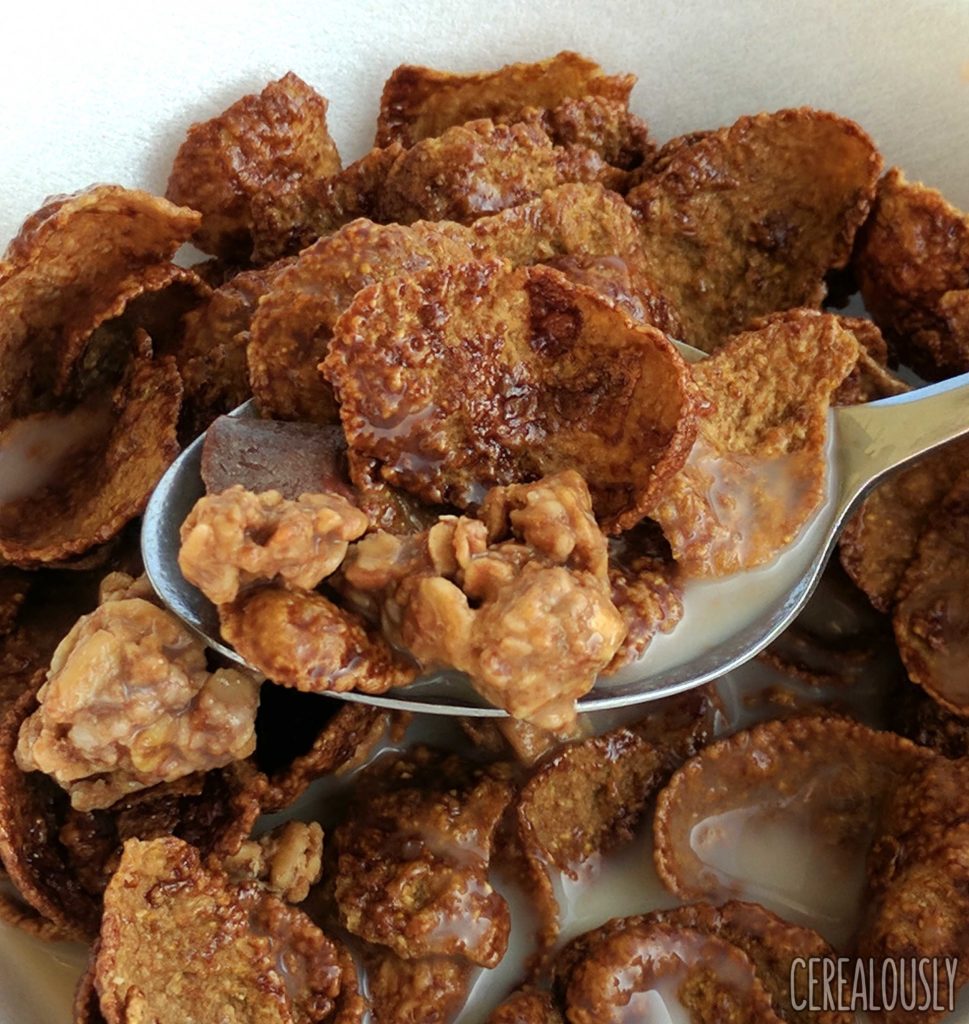 Speaking of cookies, Dark Chocolate & Peanut Butter Love Crunch cereal eaten all together is more than the sum of its parts: it's the summMMMmmm of its parts. I was heavily reminded of an Oh Henry, as peanuts, chocolate, fudge, and some sort of ethereal caramel merged essences in my bowl.
Yep, milk makes it better, too. Adding a little light creaminess to this otherwise dark affair somehow—bear with me—makes it taste like a s'more maybe with some sort of Ivy League Reese's Cup. Milk + toasted corn makes a haphazard campfire marshmallow, while the granola's honey undertones are delightfully splashed awake.
So yes, I recommend both eating Love Crunch Dark Chocolate & Peanut Butter cereal with milk and simply eating Love Crunch Dark Chocolate & Peanut Butter. Its fancy-pants flavor profile might just be the cereal surprise of the year, an if it weren't for the questionable flake flavor and meager mix-ins, it woul be a perfect 10.
Now I just have to Google "inessential organs" to afford another box.
---
The Bowl: Nature's Path Love Crunch Dark Chocolate & Peanut Butter Cereal
The Breakdown: Uniquely smoked molasses, creamy fair trade chocolate, and mineralized cookie dough chunks in my breakfast cereal? Corn overload aside, this cereal is what Reese's Puffs wants to be when it grows up.
The Bottom Line: 9 used cereal dealerships out of 10