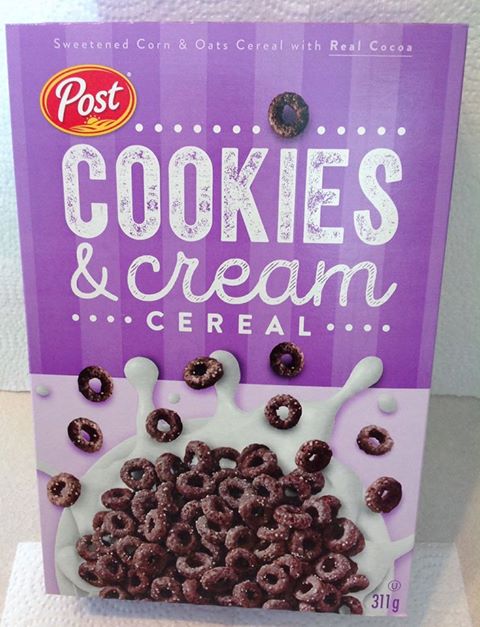 Whether they're called Twist & Shouts, "Lickety Splits, or…*shudder*…Creme Betweens, off-brand Oreo cookies just feel uncannily wrong to eat. Even Hydrox, being the original chocolate sandwich cookie, just feels like the snack equivalent of a cheap bootleg VHS with hilariously mistranslated English to Chinese and back to English subtitles.
"Oreo: the treat that lactose loves to be smothering!"
And that's how I feel about Post debuting Cookies & Cream Cereal in Canada, too. Though it's ostensibly the same cereal they released as Oreo O's in the States earlier this year—which was, in turn, ostensibly the same as Malt-O-Meal Cookies & Cream Cereal, which is also a Post holding—I can't help but think that my brand-loyal taste buds would reject these crunchy cookie rings faster than my brain rejects the blasphemous existence of "Low Fat Oreos."
I don't know why Post couldn't bring the Oreo O's name to Canada—maybe border patrol would've "confiscated" them for "thorough gastrointestinal inspection"—but thanks to reader Jas A.'s above photo, we know that our northern neighbors will at least get to experience the cereal's deliciousness in a comparatively anonymized form.
And hey, the box art is actually pretty cool! We don't get enough purple candy stripes in the cereal aisle (come on, Raisin Bran: live a little!), and the cereal name's stylized font looks like something that would be cross-stitched, framed, and hung above the toilet in a motor home. Which works here, because in my mind, nothing says "haphazard family camping trip" quite like generic cereal eaten out of flimsy paper bowls with lukewarm 2%.
Thanks again to Jas for the photo. If you'd like to share a cereal photo from anywhere in the world (even from my own backyard—I'd be impressed), mail it on over to our Submissions page for a chance to see it on this site!