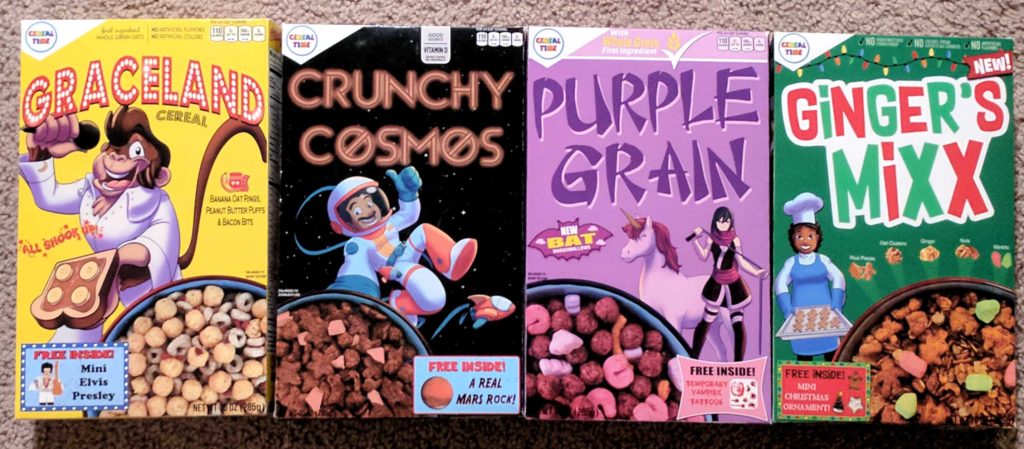 If there's one tangible distinction separating the rank of Cereal Knight from Cereal Master, it's hand craftsmanship of one's own cereal.
And while I once (keyword: once) tried baking my own "Golden Dan Grahams," that particular odyssey ended with a smoking oven full of half-cooked honey cardboard crisps. So even though I may be on the Cereal Council, I'm okay with not being granted the rank of Master.
Because after receiving a surprise shipment of homemade cereals from Cereal Time historian Gabe Fonseca, I feel like a corn-puffed Padawan.
As an awe-inspiring holiday gift to a select crew of cereal lovers like me, Gabe made four cereals, complete with custom box art and prizes & trading cards inside. So as but a tiny, Chuck E. Cheese token-sized token of my gratitude—and in accordance with my responsibility as reviewer of all cool cereals—I'm gonna taste test them all. Because after taking just one look at his cosmonautical Neil deGrasse Tyson and Hunka Hunka Burning Monkey, I'm convinced these mascots could fit in on shelves next to the Trix Rabbit and Tony the Tiger.
Silly Neil: theoretical astrophysics is for kids! Continue reading →