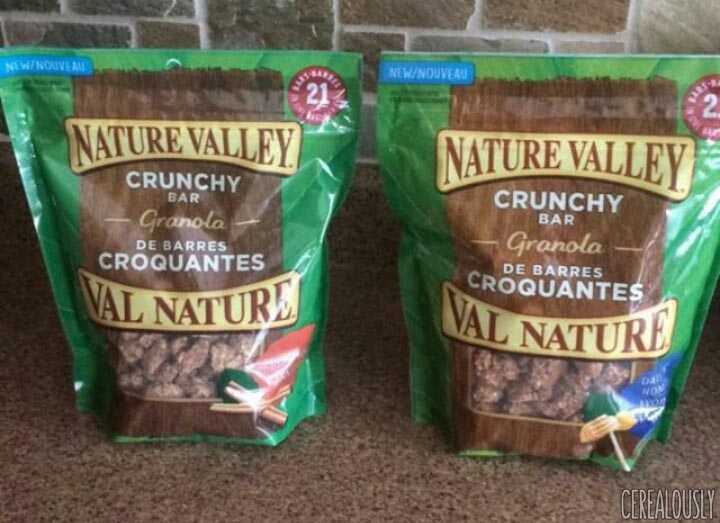 Ready your spoons, steady your milk-pouring hands, and put those Teddy Grahams aside, because last year's best U.S. granola is coming to Canada.
See, as part of their 2016 new product blitz, Nature Valley introduced Granola Crunch to the United States. The stuff comes in Cinnamon and Maple Brown Sugar flavors and it tastes like syrup-slathered Teddy Graham gravel and I love it and it didn't get nearly as much recognition as it deserves and it makes me use too many conjunctions and did I mention I love it?
And now thanks to our Instagram friend Nicole, we know this delightful line is migrating northward to enchant even more taste buds. The name is different—and Crunchy Bar Granola sounds way cooler than Granola Crunch—but for all intents and purposes, the stuff looks the same: crumbly chunks of real Nature Valley granola bars in vastly varying sizes.
What's different is the flavors. Cinnamon has been granted dual citizenship, but for some reason Maple Brown Sugar didn't make it into maple leaf country. I'm a Michigander who lives near the Canadian border who also loves this stuff, so the only logical explanation is that I unknowingly seized all the Maple Brown Sugar Granola Crunch in my sleep.
It sure explains the crumbs on my pillow.
Instead of Maple Brown Sugar, Canada gets an Oats & Honey Crunchy Bar Granola, which, though a little redundant, sounds delightful. If it doesn't taste exactly like compact nuggets of Honey Nut Cheerios and mashed-up Oatmeal Creme Pies, I'll be sorely disappointed in Nature Valley—I've come to expect a lot from them.
Here's hoping Oats & Honey will find its way southward to American shelves, and vice-versa for Maple Brown Sugar. And hopefully they'll sell well enough to inspire a peanut butter flavor.
*hint hint, Nature Valley*
Thanks again to Nicole for the photo. Do you have a cool cereal photo to share? Feel free to pass it along on our submissions page, or just email us at cerealously.net@gmail.com. There's a good chance your picture could be featured on the site.