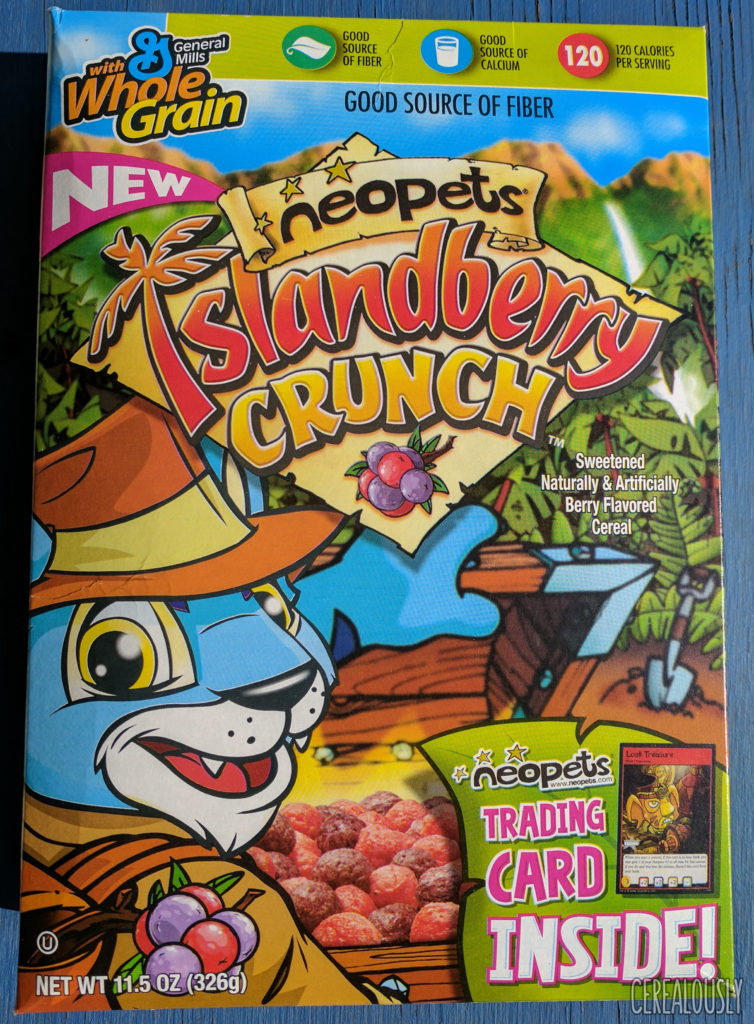 Today is Cerealously's second birthday, marking 731 days to the day since I decided to share my odd Oreo O's obsession and weird Waffle Crisp compulsion with all of you dear readers who for some reason put up with me.
But instead of filling this post with sentimental blubber (though there might be time for that after 1200 words of blubbering about Kacheeks), I instead wanted to celebrate by sharing a piece of cereal history that's very important to me: Neopets Islandberry Crunch cereal! Remembered by few and remembered as good by far fewer, this 2006 General Mills cereal paired the virtual pet franchise with purple and maroon puffs flavored like mixed berries.
Since licensed cereals are a dime a baker's dozen, I'll have to do a little time traveling deep into the foreboding fathoms of my own memory to explain Islandberry Crunch's significance. Fasten your seatbelt, friends: even Wonka's boat ride couldn't get this bizarre.
(If you just want to see the cereal, keep scrolling 'til you see mummified corn spheres.)
You're the One, Neopets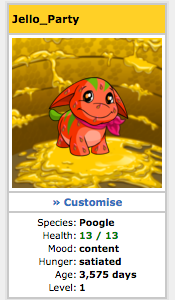 Neopets.com has been around since 1999, when the Internet was young and the people who had time to screw around on it were even younger. The site is a "virtual pet community," essentially meaning it was a more complex Tamagotchi that aspired to be Pokémon. Anyone could sign up for free (if they asked their parents' permission before going online, of course) and create their own Neopet.
As of today, there are 55 Neopet species to choose from, from moody tigers and mohawked warthogs to aliens, dinosaurs, and whatever the heck a JubJub is. Every Neopet could have its own Petpet, too (which, no joke, could have its own Petpetpet), but we won't dive down that particular Cybunny hole.
Above you can see one of my Neopets, one of a rare species called a Poogle that I was crazy about. As you can see by my pet's name, my younger self (whose precise age will remain ageless) has always had his snack-savvy priorities in order, further evidenced by how many Neopoints I must've spent to make him look like an anthropomorphized strawberry. I certainly didn't spend them on food, since even though it was annoying to feed your pet each day, the site was generous in handing out free omelettes.
Oh, right: the site had its own currency called Neopoints. You could earn and spend these all over the site, which had countless activities to keep basement-dwelling young'ns like me occupied (and away from, *shudder*, sports) all Saturday long. Neopet owners could explore the fictionalized Neopia and its surprisingly extensive lore, pit their pets against any number of cartoon eldritch horrors in the Battledome, play tons of questionably programmed Flash games, and more.
To this day, I challenge anyone to go cursor-to-cursor with me in Ice Cream Machine or Feed Florg.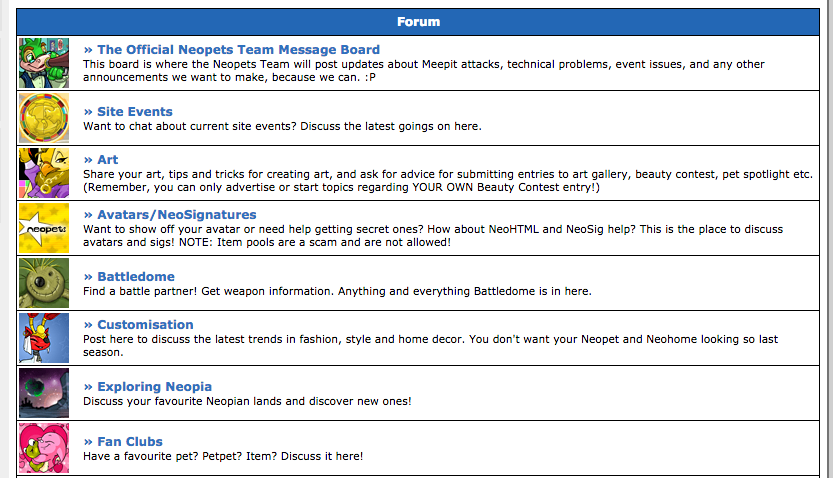 I spent many-a-screen-absorbed evening playing Neopets, even learning rudimentary HTML to crudely code my own signature for the Neopets forums. Yep, there were many discussion boards, and the conversations were about as deep as you'd expect from a horde of mostly pre-pubescent kids with minimal adult supervision. There was much talk about My Chemical Romance and precisely why parents just don't understand.
While Neopets was ultimately a vapid affair, I will forever remember it fondly. It still stands as my favorite wholesome slice of early internet life—a high compliment from someone who worships at the altar of Homestar Runner—before the world wide web became the hyper-memetic irony graveyard it is today. I still log in sometimes to feel nostalgic pangs, and it turns out the forums are mostly populated with people my age.
They still talk about My Chemical Romance a lot.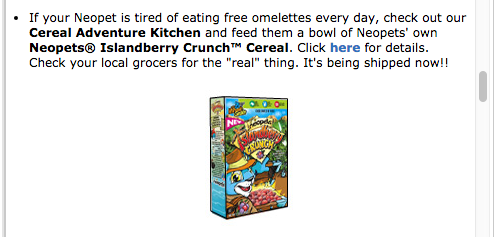 But back to the reason we're here: fruity cereal. Neopets peaked in popularity around 2005, when an $160 million sale to Viacom saw the franchise expanding into everything from Playstation 2 games and McDonald's toys to board games and even cereal. In a meta moment, Neopets Islandberry Crunch existed as both an in-universe item you could feed your Neopets and a real thing you could eat yourself, leading one Neopets wiki to charmingly explain how "It must be assumed that, as islandberries do not exist outside of Neopia, the taste-creating team used a blend of more traditional berries to achieve the desired flavor."
11 years on, information about the cereal is hard to find, outside of a few empty boxes on eBay. But by some miracle, my good friend and Cereal Timer Gabe Fonseca managed to procure a sealed box of Neopets Islandberry Crunch and graciously decided to share it with some dumb blogger who he knows loves the stuff. This dumb blogger endlessly thanks him.
As my way of saying thanks, I'm going to open these old Islandberries, eat them, and not send Gabe my medical bills.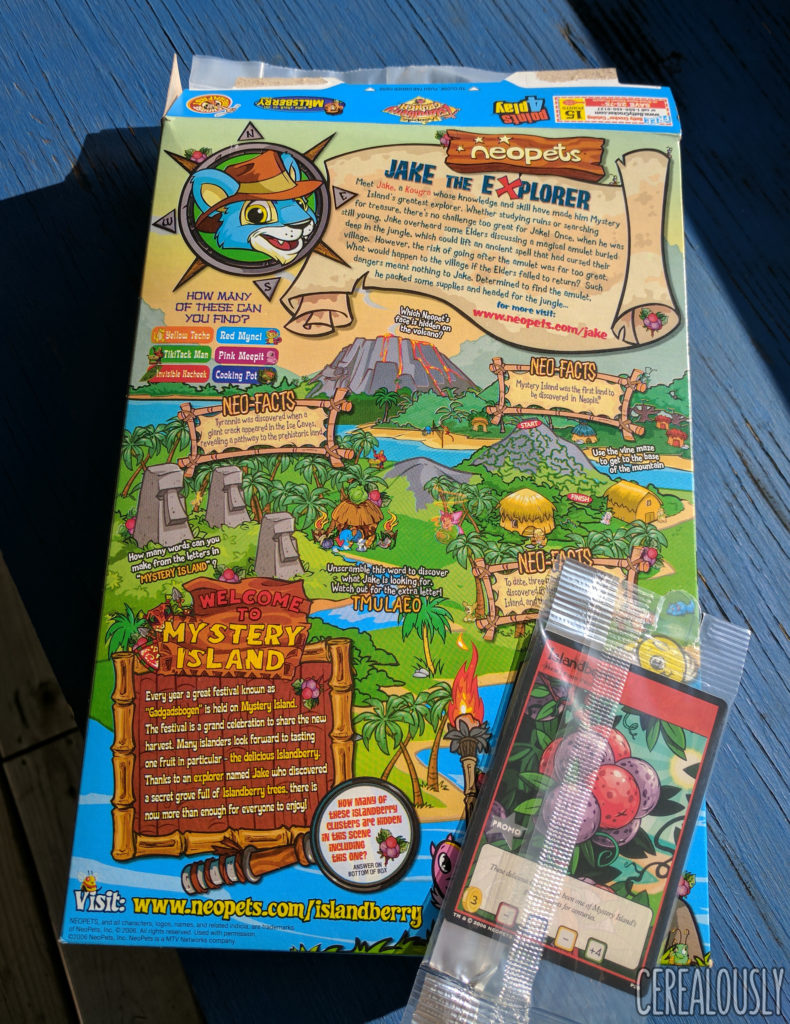 Quick prelude: since this cereal came from the days when cereals still had prizes inside, Islandberry Crunch came with free Neopets trading cards. I never learned to play the game, but I know many of these cards are still slumbering inside a dusty binder in my childhood basement's darkest recesses.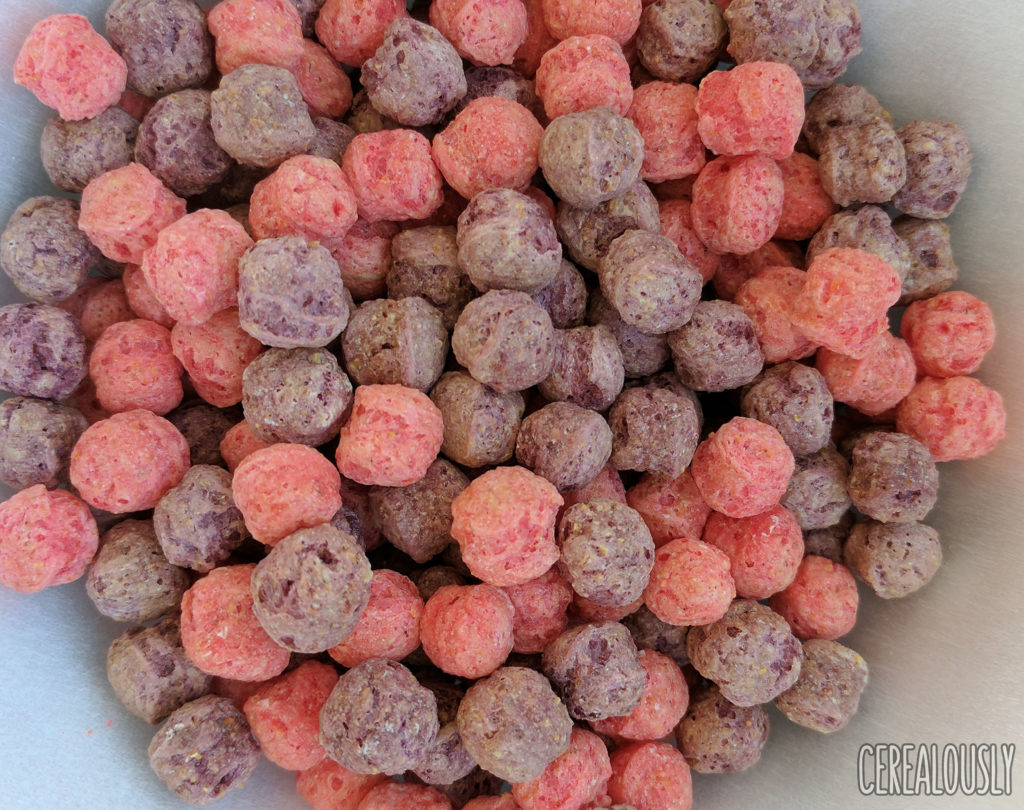 In the words of Gabe himself, "So this is what a bowl of Neopets Islandberry Crunch looks like." The brightly colored bits don't look a day over 4-years old, but I can't say the same for their odor, which reminds me of drywall and spoiled wine. Somehow, their taste is even worse, and the best flavor descriptor I can think of is "thrift store loafers slathered in hot jelly." Bitter, burning, and probably infested with martian eggs, my first mouthful of 11-year old Islandberry Crunch was quickly spit off my balcony, where I'm sure even passing bird won't give it a second chirp.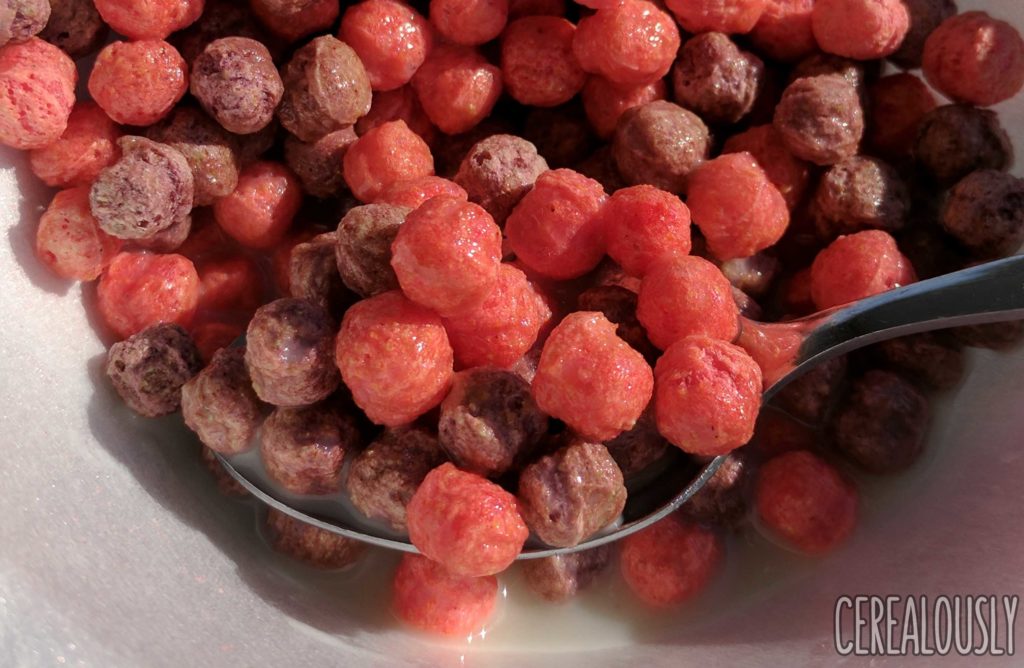 No, milk didn't make it any better—just more…gelatinous. Expectedly, this is a far cry from how I remember Islandberry Crunch's original flavor, which was unique despite its generic description. That stuff was tropical and puckering, a complex mixed berry smoothie that tasted like the crunchy lovechild of Mountain Dew Pitch Black and Ghoul-Aid that went on to be adopted by some Swedish Fish.
The closest thing we've ever seen in modern times is Chex Clusters, which was also tragically discontinued before it could even get its own trading cards.
So despite its current, understandable inedibility, Neopets Islandberry Crunch remains a perfect cereal in my rose-tinted eyes, so much so that I may have to respectfully bury this petrified stuff in my backyard to let it rest in peace. Islandberry Crunch exists as a perfect intersection between two of my earliest fandoms, and I feel a weirdly warm sense of closure writing about it on this now 2-year old website that has become more than I ever hoped it would be.
Thank you Neopets, thank you Gabe, and thanks so much to all of you readers. We had a great second year, from interviewing a Chex Quest developer and Cap'n Crunch's artist to reviewing Oreo O's from two countries and touring the Kellogg's archives. Cerealously has become my personal "Neopets 2: Electric Crunchaloo," and I hope you can all join me in raising a crunchy Cinnamon Toast to many more years of nostalgically obsessing together.