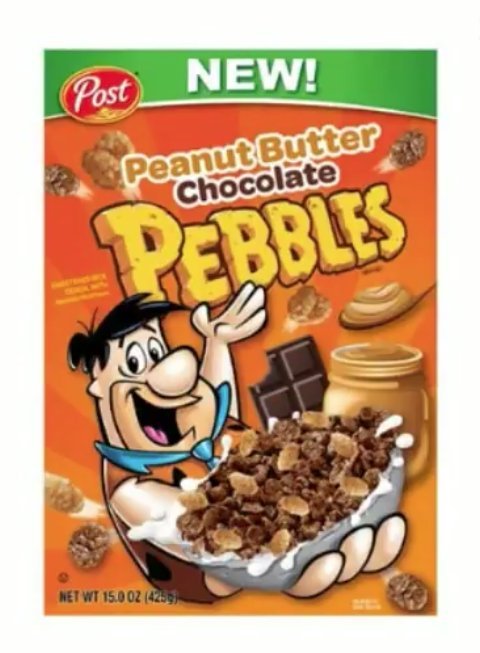 This Pebbles news more than rocks: it's a matter of gravel importance.
Okay, I know those mineral puns were more of a stretch than The Rock doing yoga, but something as momentous as Reese's-flavored Pebbles cereal deserves elementary sedimentary humor.
Yes, Chocolate Peanut Butter Pebbles are soon to be the latest in Post's Flintstones-fronted crisped cereal line. First reported by @markie_devo on Instagram, this news held water (and milk) once I discovered, by way of a strangely specific product release YouTube video, that news of this choco-nutty niceness has been hiding in plain sight on the web for 5 months! 
I blame myself for not finding it. My punishment will be self-flagellation with a fossilized Reese's Nutrageous Bar.
This isn't the first time Pebbles has dabbled in this two-tone brown field. 2011 saw the release of puffed Chocolate Peanut Butter Boulders, alongside Apple Cinnamon Boulders. And now that those boulders have finally eroded, we can enjoy them again.
While I've publicly stated my controversial feelings about Pebbles as overrated—they're too airy to produce a wholesome crunch, let alone a hunger-satisfying meal—last year's Chocolate Peanut Butter Cheerios were so good there's no way I can contain my Brontosaurus-sized hype.
I hope I can find a box in a Jif-fy!