I've never considered bobbing for Pop-Tarts before, but after trying Kellogg's new Caramel Apple Pop-Tarts, I'm ready to fill a 19th century wooden bucket with water and pastries and dive in headfirst.
But before I take my triumphant Olympian plunge, let's set the stage.
After years of dominance, pumpkin spice is starting to lose its novelty. There are only so many things you can cram ginger and nutmeg into. So like an autumnal retelling of Star Wars, apple-flavored snacks have started a quiet rebellion against the Pumpkin Empire. And I like to think that Caramel Apple Pop-Tarts are their heroic Luke Skywalker.
Luke Apple Piewalker has quite the origin story, too. While these Tarts were only formally announced about two months ago, we first leaked an early release image of them way back in April. Back then, searching for "caramel apple pop-tarts" just made Google think you were drunk.
I wondered whether these neon-squiggled rectangles would ever see the light of day, but I'm happy to say that they have. And now they'll get to see the warming light of my toaster, too.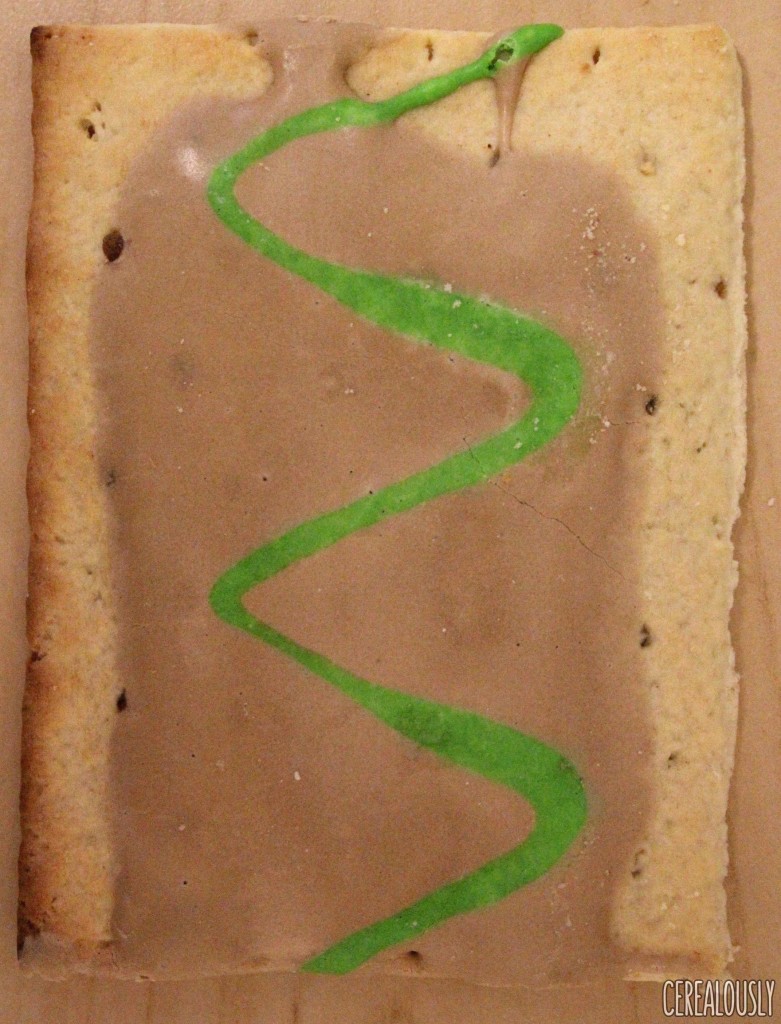 Each Caramel Apple Pop-Tart looks like a Brown Sugar Cinnamon Pop-Tart with a snake slithering on top of it. But I'm proud to report that these pastries don't taste much like a common garter snake. And they don't taste much like their Brown Sugar Cinnamon brethren, either—except for the shell. In both flavors, the golden, butter-flecked crust provides a happy base taste of milky, oiled flour.
Like a real apple, though, you have to break the skin of these Caramel Apple Pop-Tarts to taste the really juicy stuff. Every Caramel Apple Pop-Tart contains a beautifully ribboned filling that alternates between beige and caramel brown. I like to think that if I bisected my Pop-Tart horizontally, it would look like an apple pie-colored American flag.
That way I could hang it in my garage and salute it before I leave for work.
But looking like a Tart-spangled banner is one thing: does this filling taste the part, too? You bet your purple mountains majesty it does. I have no idea if the ribbon segments are different, but together they taste like a scoop of apple butter, a spoonful of Superman Caramel Crunch cereal, a handful of Nilla Wafers, and a green apple Skittle (rest in peace, lime Skittles), all at the same time.
The magic fire imp who works inside my toaster quickly turned my Caramel Apple Pop-Tart's ribboned innards into a gooey melting pot of sepia tones. Toasting makes the complex flavors harder to distinguish, but the overall flavor is more woodsy, robust, and syrupy. If you've ever ordered apple pancakes from a pancake house, then this toasty filling is like that last mushy bite of syrup, compote, and creamy dough.
Gotta type fast before the incoming drool short circuits my keyboard.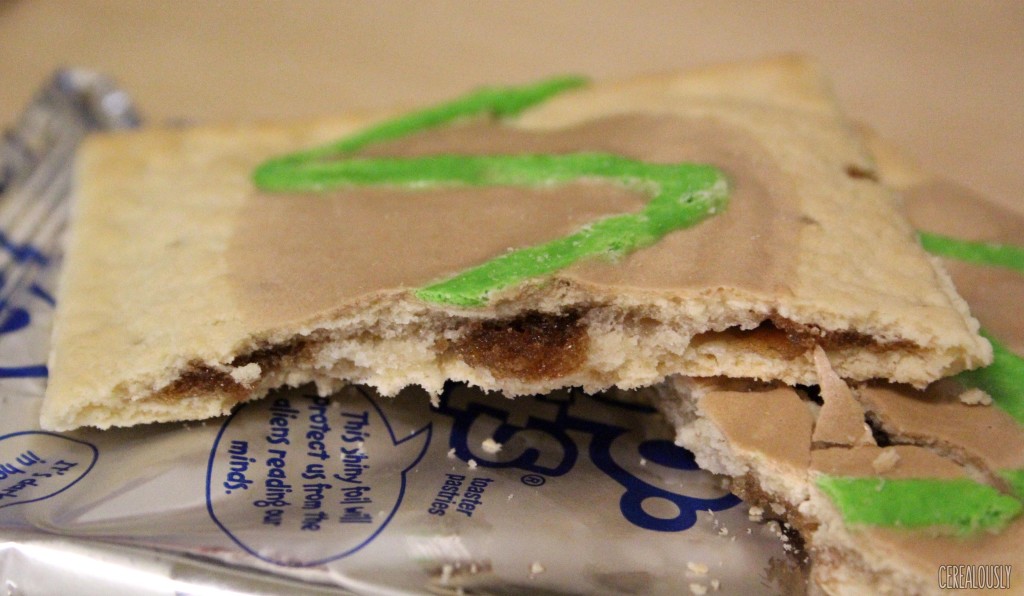 I always try my Pop-Tarts frozen, because I like the effect on most flavors, but polar conditions don't do much for Caramel Apple. The pastries just become bizarrely difficult to pull apart (imagine a Pop-Tart stuffed with Silly Putty), and they lose even more nuanced flavor notes. They come out tasting like, of all things, cold Strawberry Pop-Tarts.
Overall, these Pop-Tarts could still benefit from a more potent caramel flavor—Chocolatey Caramel Pop-Tarts are better at providing pops of salted caramel goodness, while Caramel Apple Pop-Tarts' have a flavor closer to golden butterscotch. But to quote Seinfeld and Costanza:
Since it magically blends sweet caramel, puckering apple, and brown sugar-sprinkled vanilla graham into a single pie-like crust, Caramel Apple is still a delicious Pop-Tart variety that I'd happily give out to trick-or-treaters, even though I'd want to eat them all myself (the Pop-Tarts, not the trick-or-treaters).
Because you just know that "the Pop-Tart house" would become a childhood legend worth retelling on the playground.
---
The "Bowl:" Kellogg's Limited Edition Frosted Caramel Apple Pop-Tarts
The Breakdown: Imagine someone blended a Butterscotch Dum-Dum and a Granny Smith apple, then elegantly ribboned the resulting puree into a cubic puff pastry: if that doesn't sell you on these Pop-Tarts, then you might be better off melting a Werther's on your own Red Delicious.
The Bottom Line: 9 silent prayers for Nilla Wafer Pop-Tarts out of 10
(Quick Nutrition Facts: 200 calories, less than 1 gram of fiber, 15 grams of sugar, and 2 grams of protein per 1 pastry serving)
***Our pals at Junk Banter reviewed Caramel Apple Pop-Tarts, too! Pop(-Tart) on over to their site and check it out.***