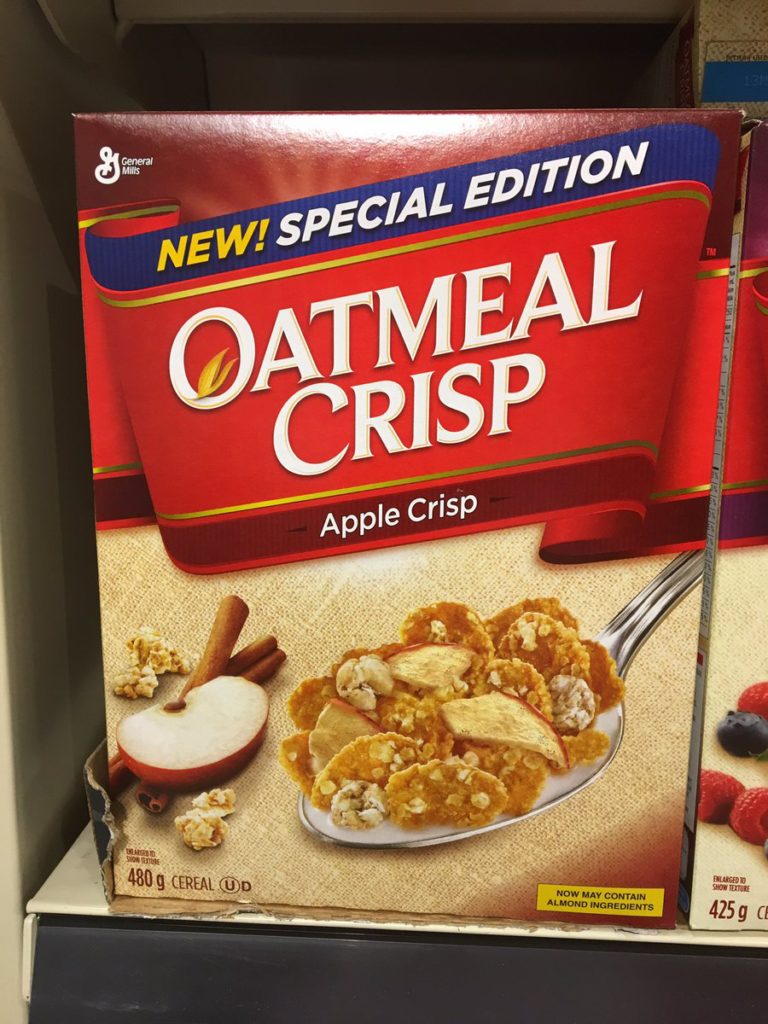 Oatmeal Crisp is a strange and wonderful beast, and it's quietly getting a new Apple Crisp variety—in Canada only.
Traditionally lumped with Basic 4 and Raisin Nut Bran in the odd pantheon of "General Mills Cereals That Are Really But No One Talks About Them," Oatmeal Crisp is a decadent cereal featuring toasted oatmeal flakes glazed with sugar syrup, paired with almond slivers and granola clusters.
So it's pretty much normal oatmeal, just made more crunchy, less microwaveable, and with about a thousand more delicious calories per oatmeal-imeter.
Given my love for toasted oatmeal cereals, I'm personally embarrassed that I haven't geeked out about it more. As punishment, I'll accept execution by way of conveyor belt-induced mass Oatmeal Crisp ingestion.
Canada's newest Apple Crisp Oatmeal Crisp variety, discovered and kindly shared by our friend Junk Food Jeff, excitingly pairs the not-so-iconic cereal with the apple-cinnamon taste (and homely thatched charm) of a homemade apple pie, apple streusel, or apple slice topped with cinnamon and butter and microwaved for 12 seconds because I'm too poor to bake, okay Grandma?
Meanwhile, America has only seen regular Almond and Hearty Raisin Oatmeal Crisp in the past decade or so. I tried to more thoroughly research Oatmeal Crisp's past American flavors, but this cult favorite is so elusive that online cereal historians can't come to a consensus. The cereal's Wikipedia page also name-drops Triple Berry, Apple Brown Sugar, Maple Nut, and Vanilla Yogurt as past, oddly specific flavors, while trusted resource Mr. Breakfast only names Maple Brown Sugar in addition to the mainstays.
Whatever Oatmeal Crisp's true past contains (perhaps we once briefly overlapped with a parallel universe where Oatmeal Crisp is a currency), I'm just excited that its shelf presence isn't petering out here in the 21st century. As Basic 4 and Raisin Nut Bran feel like they're becoming modern relics, one of them has to survive and speak on behalf of weird cereals everywhere.
As a cereal weirdo myself, I thank Oatmeal Crisp for being my Lorax.
Our thanks again to Junk Food Jeff for sharing the photo. Wanna see your own find in a Spooned & Spotted post? We'd love to see your latest breakfast haul, discovery, or feast: send it over on our Submissions page.